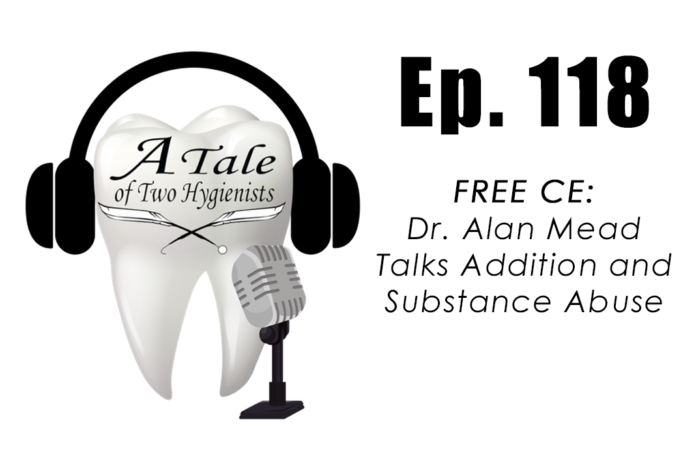 Earn a FREE CE credit by listening to the below episode of A Tale of Two Hygienists and taking the quick quiz!
Dr. Alan Mead discusses his expertise on how to help those with a substance abuse issue. He talks about how and who to discuss these matters within a very professional matter. He shares personal insights to recovery and how important it is to have someone who cares for the one suffering from the abuse problem.
After listening to this episode you should be able to do the following:
What the proper jargon is for those who are or have been involved with substance abuse.
How states monitor opioid Rx use.
When and who to report to for someone who is having substance abuse issues.
The symptoms of withdrawal from substance abuse.
Listen to the episode now:
Take the quiz here:

https://www.cezoom.com/events/?test=yes&courseid=1722&testid=1172
This activity has been planned and implemented in accordance with the standards of the Academy of General Dentistry Program Approval for Continuing Education (PACE) through the joint program provider approval of CE Zoom, LLC and Tale of Two Hygienists. CE Zoom, LLC is approved for awarding FAGD/MAGD credit.

Subscribe to A Tale of Two Hygienists on iTunes or

Stitcher

!