The dental hygiene profession is light years behind on knowledge and the best practices for implant care. In 2012, the Journal of Dental Hygiene published the results of a survey that gauged the knowledge and clinical approach of practicing dental hygienists in respect to dental implant maintenance. Out of the 213 respondents, only 25 said they received training on implant care while attending dental hygiene school.
The results of the survey stated: "… graduates prior to the late 1990s may have had little to no formal education on implant care, yet they are treating patients with dental implants."1
In a more recent survey of 2,033 U.S. dental hygienists, more than 90% of participants practicing in a general setting indicated their lack of knowledge about how to properly care for patients with dental implants.2 Yet again, these hygienists are treating patients with dental implants. This is concerning since preventive maintenance and the role of dental hygienists in early peri-implant disease detection has been globally recognized as the foundation for implant health and long-term success.
What's more is that expert clinicians, especially those who are redoing implant dentistry, have declared implant care to be a specialty requiring higher education and hands-on training.2,7
Do Patients Know the Difference?
The participants of these surveys should be applauded for their authenticity in their responses. However, this contradicts the Dental Hygiene Oath that all dental hygienists pledge to before graduation. The promise includes: "… to continually improve on professional knowledge and skill, to promote high standards of quality of care, and to render a full measure of service to each patient entrusted in our care."
For patients who have invested so much time and money into the health of their mouth, how do they know if their dental hygienist is equipped with the knowledge and skill to provide the quality of care they require? Some patients will never question the integrity of their dental team as a result of their own lack of knowledge. Other patients, though, are researching on their own and learning about the differences in implant care versus the traditional approach for natural teeth.
In my current role as implant care practitioner in oral surgery, our patient population consists primarily of patients with full-mouth implant rehabilitation. The patients who are on a shared maintenance schedule with their general or periodontal practice often make comments about the difference in the quality of dental hygiene care. "My other hygienist doesn't have any of this equipment." "They just told me to brush and floss my implant." "Bioflim? What's that?"
The point is that patients are starting to notice the difference among clinicians who are "up to date" and those who lack knowledge and skill. It is our moral responsibility as health-care providers to meet the needs of the patients we serve. So, hygienists treating patients with dental implants must increase their knowledge and skill in implant dentistry. Failure to do so puts the patient at risk for undiagnosed disease (neglect) and the provider at risk for malpractice.
If you are a practicing hygienist treating the dental implant population with little or no formal education on implant care, you can start with learning more about how to perform a thorough dental implant exam and the technologies being used to fight peri-implant diseases.
The Dental Implant Exam
At-home oral biofilm management is stated in the literature to be of the utmost importance in the prevention of peri-implant diseases.2-6 One major part of the dental implant exam is to evaluate the effectiveness of the patient's home care practices. To achieve this on a biological level, clinicians across the country have implemented disclosing solution back into their daily practice as a visual educational tool for patients and for guided biofilm debridement.
In its premature stages, oral biofilm remains colorless. Disclosing agents (dyes) have been used in dentistry since 1914 as a way to recognize virulent, disease-causing biofilm on teeth and prosthetic surfaces to aid in its disruption.5-6 Using a disclosing system as part of the dental implant exam will enable clinicians to perform a comprehensive assessment of the restoration. Whether it be a fixed bridge, removable denture, or single implant crown, the entire surface of the restoration needs to be diligently evaluated for any inadequacies that may have a detrimental impact on its cleansability. A disclosing agent will heighten your dental implant exam by allowing you to identify those discrepancies, otherwise invisible to the naked eye (loupes too).
Not only that, but dental hygienists should also be knowledgeable about the different restorative types, their retention, and possible complications. For example, is the crown screw-retained, or is it cemented? Screw-retained implant restorations will have an access hole on the occlusal surfaces of posterior teeth and the lingual surfaces of anterior teeth and should be evaluated for any missing filling material (Figure 1). Cemented implant crowns need to be closely assessed for the possibility of residual cement, a well-documented risk factor for peri-implantitis 2-3, 9,12 (Figure 2).
Figure 1:
Figure 1: Images courtesy Shavonne Healy and Kazemi Oral Surgery and Dental Implants.Figure 2: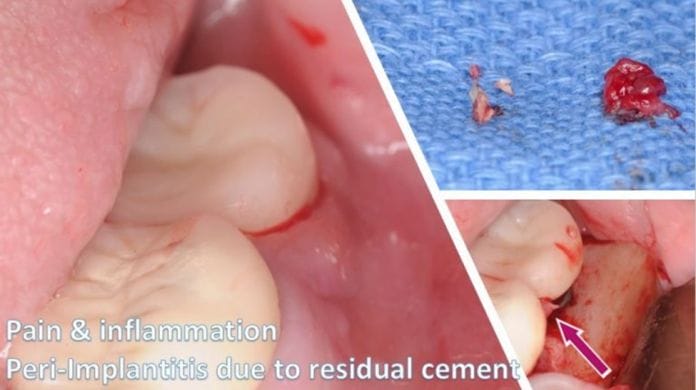 Combined with radiographs, other parts of the clinical exam should include testing for mobility in the implant crown as well as the fit of these components. Evaluating for soft and hard tissue deficiencies, or other signs of inflammation, and assessing for a healthy occlusion are all key parts of the dental implant exam (Figure 3). In addition to consistent dental hygiene care, maintenance recommendations should include a yearly evaluation visit with the surgeon who placed the implant for optimal health!
Figure 3: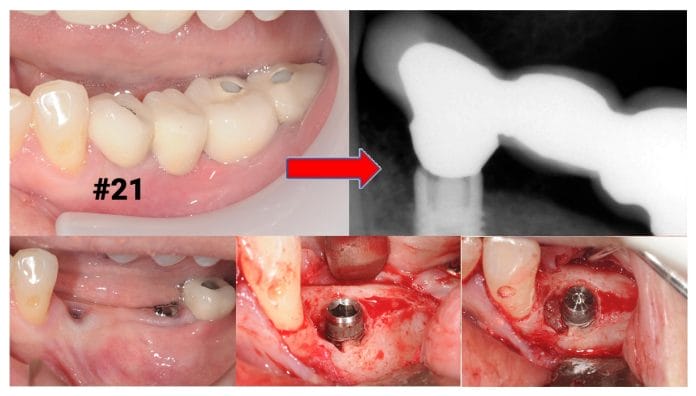 Technologies in Dental Hygiene
Professional and at-home maintenance is significant for the long-term success of dental implants. Both the dental hygienist and patient must be able to adequately and effectively clean the area. Poor biofilm management is a major risk factor for implant infection.
Dental implants are not teeth and may require management that is outside of what is known to be traditional hygiene practices for natural teeth. For instance, studies have demonstrated the use of glycine or erythritol powder in combination with a powder streaming device (otherwise known "air polishing") to be the safest way to thoroughly decontaminate the implant surface.2,3,5,7,8
Owing to their bacterial effects, soft tissue lasers have also been shown to be effective in the prevention and management of peri-implant disease.3,4,7 Unfortunately, laser therapy is not an option that is available to all dental hygienists yet. At present, dental hygiene associations are pushing for such additions to their state scope of practice. If you obtain the knowledge on laser therapy now, you will be ready when the opportunity comes for you to implement it into practice.
At-home maintenance recommendations should not be focused primarily on dental floss. For example, consider the use of specialty brushes or oral irrigators as replacements for the widely endorsed 360-flossing technique. This involves wrapping the floss circumferentially around the neck of the implant crown while moving the floss back and forth in a shoeshine motion.
This is to prevent an emerging complication known as "floss induced peri-implantitis." Several case reports have been published on floss remnants found wrapped around the implant and trapped in the peri-implant crevice. Subsequently, this flossing method should not be advised.9-11
In the 2016 observational study of a single case reported by Montevecchi et al., Is Implant Flossing a Risk-Free Procedure? A Case Report with a 6-year Follow-up, clinicians described how the periodontal endoscope was used to aid in the diagnosis of floss-induced peri-implantitis and further advocate for its use in diagnostic and therapeutic approaches to oral implantology.10
Periodontal endoscopy is a procedure that involves a miniature camera attached to a dental explorer designed for subgingival placement. It offers enhanced visualization without the need for a surgical incision.
Dental endoscopy is further reported in the literature to be of great value in the diagnosis and treatment of cement-induced peri-implantitis.3,12 This is a procedure that can be performed by a dental hygienist, but not many clinicians have access to one. The equipment is costly and requires time for hands-on training. Yet, again that should not stop you from learning all you can about this technology.
Ultimately, one cannot gain all they need to know about implant dentistry by reading articles or attending webinars online. Continuing education also has a hands-on component to it, especially if you are considering adopting these technologies into your practice.
Also, consider the constant developments in the growing body of dental research; recommendations are subject to change and frequently! Here is why continuing your education on any subject matter that pertains to your role as a hygienist in the patient population you serve is crucial to your integrity as a provider. For those clinicians treating patients with dental implants and seeking to increase their knowledge and skill, I hope the information shared in this article granted you a starting point!
Before you leave, check out the Today's RDH self-study CE courses. All courses are peer-reviewed and non-sponsored to focus solely on pure education. Click here now.
Listen to the Today's RDH Dental Hygiene Podcast Below:
References
Ward, S.T., Czuszak, C.A., Thompson, A.L., Downey, M.C., Collins, M.A. Assessment and Maintenance of Dental Implants: Clinical and Knowledge-seeking Practices of Dental Hygienists. Journal of dental hygiene. 2012; 86(2), 104–110.
Zellmer, I. (2019, March). Three Most Common Implant Maintenance Troubles – Which Do You Want to Overcome? Academy of Osseointegration Annual Meeting. Washington.
Rosen, P.S., Froum, S.J. Peri-Implant Disease: A Primer Etiology, Prevention, and Treatment. Inside Dentistry. 2018; 14(9). Retrieved from https://www.aegisdentalnetwork.com/id/2018/09/peri-implant-disease-a-primer
Roncati, M. (2017). Nonsurgical periodontal therapy: indications, limits, and clinical protocols with the adjunctive use of a diode laser. Hanover Park, IL: Quintessence Publishing
Mensi, M. (2019, August). Guided Biofilm Therapy: what is new and how we can use it on teeth and implants. International Symposium on Dental Hygiene. Brisbane
Datta, D., Kumar, S. G. R., Narayanan, M. B. A., Selvamary, A. L., & Sujatha, A. Disclosing Solutions Used in Dentistry. World Journal of Pharmaceutical Research. 2017; 6(6), 1648–1656. doi: 10.20959/wjpr20176-8727.
Quintessence Publishing CO. (2019, June). 13th International Symposium on Periodontics and Restorative Dentistry. Boston.
Louropoulou, A., Slot, D., Barendregt, D., Weijden, F. V. D. Prevention and Treatment of Peri-implant Diseases: Current Evidence on Cleaning of Titanium Dental Implant Surfaces. International Journal of Evidence-Based Practice for the Dental Hygienist. 2017; 3(2): 128–141. DOI: 10.11607/ebh.137.
Heitz-Mayfield, L. (2017, May 11). Peri-implantitis: Decision Making in Clinical Practice [Webinar]. In Geistlich Pharma World Tour Webinar Series. Retrieved from https://www.youtube.com/watch?v=BhJe1fG_pGs&t=10s
Montevecchi, M., Blasi, V.D., Checchi, L. Is Implant Flossing a Risk-Free Procedure? A Case Report with a 6-year Follow-up. The International Journal of Oral & Maxillofacial Implants. 2016; e79–e83. DOI: 10.11607/jomi.4263.
van Velzen, F.J., Lang, N.P., Schulten, E.A., Ten Bruggenkate, C.M. Dental Floss as a Possible Risk for the Development of Peri-implant Disease: An Observational Study of 10 Cases. Clin Oral Implants Res. 2016; 27(5):618-621. DOI:10.1111/clr.12650.
Kwan, J.Y., Newkirk, S. (2016). Applications and Limitations of Periodontal Endoscopy An examination of the use of this technique in nonsurgical periodontal therapy. Decisions in Dentistry. Retrieved from https://decisionsindentistry.com/article/applications-limitations-periodontal-endoscopy/