A special thank you to Dentsply Sirona for sponsoring the Today's RDH Honor Awards and for their unwavering commitment in supporting the profession of dental hygiene.
A rodeo mom in Montana, who has leveraged her dental hygiene career to improve access to care, both on and off Native lands, is one of the three recipients of the 2020 Today's RDH Honor Awards.
A 22-year veteran in dental hygiene, Crystal Spring, RDH, BS, LAP, covers the broad expanse of Big Sky Country each month as a public health hygienist, delivering care in school-based clinics on isolated reservations, rural areas, and nursing care facilities in Montana's fourth-largest city, Bozeman. She also works from her rural home in Gallatin Gateway managing grant resources to connect dentists and hygienists who provide care at a variety of nonprofit clinics.
In her application for the award, she stated, "I have a deep commitment to changing oral health outcomes across our nation. Montana is a very rural state, and our services have been much needed and appreciated by these communities."
In January 2018, Spring teamed up with Cara Reck, RDH, to form Smiles Across Montana that targets areas of need throughout the state.
"We have committed our program to improving oral health disparities and bringing equitable, consistent care to our patients," Spring wrote. "We also focused on bringing dentists and dental hygienists together to better serve our patients and in the best interest of improving access to care."
But there's always time for the rodeo. She and her husband, Ty, have two sons, Bode and Rafe, who are involved with rodeo teams at Montana State University and Gallatin High School. The family has seven horses, as well as "two cow dogs, two barn cats, steers, calves, and a goat named Bella who thinks she is a horse."
Spring said, "I am a busy sports/rodeo mom, and I love spending time with friends and family."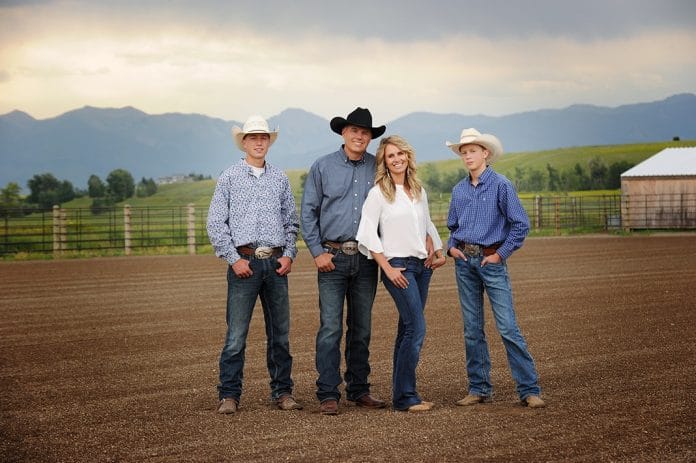 Her childhood on the Fort Peck Reservation, which services the Sioux and Assiniboine tribes, has helped shaped her perspective on health care. She said family members would have to travel "hundreds of miles" from the reservation for health care. The country's ninth-largest reservation of more than two million acres has one private dental practice and two Indian Health Service clinics.
After hearing through social media that one of her cousins was having difficulty scheduling an appointment for preventive services, she said, "I felt called home to help with access to care."
Her career has included 14 years in private practice, including four years at a periodontal practice. She has also created a mobile dental hygiene practice for nursing homes, assisted living centers, and schools. She is a 1998 graduate at Sheridan College in Wyoming, and she later obtained a bachelor's in dental hygiene from the University of Wyoming in 2016.
She said that teledentistry has played a pivotal role in providing care in Big Sky Country. The diagnostic aid is used almost daily by Spring and other hygienists.
"If we do not have a dentist on-site, we use intraoral photos and X-rays to communicate with our dentists so they can diagnose and refer," she said.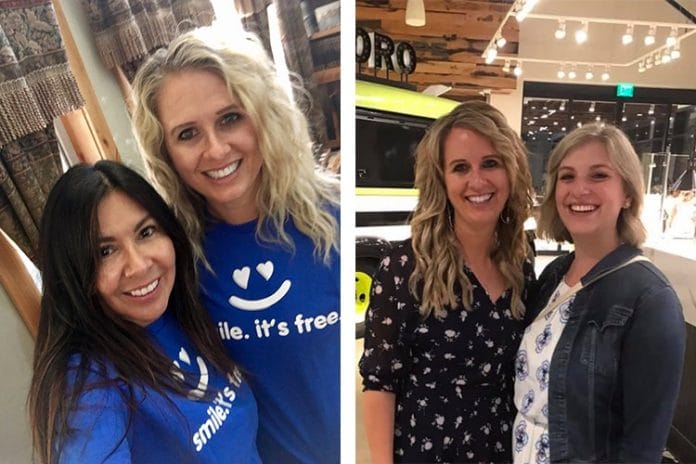 The ongoing care provided by Smiles Across Montana generates enthusiasm among the state's dental community. Spring, who is an ADHA trustee, and Reck, who remains very active with the state's dental hygiene association, acknowledge that dental hygienists can provide some aspects of dental care without a dentist. But they deliberately sought out a joint effort.
"There has been such a struggle between the dentists and dental hygienists concerning public health and mobile services," Spring said. "The mission of Smiles Across Montana is centered around the patient and what is best for them. We are open to working with all dentists. We have four dedicated dentists working with our program and many more we work with on a smaller scale. We are very respectful of community dentists, and we reach out to them for referrals and continuity of care."
Spring hopes to pass along her commitment to dentistry with future generations. At all of the schools serviced by the roving dental clinics, she talks with school administrators to find out which students are interested in dental care as a career. The students are encouraged to shadow the dental hygienists as they provide care.
"I am very passionate about students from rural and Native American areas getting a degree in dental," she said. "I love that we can come into an area and provide services, but I wholeheartedly believe that someone permanent and local is the best [source for care]. I have calls and Zoom chats with prospective students and now students who are in dental hygiene school."
Now Listen to the Today's RDH Dental Hygiene Podcast Below: