A special thank you to Dentsply Sirona for sponsoring the Today's RDH Honor Awards and for their unwavering commitment in supporting the profession of dental hygiene.
An entrepreneurial provider of dental hygiene services at nursing homes in western Montana is one of three recipients of the 2020 Today's RDH Honors Award.
Heidi Halverson, RDH, BSDH, LAP, is the owner of Dental Hygiene at Home, which is based in Missoula. The business was started in 2013 at one long-term care facility and expanded to 19 different facilities spread out across three counties. Her preventive dental hygiene services are offered to individuals who are unable to obtain preventive care in traditional dental settings.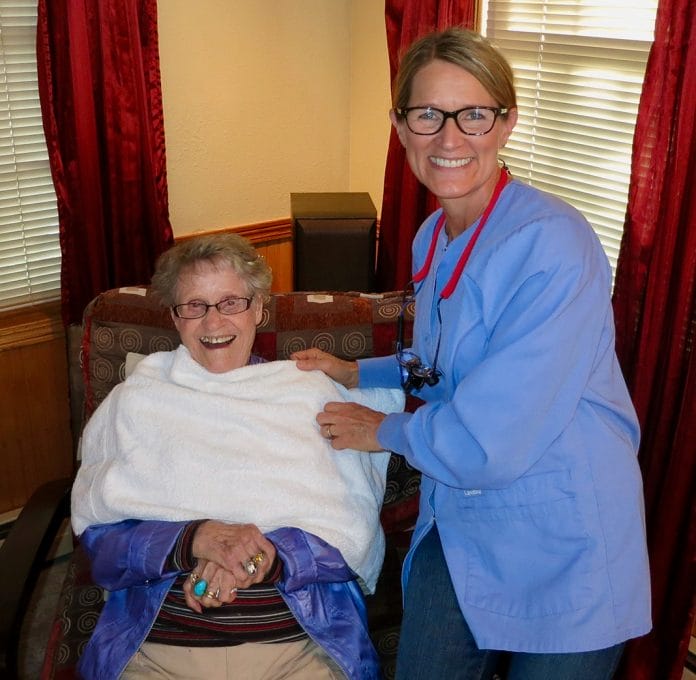 Halverson said Montana dental hygienists have been able to provide these services in long-term care facilities since 2003. A 1980 graduate of Idaho State University, she initially struggled with the concept behind Dental Hygiene at Home.
"I always thought I would have to establish an actual dental room in a facility with a dental chair and equipment," Halverson said. "Acquiring the needed supplies and equipment seemed impossible. However, in 2013, when I started using loupes and light and companies were making portable prophy and ultrasonic units, it made me think that I could actually provide services without a dental room. It took me a year to get established, but my business has grown incredibly ever since."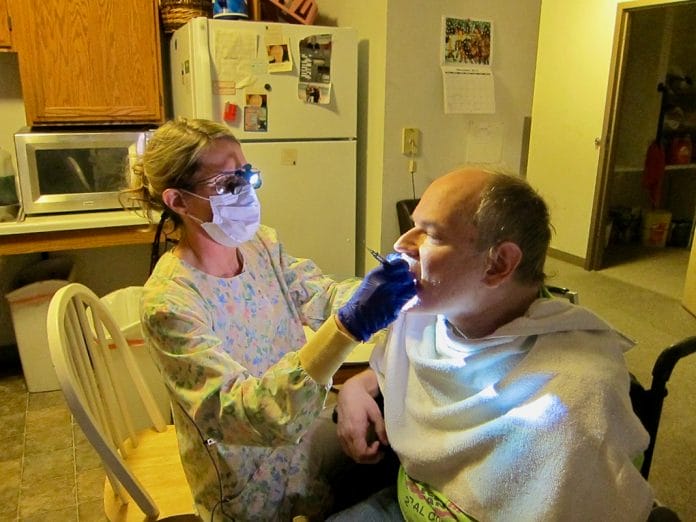 She said a primary obstacle in the growth of Dental Hygiene at Home was the facilities themselves.
"I had to convince each nursing home that dental hygienists could make a difference in the overall health of their residents," Halverson said.
The business also relies on local dentists, medical providers, social workers, and home health agencies to round out the care that nursing home patients receive. She obtained donated equipment for a dentist to provide restorative care at two facilities.
"The comments that I heard when I started were unimaginable to me," she said. "One director of nursing told me, 'Our biggest problem here is that residents break off their teeth and swallow them.' Since then, I have had many staff members show me teeth that they find on the floor or in recliners.
"I learned quickly that there is no effective, thorough oral care being provided in long-term care facilities. The staff does not have the experience or time to provide this service. Now, with improved technology, a dental hygienist is able to work and provide this neglected service in these settings. When I provide dental hygiene services, I am able to carry all my supplies in one bag that I carry over my shoulder."
Measuring Fluoridation
Halverson's dental hygiene career started in Seattle, but she found herself in Alaska two years later. She was the dental disease prevention supervisor for the Yukon Kuskokwim Health Corporation.
"I traveled to 48 Eskimo villages and worked with water operators and chiefs of each village. Every day was a new and challenging experience."
She explained that the water plant operators are responsible for the water supply in a village, including fluoridation.
"Unfortunately, when I arrived, the water operators were not complying," Halverson said. "To motivate the water plant operators, I sent 24 chiefs a list of their village's fluoride levels each month. In the notice, I would praise the villages whose water plant operators were doing a fabulous job of keeping up with their fluoride levels.
"It took about a year to go from 20% compliance to 60% compliance. It's amazing how positive rewards work."
Both the Alaska Area Native Health Services and the American Dental Hygienists' Association publicly acknowledged her efforts to improve oral health.
Halverson, who served in Jamaica with her husband in the United States Peace Corps during the 1980s, has long been known as a volunteer in the Missoula area where she has worked in private practice for more than 30 years. The city's newspaper honored her with its Hometown Hero Award in 2016.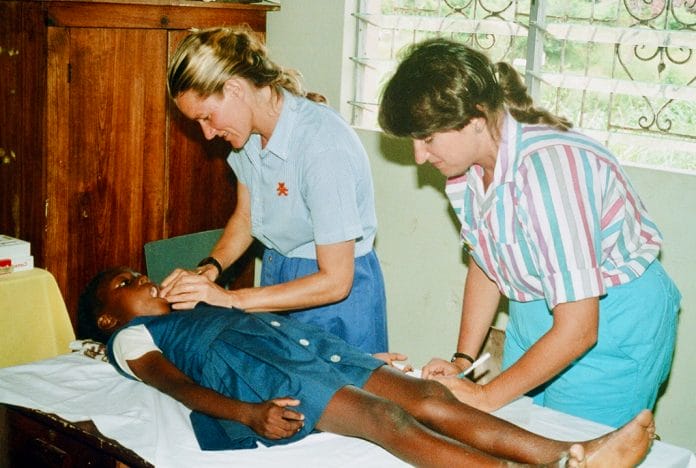 "No one does what Heidi does in providing dental hygiene services for the underserved populations in the Missoula area," the newspaper noted. "She works tirelessly in providing preventative dental education and direct clinical care for the poor and those without insurance."
Upon returning to Missoula in 1986, she started her professional career and her family.
"I am very thankful for my husband and two children that patiently supported me throughout my career," Halverson said. "I am always busy with my business, volunteering, and dreaming up ways to improve access to dental care. I also really enjoy mentoring and encouraging other dental hygienists to work in long-term care facilities in Missoula and throughout Montana."
Some of the agencies receiving her voluntary contributions are the Missoula Aging Services, Missoula Urban Indian Health Center, the Missoula County Maternal Health Advisory Council, Project Community Connect, the Montana Migrant Dental Mobile, and as the dental advisor for the Missoula County Community Health Improvement Plan.
Halverson said all of her efforts focus on improving access to dental health in the greater Missoula area. Over the years, she learned how to procure resources to help organizations.
"When the Missoula Urban Indian Health Center said they didn't have dental services, I volunteered to help them establish a dental operatory," she said. "It took four years, but they now have a dental room with all new equipment and supplies. When I heard the Missoula County Community Health Improvement Plan didn't have dental health on the agenda, I immediately volunteered. I have been able to give guidance, recommendations, and goals for our community concerning access to dental care."
Now Listen to the Today's RDH Dental Hygiene Podcast Below: