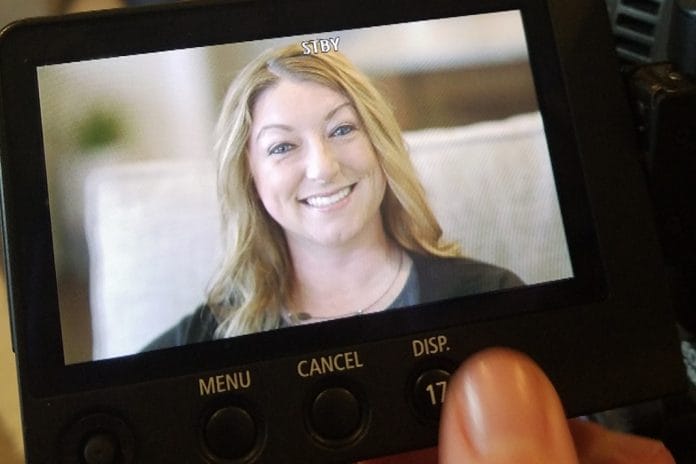 An optional homework assignment to create a clinical reference guide in dental hygiene school led one of Folio magazine's 2020 Top Women in Media award recipients to witness the power of written communication.
Kara Vavrosky, RDHEP, Co-founder and Chief Content Officer for Today's RDH, will receive recognition on September 9th in New York City in front of publishers of all U.S. consumer and professional media. She'll likely think back to the days when she added additional pages into her clinical reference binder at the Oregon Institute of Technology.
"I kept adding pages as school went on and am still adding pages to this day," Vavrosky said. "When my instructors saw it, they asked for a copy to show as an example to the class below [freshmen]. The class below asked if I'd sell copies to them. With my instructors' approval, I did. I sold it for several years to about 90% of each incoming class."
There's Crying in Dental Hygiene
The clinical reference guide spurred an interest to share the hygiene education content on social media because Kara's initial goal was to get her clinical reference published. Securing a publicist and a respected publisher is much easier done when you have an audience to share your work with. However, she graduated to writing articles for print and digital business-to-business publications before launching Today's RDH two years ago.
Throw in a bad employer into her mix of experiences, and one of dentistry's top media resources might not have happened. Vavrosky, who grew up on five acres 30 minutes south of Portland, Oregon, graduated from La Grande campus of the Oregon Institute of Technology, fully intending to embark on a full-time career as a dental hygienist. She struggled, though, to find employment in a market where jobs were scarce.
"Finding a job was not easy," she said. "I temped for several months, nearly a year, until I was offered a permanent position. However, I quickly found out, there was a reason this office was hiring."
The employer operated what's known in the dental profession as a "prophy mill" where hygienists treat patients during very short appointments under stressful conditions. She treated up to 18 patients a day with no lunch break and without promised support staff. She continued to look for another job.
However, there's crying in dental hygiene.
"I cried more working there than I did in hygiene school if you can believe that!" Vavrosky recalls, saying that she was often ill and vomiting before going to work. "The patient care I was trying to render wasn't up to my ethical standards. My body hurt; the constant pain alone was making me horrible to be around. I was at the point of burnout and resenting my career choice."
Tackling Mainstream Dental Publishing
Her boyfriend, Ben Buzbee, did not like what he was seeing. He encouraged her to consider other options, and in August 2013 helped her launched the Facebook group, Dental Hygiene with Kara RDH.
"I started getting many questions from dental hygienists and would be spending hours researching and writing back one hygienist at a time," she said. "While this was great, it seemed inefficient only to share that information with a single hygienist. That's when we built the website DentalHygieneAnswers.com."
Vavrosky also began writing for RDH Magazine and Modern Hygienist. At the latter publication, she worked with Michael O'Donnell, who is now the Chief Marketing Officer at Today's RDH. She realized that there was a disconnect between the dental hygiene profession and the publications targeting that audience.
"I had taken my ideas, but mostly other hygienists' feedback, to these publications to no avail," she said. "That's when I knew there needed to be something new based on hygienists' feedback and what the greater hygiene audience wanted − something for hygienists by hygienists. Ben and I reached out to Michael to see if he wanted to go on an adventure with us."
Today's RDH was launched on January 1, 2018.
The Today's RDH website is updated every day with articles written by Vavrosky and other dental hygienists. The articles address such topics as infection control, dental research, dental patient education and treatment, and employment issues. Today's RDH also produces a podcast with audio versions of articles. They have also started offering continuing education courses, and Vavrosky is producing and hosting her first live event later this year. The exposure of the content is enhanced by the website's own Facebook page and Dental Hygiene with Kara RDH, which had grown to become the largest Facebook pages for dental hygienists with more than 185,000 followers, and continues to grow every day.
"Today's RDH is 100% digital and mobile-first, not just as an afterthought from print," she said. "Let's face it, everyone is on their phones, addicted really, and that's where the vast majority prefer to get their info, including hygienists. We figure it's time dentistry enters the 21st century, and we cater to what clinicians want."
Vavrosky acknowledges that she was born with the "perfectionist gene." "I was the child who never had to be told to clean my room, make my bed, put my dishes in the dishwasher, or to do my homework." However, she struggled in two areas in her role as a leader in dental media. Even though she is very adept in responding to audience needs as a social media influencer, she is not particularly thick-skinned with cyberbullies.
She said, "Simply put, there are a lot of haters. I'm overly sensitive, and the nasty, negative Nancies hurt my feelings to my core."
Secondly, Kara developed her own likes and dislikes with the variety of products sold to dental professionals and health-conscious consumers. While mainstream advertising vehicles in the profession gladly sell space to anyone, Vavrosky was determined to take a higher road for the sake of her profession.
Vavrosky said, "My role is to educate and give objective facts. That's it. Each hygienist, using their critical thinking skills, can come to their own conclusion or opinion. I've lost and turned down sponsors because I won't say their product is the best, and that's fine by me."
She said she has encountered male resistance to her entrepreneurial efforts a "handful of times," but she is unsure if the resistance was based on her being a woman or a dental hygienist in a health-care profession controlled by male dentists. On the other hand, she gives credit to "incredibly supportive men" − Allen Vavrosky, her father, who was a business owner, entrepreneur, and inventor; Buzbee, who she married on February 29, 2020; and O'Donnell and Mark Hartley, two veterans of dental business-to-business publishing.
Vavrosky said she was honored to recognized by Folio as a female leader in media. One hundred women will be recognized next fall, and Vavrosky is one of 19 in the Entrepreneur category to receive recognition for what they have accomplished. Vavrosky is in good company. Other recipients of the Folio Award this year are the Publisher of People Magazine, Chief Marketing Officer of Forbes, SVP of Marketing for ESPN, Chief Revenue Officer of Bleacher Report, the Founder of POPSUGAR, and the COO of Consumer Reports, among others.
"A lot of what I have done has been trial by error," she said. "The label of social influencer wasn't even a thing when I first started making a name for myself on social media back in 2013, so a lot of what I have done is learning as I go. However, this is precisely why I feel the Folio Awards are so important, and I hold such honor to be a recipient. Being among these incredible women, both past and present recipients, is proof positive that women can be strong, intelligent, and do all things only men have previously been afforded the opportunity."
The clinical reference guide from dental hygiene school still sits on a shelf in her office, yet to be published.
"If someone had told me in hygiene school that I would have 235,000-plus followers across three social media platforms, be a writer and editor for well-known hygiene publications, and then start a publication of my own, I would have died laughing."
Read the press release of Kara Vavrosky, RDHEP, being selected as one of the top women in media here.
Now Listen to the Today's RDH Dental Hygiene Podcast Below: