A special thank you to Dentsply Sirona for sponsoring the Today's RDH Honor Awards and for their unwavering commitment in supporting the profession of dental hygiene.
In Sugar Land, there's a six-foot giant tooth named Tillie who crusades against dental disease. All of the words in the preceding sentence are true and not plagiarized from a comic book.
Tillie is worth meeting, even outside the city limits of Sugar Land, Texas. The objective of this article is to introduce Debra Snelling, who dons the costume for Tillie the Tooth and who is one of three recipients of the 2019 Today's RDH Honor Awards.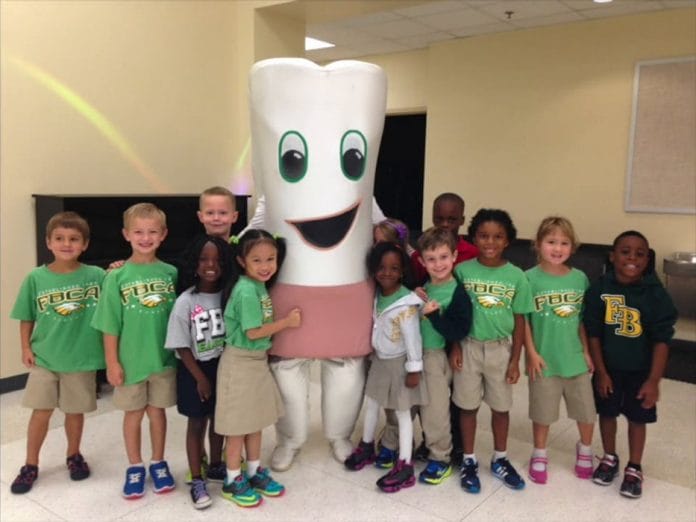 Acting skills, even inside the enamel of Tillie the Tooth, is not required for Today's RDH Honor Awards. But don't tell that to the hundreds of Texas schoolchildren who have been enthralled by Tillie's best performances and gladly took away an oral health lesson or two when the curtain goes down.
Snelling, a 40-year veteran of dental hygiene, doesn't need a costume to preach good oral health in the suburbs southwest of Houston. Today's RDH tips its hat to Snelling for a Smile School that she created, a volunteer in the Sealants Across Texas campaigns, and the "Debbie that all the patients love to see and that we joke about having to temp for," according to colleagues at the office for Dr. Larry Caldwell in Sugar Land.
Snelling remembers the date she started working for Dr. Caldwell – May 28, 1988. He was a young dentist who had not yet hired a dental hygienist. She started working part-time in his office for extra income for her growing family.
The 1979 graduate of Wharton Junior College recalls, "We moved from the Alief area [another Houston suburb] to Sugar Land in 1995 and opened the office where we are now. It was a great time then. We were in the midst of raising our families and building our futures. We were a team!"
Dr. Caldwell, a pediatric dentist, encouraged strong efforts with community outreach. The dentist recognized that the scheduling of children for 30-minute appointments was not offering enough time for oral hygiene instruction. The office initiated the Smile School as a solution, and it is free for children. Snelling later researched it and made educational aspects of the school acceptable for health merit badges for Boy Scouts and Girl Scouts.
"We set aside a time on Saturdays at noon to have Smile School," Snelling said. "We have the Brush Station where we go over anatomy, brushing the teeth of big stuffed animals. We have a meal at the Fortune Station. It's a big wheel with good and bad snacks. They spin the wheel and eat the snack in front of them. After chewing it up, we look in a mirror to see if we still see food. If we do, that's a bad snack, and we need to brush right away. Silly String Station is about flossing. We have two molars I made sitting side by side. The kids spray silly string in between, so it looks like food or plaque. We then take a rope, and they floss it out."
The dental office is also involved with the Fort Bend Children's Discovery Center where they host a Mommy Mingle on the first Friday of each month.
"I'm there to talk to the mothers of one- to two-year-olds," Snelling said. "I take Hank the Horse and sit on the floor. I sing a song I wrote for my children to get them to brush. One by one, the toddlers will come over to brush Hank's teeth. I answer questions and encourage the parents that they are doing the right thing."
Snelling's parents spent much time in Venezuela when she was a young child. Snelling's command of Spanish, which developed during the six years in Venezuela, currently comes in handy during the Sealants Across Texas events. She and her brother also struggled with some below-par dentistry in Venezuela as children, helping her with a career choice.
"I decided on dental hygiene in 1973 when I went off to college," she said. "I wanted a good job that could help support a family. It's been a wonderful career, and I'm not through yet."
That means the locals can still catch that act for Tillie the Tooth for the foreseeable future. By Snelling's estimate, Tillie the Tooth has performed for more than 150,000 children during the last 28 years, before audiences ranging from 10 to 400 youths.
Initially, Dr. Caldwell and his longtime dental assistant, Anne Pencak, were attempting to generate new patients with a video at daycare centers followed by a quick visual exam. They asked Snelling to be a part of the patient education effort.
"I wanted something out-of-the-box, large, and hands-on," Snelling recalls. "I wanted to entertain and teach at the same time. So I made a six-foot molar costume. With help from Anne, we developed a program that taught anatomy, brushing, flossing, and good snacks and bad snacks."
"Tillie comes out covered in food and tells the children that Margaret forgot to brush me, so as we move through, about 20 to 30 kids are called up to brush and floss me. In 1993, I recorded a rap song for the program. It was so much fun, all these years later to hear my elementary age children singing the chorus."
If skeptics don't believe a "dirty" Tillie the Tooth doesn't have an impact, consider this:
"Tillie has become such an important aspect in my life, so much so that my grandkids call me Tillie. We sponsor the Sugar Land Skeeters baseball team, and when I wear the costume to the stadium, it's so wonderful to have young adults, teenagers come up to me and tell me they loved it when we came. They tell me they learned how to brush from Tillie. I'm always the recipient of great big hugs!"
The nomination for Snelling was submitted by Amelia Snelling Metz – her daughter. Amelia Metz and her siblings all sat through Tillie the Tooth productions. Amelia, though, followed her mother's career choice, and on Fridays in Sugar Land, Texas, you'll find the mother-daughter team collaborating on Tillie the Tooth programs.