A special thank you to Dentsply Sirona for sponsoring the Today's RDH Honor Awards and for their unwavering commitment in supporting the profession of dental hygiene.
Gauri Mona Patel and Aaron Seubert are the dentists at Bayshore Dental, which is in a north Milwaukee neighborhood known as Whitefish Bay. Whitefish Bay is a very family-oriented community, with a diverse demographic. The office is located right in the heart of the Village, alongside several locally owned businesses and restaurants. Being one of the more northern suburbs of Milwaukee, local residents take pride in having a shorter drive up to Lambeau Field to cheer on the Packers.
Whitefish Bay was selected as the best place to live in Wisconsin in 2019 by 24/7 Wall St., a website that searched for the best places in all 50 states this year. The community's job market and low crime rate helped the residents earn the status for being a very pleasant place to establish roots.
This 'small town' feel was a key factor in Dr. Patel's decision making for where she wanted to practice. Combining Dr. Seubert's Millennial tech-savvy skillset and Dr. Patel's decade long experience in high-quality clinical care, they now successfully provide the highest standard of digital dentistry to this beloved community.
Dr. Patel still remembers the day when one of the three recipients of the Today's RDH Honor Awards started working there a few years ago. She was a little taken back that the dental hygienist, Mandy Macachor, RDH, was guiding her instead of the other way around.
"From the first moment I spoke to Mandy, I knew immediately she would be a great addition to Bayshore Dental," Dr. Patel recalls. "Her enthusiasm for positive patient experiences combined with her dorky obsession with the gingiva is visible in the way she interacts with our patients."
"On her first day at Bayshore Dental, I was prepared to spend extra time with her to guide her on our diagnosing and treatment planning protocols. I walked into her operatory for her first hygiene check ready to take it slow, and she begins to tell me, 'OK, Dr. Patel I've already discussed with our patient her perio findings especially addressing her posterior recession and some improved home care techniques, pointed out to her some possible caries on the FMX which I told her you will confirm, and I have an intraoral picture pulled up on the screen for you to review of a possible hairline fracture on #19 that I detected. I've already checked her insurance benefits and let her know that if she indeed needs a crown what her out of pocket portion will be based on her plan estimation.'
"She then whispers to me, 'And I restocked the hygiene supplies and corrected a typo on your Facebook page.' I told her that day to please never leave me."
Macachor was nominated for the award by Dr. Patel, who credits an "instant shift" in the dental practice upon the dental hygienist's arrival. When Today's RDH asked what instant shift meant, we received the explanation above. But in addition to Macachor's impact on the Milwaukee dental practice, Dr. Patel also marvels at the dental hygienist's drive to educate the local community on oral health, returning to college to further public health skills and participating in dental charity trips to the Philippines.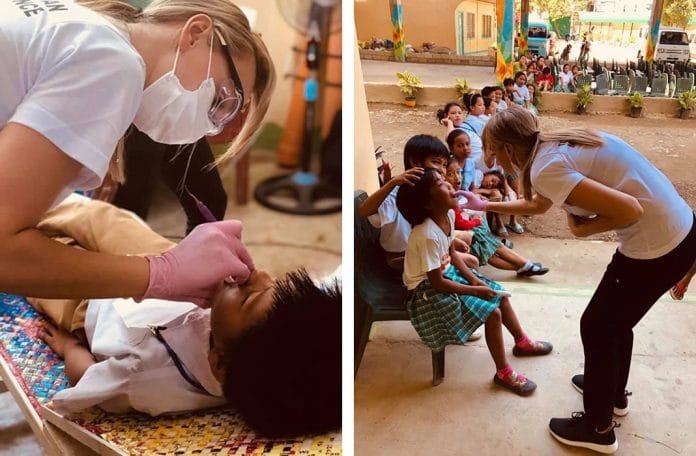 Mandy states of her mission experience "It's extremely humbling to provide the simplest of care to these children, yet they show so much gratitude. We take for granted the access to modern equipment and techniques we have on a daily basis. I unquestionably plan to volunteer for various dental missions, and hope that my platform may motivate others to do so as well."
A Milwaukee native, Macachor graduated from the Milwaukee Area Technical College in 2017. She entered dental hygiene after witnessing the poor oral health her mother endured.
"My mother began to lose teeth due to poor periodontal health at the age of 38 years old," Macachor said. "I was saddened by the dental complications my mother had been experiencing. I was saddened that my beautiful mother didn't want to smile in photos. The complications of my mothers' oral health had inspired me to become a prevention specialist in all aspects of oral health."
So she switched gears from her original intent as a high school senior to obtain a bachelor's degree in marketing.
"I quickly realized I had a desire to help and inspire people, and that I truly belonged in the health field," Macachor said. "I specifically and intentionally chose to become a dental hygienist because I wanted the opportunity to advocate for patients' preventive care. I passionately aspired to provide care that could potentially prevent the loss of teeth, or more importantly, their confidence."
By the way, she has not forgotten the original objective of earning a bachelor's degree. She anticipates earning her degree in May 2020. Macachor describes herself as being a "continual learner" and "excitedly" seeks "opportunities to expand my skill set."
She said, "I am fortunate that in the state of Wisconsin, dental hygienists can administer local anesthetic, nitrous oxide, and provide laser therapies. I am inspired to obtain advanced certifications and participate in continuing education that allows for the most optimal patient care."
She gives much-deserved credit for the experience obtained at Bayshore Dental, which she joined "immediately" after graduation from dental hygiene school.
"I was tremendously impressed by Dr. Patel and thankful for the opportunity to be a part of her hygiene team," she said. "I instantly found motivation by her high expectations and standards of care. I thrived in such an environment."
She said preparation for the full-time clinical role in private practice was aided by developing leadership techniques as the president of the Student American Dental Hygienists' Association chapter at Milwaukee Area Technical College.
"I instinctively encouraged team-focused goals (at Bayshore Dental)," Macachor said. "I have previous experience as a dental assistant and front desk patient coordinator. I firmly believe my experience in these roles has made me an improved clinician and enhanced my recognition of the importance of all team members."
With a tongue in cheek, Dr. Patel adds, "On a scale of 1-10, our Bayshore Dental team thinks Mandy's an 11/12! While we are so proud of her Today's RDH Honor Award, we are not at all surprised. She is a shining star."