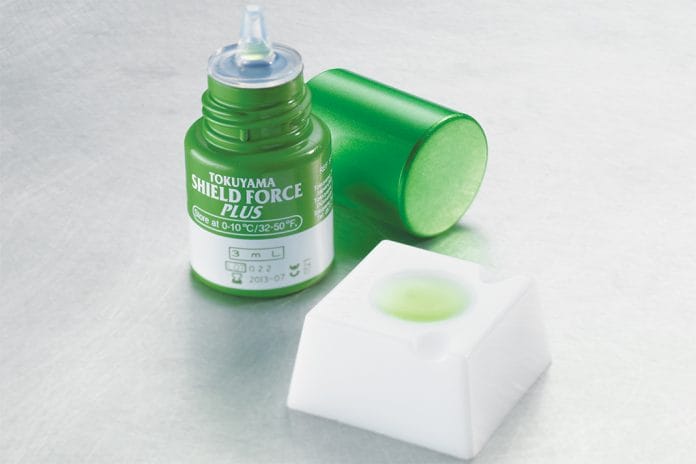 Disclosure: We value transparency at Today's RDH. This article is sponsored content from Tokuyama Dental America as part of our sponsored partner program.
A familiar problem
Dentinal hypersensitivity is a common pain that is estimated to occur in approximately 15% to 20% of all dental patients. It is widely accepted that in almost all cases, this sensitivity is caused by rapid fluid movement in the dentinal tubules, which irritates the nerves within, and causes pain. This fluid movement can be caused by many factors but is most commonly caused by hot, cold, or acidic foods. Because of this, dentinal hypersensitivity can have a large negative impact on the lifestyles of those who suffer from it. While many of those who suffer from sensitivity choose over-the-counter treatments, many times these can prove insufficient. As such, it often falls on the practitioner to provide stronger relief to their affected patients.
Clinicians have a multitude of chairside and take-home treatment options when it comes to alleviating sensitivity for these patients, but most are short-lived or ineffective. Take-home products such as desensitizing toothpaste or remineralization pastes are frequently the first choice for treating these patients, but of course, their effectiveness can be limited by patient compliance. On the other hand, patients and practitioners can rest assured that chairside products will more frequently perform as expected, but these can have their own drawbacks. Some of the most popular desensitizing products use caustic chemicals to coagulate and occlude the tubules and require extra precautions to apply, making them time-consuming, complicated, and potentially hazardous to use. Others require mixing and setting times, eating up valuable time and making them less than optimal solutions.
Three years of sensitivity relief in 30 seconds
Shield Force Plus aids dental professionals by providing a more reliable, effective, and easy-to-use chairside solution for alleviating their sensitive patient's pain, offering up to three years of relief in just 30 seconds. Combining this long-term relief with its immediate effectiveness is what patients will love about Shield Force Plus, and hygienists and doctors will love its quick, easy, and safe procedure. Shield Force Plus also goes on green and cures clear to ensure accurate placement, and improves bond strength when used with direct restorative treatments.
Shield Force Plus has many indications and is great for hygienists that want to treat sensitivity in cases of cervical erosions, exposed dentinal surfaces, and gingival recession. For dentists, Shield Force Plus can be used prevent hypersensitivity under direct restorations, under crowns, bridges, inlays or onlays, veneers, and provisionals.
With an advanced resin-based formula, Shield Force Plus is a desensitizer that offers safe, immediate and long-lasting sensitivity relief. Utilizing Double Block Technology, patients experience two layers of protection. Block #1 is immediate desensitization, which occurs when Shield Force Plus is brushed on and the resin material penetrates the dentinal tubules 50 microns deep, blocking the fluid movement inside the dentinal tubules. Block #2 begins at first application as well, as the resin in Shield Force Plus begins bonding with the calcium ions in the patient's teeth. Air drying removes solvents and water until a 10-micron thick protective layer on the surface of the dentin is formed, at which point light curing polymerizes the resin, creating a hardened shield over the resin tags and exposed dentin. This shield is highly resistant to abrasion and is what offers long-term sensitivity relief for up to three years.
Superior results
When Shield Force Plus is compared to competitors, the long-term results are apparent. In a 10,000 thermal cycle test to simulate extreme intraoral conditions, Shield Force Plus demonstrates superior initial and long-term sealing and protection, as it is the only desensitizer brand that is virtually unaffected by the test. Other popular brands are almost completely worn away just by these temperature changes.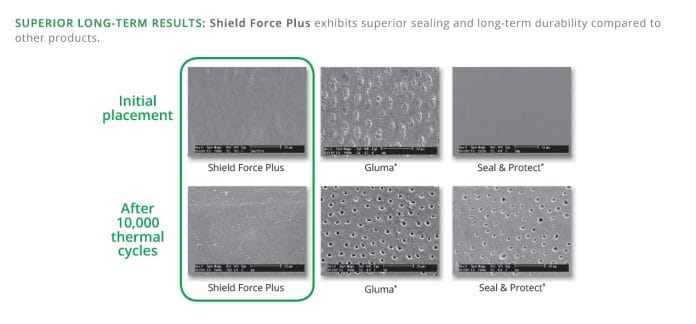 Further showcasing the effectiveness of Shield Force Plus's ability to resist abrasion, a test was performed with 10,000 toothbrush strokes against different desensitizers to simulate a patient brushing their teeth three times a day for three years. Many resin-based competitors decreased almost 10 microns, whereas Shield Force Plus decreased only 1.5 microns. Also, other desensitizers such as Gluma and Vanish XT were worn away completely, exposing the underlying dentin to wear further and lead to further abrasion.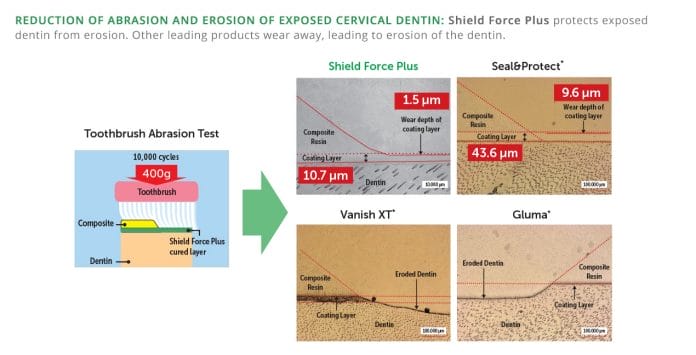 As any dental professional knows, various types of debris and contamination can be introduced to the oral environment, and this can be particularly undesirable with exposed dentinal surfaces and restorations. Shield Force Plus not only protects against sensitivity but also provides additional protection against these contaminants, offering reliable and consistent clinical outcomes for years to come.
A simpler, safer procedure
Shield Force Plus is also safer and easier to use than many of the leading chairside desensitizers on the market. Shield Force Plus is resin-based, allowing for easy placement and forgiveness if the material touches soft tissue – no isolation or dental dams necessary. Other popular products such as Gluma and Microprime contain Glutaraldehyde, a caustic chemical that is not only dangerous to soft tissues but gives off hazardous fumes as well. Caution and isolation must be practiced with these products, making them slower and less convenient.
Almost any dental professional will love how quick and easy it is to apply Shield Force Plus. Simply apply to the affected area, air dry gently for 5 seconds, then strongly for 5 seconds more, and light-cure for 10 seconds. With these simple steps, the entire process can be completed in only 30 seconds for almost all cases of dentinal sensitivity.
A better value, a better business
With a safe and easy to use resin-based formula, quick application process, versatile uses, and incredible longevity, it's easy to see how Shield Force Plus can be a great addition to any dental practice. With 180 applications per bottle, at around only $0.55 per application, Shield Force Plus provides not only better clinical outcomes, but a better value as well.
Three years worth of over-the-counter sensitivity treatments can cost a patient around $200 or more, and generate no revenue for the practitioner, while other chairside products lack the longevity of Shield Force Plus, requiring up to 6 times as many visits for the same results. With Shield Force Plus, even if the dental office only charged a minimal $50 fee per treatment, a single bottle represents up to $9000 of potential revenue.
Getting patients to agree to any dental treatment can sometimes be tricky, but they are more likely to pay more – and out of pocket, if need be – for more effective treatments that ultimately provide them better value and better outcome. In the end, keeping patients happy and out of pain is the ultimate objective of any clinician, and Shield Force Plus can help do just that.
To learn more, visit ShieldForcePlus.com.