Disabling hearing loss, defined by the World Health Organization, is hearing loss greater than 40 decibels in the better ear of adults or greater than 30 decibels in children. Four hundred sixty-six million people worldwide are affected by some degree of hearing loss. Due to increases in hazardous noise exposure such as continuous city traffic noise, personal music players, and concerts that number is expected to rise to 900 million (1 in 10) by 2050.3
Hearing loss can be caused by cochlear dysfunction due to birth anomalies, damage to the auditory nerve, or infection. The largest percentage of hearing loss is age-related. Hearing loss disrupts a person's ability to communicate and may lead to reduced social interaction, increased sense of exclusion, depression, and low self-esteem. Insufficient communication between a provider and patient may lead to poor home care, inadequate post-op care, fear, and anxiety.7 Dental hygienists should attempt to help identify and reduce barriers in ease of access to care for patients with impaired hearing.
Is there an Oral Health Impact on Hearing?
There are two yet unsubstantiated theories about the relation of teeth to hearing capability. One suggests that the teeth contribute to the vibrating capacity of the skull, enhancing bone conduction and maintaining correct vertical dimension of occlusion. Correct vertical dimension is thought to optimize the eustachian tube and ear canal size, shape, and resonance maximizing hearing activity. The second theory relates to tooth loss contributing to reduced muscle activity of the palate on the auditory tube possibly playing a role in hearing loss.1
Patients with hearing loss may use one of several aides to effectively understand others or communicate their needs. American Sign Language, assistive devices, captions for viewers, cochlear implants, hearing aids, and telecommunication relay services are all available.4
Can Teeth be Used to Improve Hearing?
Dental hygienists may take particular notice of the SoundBite Hearing System, which uses a separate behind-the-ear and an in-the-mouth (Figures 1 & 2) combination of appliances that require no surgery or modifications to the teeth. This system is only used for those with conductive hearing loss (a disorder of the middle or outer ear) or single-sided deafness.5 The in-the-mouth or ITM aspect of this system is a piezoelectric activator in a small removable unilateral appliance that conducts sound through the bone via the teeth to the better hearing ear.
Parts of the appliance touch the gingiva, teeth, and inner cheek when attached to the last three most posterior teeth. These teeth must be free of any active caries and periodontal or endodontic lesions. The SoundBite system has been used successfully on implants and teeth with fillings, crowns, and previous endodontic treatment.5 The buccal actuator has a round post that creates sound, it is connected by a wire around the most distal surface to the lingual electronic and battery components.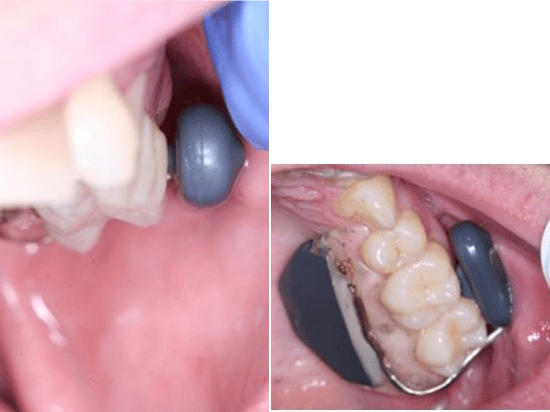 The SoundBite Hearing System is authorized by a physician, and hearing candidacy is determined by an audiologist. A complete exam of the abutment teeth and impressions are done by a dentist. Only minimal side effects, such as gingival soreness during the first days of use have been reported. The entire system is sealed and may be worn while eating. Patients need only to clean the appliance regularly with a toothbrush and liquid soap similar to other dental prosthetics.5
Note: The SoundBite Hearing System is not currently commercially available, as the patents were acquired by another company, and it has not returned to market as of now.
Assistance for Hearing-impaired Patients
The Americans with Disabilities Act became law in 1990; it is a civil rights law that prohibits discrimination against individuals with disabilities in all areas of public life, including jobs, schools, transportation, and all public and private places that are open to the general public.1,2 Title III of the ADA mandates that in order to provide equal access, businesses must provide auxiliary aids to those who are deaf or hard of hearing at the patient's request.1
Small dental offices, defined as 30 employees or less or $1 million or less in gross receipts for the previous year, may receive a tax credit for the expense of providing an interpreter. It is never legal to pass on the cost of an interpreter to the patient. Businesses are only exempt from the cost if the patient made arrangements previous to the appointment, or if the owner can prove an undue burden or unreasonable disruption to treatment by providing an interpreter.1,2
The National Registry of Interpreters for the Deaf (RID) hosts an online database or you can call 703.838.0030 (voice) or 703.838.0459 (TTY). You can also seek referrals from your state office for the deaf and hard of hearing, the local chapter of the National Association of the Deaf, or from the person requesting the interpreter. Qualified interpreters may be hard to find on short notice and should be sought as soon as the patient requests an appointment.4
People with normal hearing may not realize some of the challenges those with hearing-loss face daily. Ahmed Khalifa, diagnosed at age 6 with mild deafness, outlined his experience with a dental appointment from start to finish in a March 2019 episode of his podcast "Hear Me Out." His challenges began as soon as he attempted to schedule the visit itself, and he provides some great perspective for dental hygienists to be aware of while treating anyone who is hearing-impaired.
Considerate Care for Hearing-impaired Patients
Below are ways to make dental care more easily accessible and comfortable for hearing-impaired patients.6,7,8
Dental offices should have an email or online contact option for those who may not hear phone conversations well.
Clearly mark bathrooms and entrances/exits.
Upon arrival, ask the patient's preferred method of communication, i.e. pencil and paper (write legibly), or typing on a tablet.
Do not assume the patient reads lips or knows sign language.
Look and speak directly to the patient, not their interpreter or companion.
Reduce background noise as much as possible; do not shout. Many hearing-impaired patients hear lower tones better than high or shrill tones.
Be aware of side conversations between staff, make the patient aware of what is being discussed at all times.
Do not cover your face, or use a clear mask.
Attract patient attention before speaking with a gentle shoulder tap or wave.
Be clear when giving direction, explain what is going to happen, and confirm the patient understands continuously before, during, and after treatment.
Utilize visual aids and intraoral pictures to help the patient see what you see.
Have written communication available for oral hygiene, post-op instruction, and confirm patient fully understands at-home care.
Hearing-loss Awareness
Dental hygienists cannot diagnose hearing loss but may be the first to help patients recognize an issue. Patients might complain of new recent difficulty in hearing or ask you to raise your voice or repeat yourself. Scaling and ultrasonic noise may bother a person on one side more than the other, indicating unilateral hearing loss. The National Institute on Deafness and Other Communication Disorders (NIDCD) offers an online option to test a person's sense of pitch and a quiz to assess a person's need for a hearing test. Dental hygienists may recommend a patient see their primary care physician, an otolaryngologist (ENT), audiologist, or hearing instrument specialist if there is a hearing concern.4
We have all treated someone with some degree of hearing loss, and as dental professionals know, our likelihood of experiencing some level of hearing loss is higher due to the consistent noise of a dental office. Dental hygienists should not only strive to increase ease of access to dental care for those who are hearing-impaired but also be aware of protecting their hearing in daily practice.
Now Listen to the Today's RDH Dental Hygiene Podcast Below:
References
ADA Quick Tips – Sign Language Interpreters. ADA National Network. 2017. Retrieved from https://adata.org/factsheet/sign-language-interpreters
Ali, S. Providing interpreters for patients with hearing disabilities: ADA requirements. Innovations in Clinical Neuroscience. 2012; 9(9): 30–33.
Grades of Hearing Impairment. World Health Organization. 2017, November 21. Retrieved from https://www.who.int/pbd/deafness/hearing_impairment_grades/en/
Hearing, Ear Infections, and Deafness. National Institute on Deafness and Other Communication Related Disorders. 2019, August 8. Retrieved from https://www.nidcd.nih.gov/health/hearing-ear-infections-deafness
Miller, R. J. It's time we listened to our teeth: The SoundBite hearing system. American Journal of Orthodontics and Dentofacial Orthopedics. 2010; 138(5): 666–669. doi: 10.1016/j.ajodo.2010.03.027.
Oral Health Fact Sheet for Dental Professionals. University of Washington School of Dentistry. Retrieved from http://dental.washington.edu/wp-content/media/sp_need_pdfs/Hearing-Adult.pdf
Waldron, S.K. Auditory sensory impairments and the impact on oral healthcare: a review of the literature. Canadian Journal of Dental Hygiene. 2011; 45(3): 180–184. Retrieved from https://www.cdha.ca/pdfs/Profession/Journal/v45n3.pdf
Khalifa, A. My Dental Experience as a Deaf/Hard of Hearing Person. 2019, March 7. Retrieved from https://hearmeoutcc.com/episode-10-dentist-experience-deaf-hard-of-hearing/