In the last "Decades of Dental Hygiene" interview, I highlighted 82-year-old Fran Tourdot, RDH, and her career. This next "Decades of Dental Hygiene" interview is with Barb Orth, RDH, BS, who at age 75, is still going strong temping after a fantastic career in private practice and some teaching. Barb and I met for lunch. She had just come from a three-mile run! It wasn't a surprise that she ran into several patients that she used to see in private practice. They all greeted her with hugs. Barb knew all the details of their lives. Barb feels that patient relationships are the cornerstone of practicing quality dental hygiene.
Jensen: Thanks for the opportunity to interview you Barb. We have a mutual friend, Monty Abbott, DDS, who suggested you for the 1970s decade. Let's start with your family background? Where did you grow up?
Orth: I was born in Racine, Wisconsin, and was one of six children. One sibling has passed away. My dad was a tool and die maker, and my mom was a homemaker. I married my husband Ken in 1969. He is retired from working in the insurance industry. We have two daughters and four grandchildren.
Jensen: Where did you go to dental hygiene school?
Orth: I went to Marquette University in Milwaukee, class of 1967. I was 23 when I graduated and earned my bachelor's degree in dental hygiene − one of the first students to do so. I was one of the oldest students in the class. I lived off-campus with some other students who were studying in different health care fields. It was, at times, a nice break to get away from all things dental hygiene. I am still in contact with three classmates from my program. I put myself through school, and it was expensive, about $5,000 a year. It was in the day where we wore all whites − long sleeve white uniform dresses, white hose, and white shoes. And, of course, our cap. I still have my cap and my black instrument box with my maiden name on it!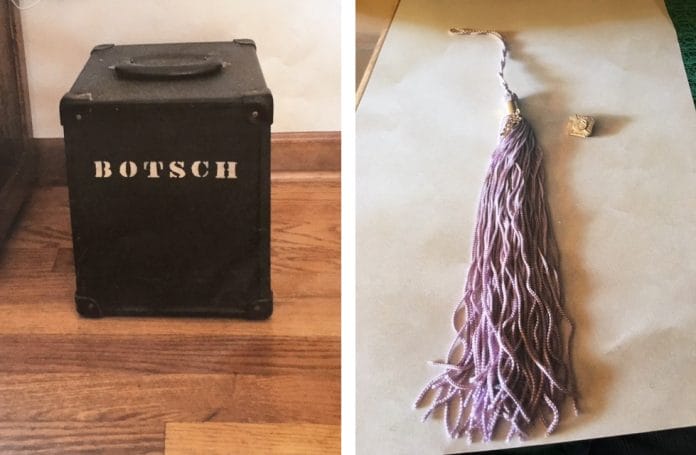 Jensen: Do you remember the cost of dental cleaning when you first started working?
Orth: It was $8!
Jensen: Tell me a little about your career highlights?
Orth: I started working as soon as I could, and the first office I worked at was a bit of a disappointment. I was extremely ill and eventually hospitalized with pneumonia over the Christmas holidays. When I called to tell my dentist I could not come into work and why, he just told me not to come back. Just like that, I lost my job. Being a new dental hygienist, I was crushed. My first real position was with Dr. Robert Henschel in Milwaukee. A wonderful office.
Then we moved to Connecticut, where I worked for a very young, new dentist, Dr. Egan. A whippersnapper! I was old enough to be his mother. Eventually, I had two children, and we moved back to Racine in Wisconsin. Back then, offices would not hold your job when you had a baby. Times certainly have changed.
I was WDHA President in 1972. I also taught radiology at Milwaukee Area Technical and Kenosha Gateway. In 1980, we moved to Naperville, Illinois, and I started working with Dr. Monty Abbott. From the start, he was open to my suggestions and wanted to work together to grow the practice. Over time, we did just that, together. A true team. I worked with that practice until 2007. I call myself semi-retired now, as I still temp.
Jensen: Tell me how you like temping?
Orth: The biggest issue is all the dental software programs. It would be impossible to be familiar with all the different programs. I think the dental offices that hire temps need to realize this fact and have systems in place to assist. We know dental hygiene, just give us a break with the data entry! But I plan on still temping. I enjoy the offices and flexibility.
Jensen:  I couldn't agree more.  Let's redirect for a minute. Are you ready for some fun questions?
Orth: Of course!
Jensen: What do you do for fun? What do you like to read? Favorite TV show? Are you a fan of social media?
Orth: I am a runner in 5Ks and 10Ks. I always look forward to the Thanksgiving Day Turkey Trot. When I read, it is really fluff—fiction. All fiction. I'm not much of a TV watcher. As for social media, it is not something I was brought up with, so I am not overly excited about it, but I do use it. One feels like they almost have to!
Jensen: Ok, back to dental hygiene. Do you have a special favorite patient story?
Orth: I have so many! The one that comes top of mind was my last day at my last office. I had a four-year-old boy as my last patient. His parents had been in earlier that day, and they knew it was my last day. I had seen this young boy for one other visit. He arrived with a bouquet of flowers and to the tune of Happy Birthday—he sang Happy Retirement to you… I just loved it.
It really did just stop me in my tracks.
Jensen: I love that story! Barb, what more would you like to be seen done in our profession?
Orth: I know I won't see it in my lifetime, but dental hygienists (in Illinois) need to have independent practice. Changes in the profession have been so slow. I have noticed over the past years, that attendance is way down at in-person CE events. I understand that webinars can be extremely convenient, but we as a profession, need to meet in-person and often. I am usually the oldest one in the room at a CE course. I enjoy having contact with people and discussing all things in the profession. This is how we can always move forward!
Jensen:  I agree! What's the biggest change you see in doing dental hygiene from when you started and now?
Orth: Patients are much more educated and read so much. Also, the use of the prophy jet with ortho patients was eye-opening.
Jensen: What advice would you give to yourself back in 1967 from all that you have learned?
Orth: Knock 'em dead. Just go for it!
Jensen:  Give me three words that describe you?
Orth:  Outgoing, assertive, and good at what I do!!
Interviews took place by phone on Sept. 12, 2019, and in-person on Sept. 26, 2019.
Now Listen to the Today's RDH Dental Hygiene Podcast Below: