New and exciting things were happening at this past EuroPerio9 held in Amsterdam from June 20th-23rd, 2018. The American Academy of Periodontology (AAP) announced new periodontal classifications for the AAP Guidelines. The guidelines have not been updated since 1999, so this is a pretty big deal! This was a long time coming as both the American Academy of Periodontology and European Federation of Periodontology (EFP) have been working on this for quite some time. A workshop titled the World Workshop occurred in November 2017.1 This World Workshop consisted of expert participants, along with the AAP and EFP, as they were tasked with reviewing multiple publications, including review papers and consensus reports that led to the new guidelines.1
As a review, the periodontal classifications were revised in 1999 and classified as chronic, aggressive (localized and generalized), necrotizing, and a manifestation of systemic disease.1 New technology, research, and information has emerged in the past 18 years which led to the new revisions. The American Academy of Periodontology Classifications are designed to help dental hygienists diagnose and treat periodontitis. The guidelines can be followed so consistent diagnosing can occur.
The AAP released two documents titled "Three Steps to Staging and Grading a Patient" and "Staging and Grading Periodontitis." A quick synopsis of the three stages are as follows; Step 1: Initial Case Overview to Assess Disease, the recommendation is to conduct a screening consisting of radiographs, probing depths, and missing teeth. Based on the findings from step 1, a determination of mild-moderate periodontitis can be made, which is considered Stage I or Stage II. Severe or very severe periodontitis will be considered Stage III or Stage IV. Step 2: Establish Stage is divided into two sections. For mild to moderate periodontitis, the focus will be on clinical attachment loss (CAL). Step 3: Establish Grade focuses on assessing risk factors, systemic considerations, and outcomes of non-surgical periodontal therapy.3
To fully understand the "Three Steps to Staging and Grading a Patient", four stages were developed to differentiate between severity, complexity and extent, and distribution of periodontitis. The stages, consisting of Stage I-IV are below for review.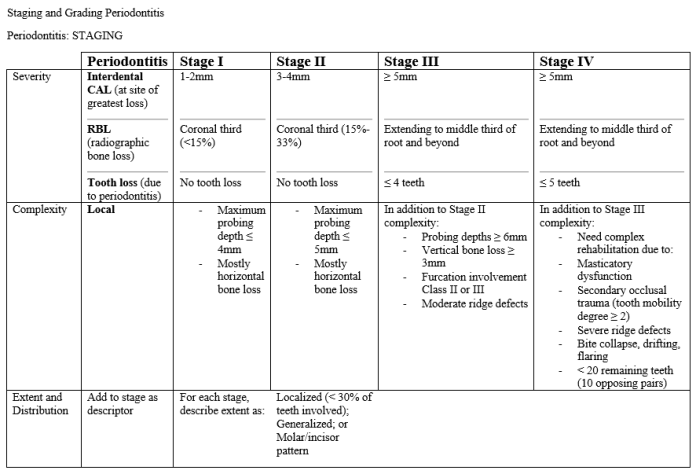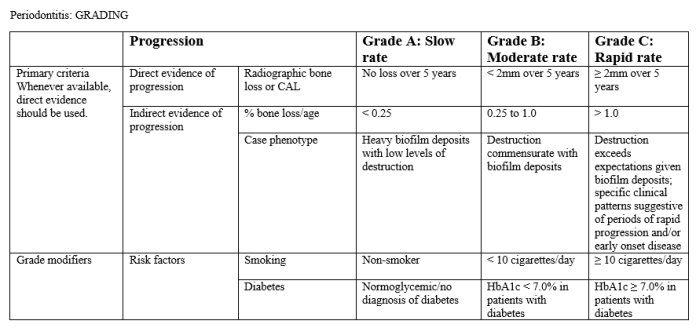 This is a hot topic right now, and information will continue to emerge regarding the new guidelines. Now that the charts are available, implementation into schools, clinics, and private practices can occur.
For more information on the new AAP periodontal classification guidelines, click here.
Listen to the Today's RDH Dental Hygiene Podcast Below:
SEE ALSO: Periodontal Maintenance: Taking the Guesswork out of the 4910
DON'T MISS: Top 10 Essentials for Every Hygienists' Toolkit
References
Berglundh, T., Armitage, G., Araujo, M. G., Avila-Ortiz, G., Blanco, J., Camargo, P. M., . . . Zitzmann, N. (2018). Peri-implant diseases and conditions: Consensus report of workgroup 4 of the 2017 World Workshop on the Classification of Periodontal and Peri-Implant Diseases and Conditions. Journal of Periodontology, 89. doi:10.1002/jper.17-0739.
Caton, J. G., Armitage, G., Berglundh, T., Chapple, I. L., Jepsen, S., Kornman, K. S., . . . Tonetti, M. S. (2018). A new classification scheme for periodontal and peri-implant diseases and conditions – Introduction and key changes from the 1999 classification. Journal of Periodontology, 89, S1-S8. doi:10.1002/jper.18-0157.
Tables from Tonetti, Greenwell, Kornman. J Periodontol 2018;89 (Supp 1): S159-S172. Retrieved from http://perio.org/sites/default/files/files/Staging%20and%20Grading%20Periodontitis.pdf