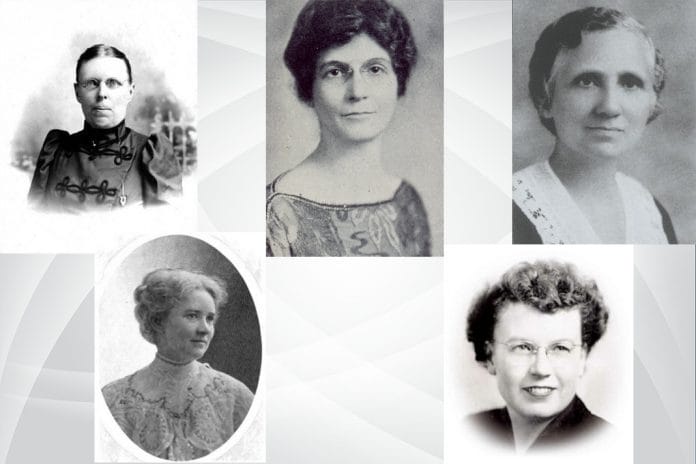 The late 1800s and early 1900s brought about many changes in economics, social and environmental reforms in the United States. This was known as the "Progressive Era" and inspired women and women's organizations to strive for equality.1 In addition to women's participation in dentistry, women fought for economic and political parity as well as social reforms such as the right to vote.
Furthermore, the mid to late 20th century, known as the "Technology Era," impacted today's modern dentistry.
As the 19th-century pioneer women paved the road for females in dentistry, the 20th-century progressive women opened the gates for contemporary females' participation in the profession of dentistry. Despite the admittance of women in dental colleges, dental licensure, and dental practice in the late 1800s, prior to 1970, only approximately 3.3% of dentists were women.2 However, many important women of the 20th century played a role in contributing to the advancement of women in dentistry. As a result, today, women make up almost half of the profession.2
The first part of this series was published in Today's RDH and can be viewed here.
Irene Newman
Irene Newman was born in 1875 in Bridgeport, Connecticut. She was a cousin of Alfred Fones, who is known as the founder of dental hygiene, and he graduated from dental school the year that bacteria were discovered to cause tooth decay. In response to this new knowledge, practicing dentists across the country implemented "odontocure." 3
Odontocure was the practice of dentists to employ women to patrol neighborhoods "with an orange wooden stick, pumice, and a flannel rag" to clean teeth, which would reduce the bacterial load.3 Unfortunately, because of time spent chairside and lack of interest by the women, this idea failed. However, Dr. Fones, realizing the importance of reducing the bacterial load in the oral cavity, decided to train his cousin and chairside assistant, Newman, to clean teeth.
In 1907, Newman became the first woman to perform prophylactic duties as a "dental hygienist," a title designated by Dr. Fones. In 1913, Dr. Fones and Newman started a school for dental hygienists and used teaching aids similar to those currently being used today for instruction. This, in turn, prompted Connecticut to issue the first dental hygienist license to Newman in 1917.3
Incredibly, Bridgeport, Connecticut, had the lowest death rate during the influenza outbreak of 1918, which historically was credited to their dental hygiene practices.3
Gillette Hayden
Gillette Hayden, born in 1880, is known for her skills in periodontics. Dr. Hayden was the great-granddaughter of Horace Hayton, one of the founders of the first dental college in Baltimore, Maryland.4
In 1902, Dr. Hayden was only the third woman to graduate from Ohio Medical University with a dental degree. A year later, in 1903, she began her own general dentistry practice in Columbus, Ohio. However, from 1905 to 1908, she traveled in Europe to introduce periodontal disease preventive methods and treatments that Dr. D.D. Smith of Philadelphia developed. After her return to the United States in 1908, she specialized in periodontics in her practice.4
In 1914, Dr. Hayden joined Dr. Grace Rogers Spalding and founded the American Academy of Periodontology (AAP). In addition to serving as president of AAP in 1926, Hayden served as president of the Federation of American Women Dentists in 1923. She also served as secretary of Periodontics of the International Dental Congress in 1925.4
Following Dr. Hayden's role as president of the Federation of American Women Dentists, she was later appointed a fellowship with the Federation of American Women Dentists, where she served until her death in 1929. Aside from Dr. Hayden's involvement in various dental committees, she was also vested in the "equal rights movement" in her home state of Ohio.4
Grace Rogers Spalding
Grace Rogers Spalding was born in Ohio in 1881 and is known for her role in her collaboration with Dr. Hayden in organizing the American Academy of Periodontics in 1913.5
Dr. Spalding was encouraged by a colleague, Dr. Edward Spalding, to focus on preventive dentistry, which resulted in her joining his Detroit practice and later becoming his wife. This preventive focus on oral health, along with her involvement with Dr. Hayden and the AAP, contributed positively to the local community dental health of Detroit.5
Spalding's other dental accomplishments included her roles as president, fellow, and secretary for the AAP and her involvement in other dental organizations. In addition, from 1933-to 1949, Spalding notably was the first editor of the Journal of Periodontology. Also, in 1950 she was one of four women elected to the American College of Dentists.5
Interestingly, as I was researching this article and came across Dr. Grace Rogers Spalding, I inquired about her relationship with my family because she shares the same last name I was born with. My aunt, who is our "family historian," confirmed my suspicions and explained that Dr. Edward Spalding is a distant paternal cousin (6th), which, in turn, makes Dr. Grace Rogers Spalding a paternal cousin by marriage.
Minnie Evangeline Jordan
Minnie Evangeline Jordan was born in 1865 and was a teacher during the fall, winter, and spring, and a dental assistant during the summer. Her job as a dental assistant heightened her love of dentistry, prompting her to study at the University of California.6
In 1909, after receiving her DDS and opening her own practice, Dr. Jordan limited her dental practice to children only after being invited to a lecture on pediatrics and operative dentistry. During her practice, she developed and introduced techniques such as hand over mouth to aid in reducing children's dental fear. Although this technique is antiquated now, Jordan published a series of papers on dental treatment for children, including "Operative Dentistry for Children" in 1925, which was considered "cutting edge" at the time.6
Jordan emphasized not only her practice on children but also the importance of good nutrition for healthy teeth. During a time when public health movements were common, and there were better understandings of the bacterial role in disease and transmission, such as tuberculosis and diphtheria, Jordan encouraged good nutrition and diet with her patients.8 She once said, "Rid the country of the deadly candy shop and grocery store, get most of your living from the vegetable garden and the family cow, and apply the teaching of oral hygiene."6
Esther Wilkins
Esther Wilkins is known to dental hygienists all over the country as the "Godmother of Dental Hygiene." Wilkins had a long, productive career in the dental field, and she was not only a registered dental hygienist but also received her DDS degree and a periodontics certification.7
In 1938, Dr. Wilkins graduated with an undergraduate degree from Simmons College, and then, a year later, she received her certificate for dental hygiene from the Forsyth College of Dental Hygiene. In addition, Dr. Wilkins attended Tufts University School of Dental Medicine located in Boston and graduated with her DDS degree.7 She would later return to Tufts University to earn an advanced periodontal certification and assume the role of educator for the school's dental program.
However, in 1950, Dr. Wilkins became an educator at the University of Washington and was the original founder of their dental hygiene program. It was at this time that Dr. Wilkins would spend years writing a dental hygiene instructional book that would eventually be published in 1959, under the title "The Clinical Practice of the Dental Hygienist." Today, this thorough application of methods, techniques, and instrumentation is widely known as the "Bible of Dental Hygiene" and is still being used in dental programs across the United States.7
In addition to Dr. Wilkins' prominent career, she received many awards for her dedication to dentistry. In 2012 she received the American Dental Education Association Wilson J. Geis Award for her achievements as a dental educator. Again, in 2013, she received the International College of Dentist Distinguished Service Award.7
On December 12, 2016, Dr. Wilkins passed at age 100, just four days before she would receive the Dean's Medal from Tufts University.7 Wilkins mentored, lectured, and advocated into her 90s, and, to this day, she is a remembered contributor to the modern dental community.
Although the pioneer women of the 19th century set the stage for women in dentistry, the 20th-century progressive 'took the bull by the horn' in achievements, accomplishments, and innovations in dentistry. These noteworthy women of the 20th century will surely be remembered for their important roles in dedication to the shared knowledge of the dental profession.
Listen to the Today's RDH Dental Hygiene Podcast Below:
References