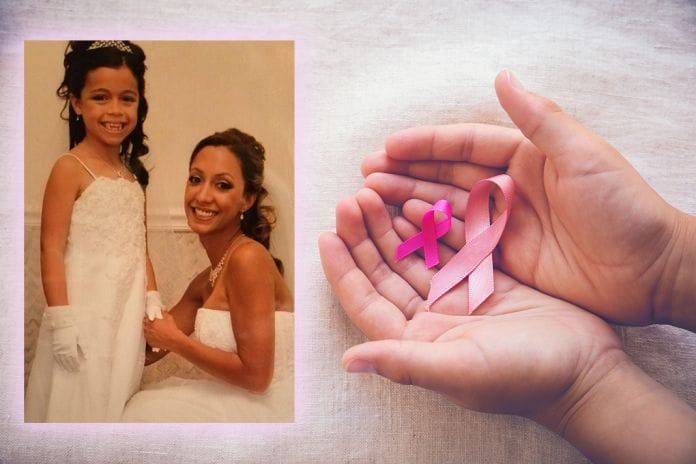 I was halfway there; it was right before my summer classes were to begin the last year of dental hygiene school. One night I noticed a little bump on my right breast, so I did an exam on myself and felt a small, rock-like lump. Being only twenty-nine years old, and having no family history of breast cancer, I wasn't overly concerned and assumed it was just a cyst.
However, I decided to go ahead and see a doctor. The doctor reassured me that it was probably nothing, but he still wanted me to get a mammogram just to be sure. The mammogram came back with results of something questionable, but probably benign, so again I was still not concerned. My doctor decided to do a biopsy, and again he stated, "I doubt it is anything to worry about considering you are young, active, healthy, and have no family history of cancer, but I want to do a biopsy to be 100 percent sure." I agreed with no hesitation.
Two weeks later, I went to my appointment to receive word on my results. Still, without much concern, I bring along my little six-year-old daughter. My doctor walks into the exam room, with a pale face, filled with the look of concern. He tells me he is sorry, but you have breast cancer. For a second, I was shocked, but then looked at my little girl and tried so hard to be strong and tried to hold back my tears. However, I looked at her smiling at me, playing with her doll, and my life flashed before my eyes. I broke down; I lost it.
I gathered my composure, and I made my next appointment to move forward with the next steps of treatment. At this point, I felt like I did not have anyone to turn to. I did not want to call my mother and father because my father recently suffered his fifth heart attack and being "Daddy's Little Girl," I knew my diagnosis could literally kill him.
I left the doctor's office that day and drove straight to my dental hygiene instructors' offices. I asked to speak with both of them, and we all sat down in the office. I told them I just found out that I had breast cancer and they were the first to know. They both teared up and told me that I needed to quit the program and that once I beat cancer, I could return where I left off. I took a brief moment to think about it, then I looked at my little girl and turned to my instructors. I said, "I am a single mom, and I can not afford just to give up. I am not quitting, this is all I have, and I need to do this for my daughter." All the while, crying hysterically.
I told my instructors that I would make all of my oncology appointments during my lunch hour, and I will figure it out, but I am not quitting! If I were to quit, I knew I would become depressed and probably end up worse off. They agreed that I could stay and we were going to take it one day at a time. Right after they agreed, one of the instructors was wearing a cross necklace, she removed it from her neck, placed it on mine, and said, "I will pray for you." At that moment I felt loved and supported of my decisions, and to this day, I will never forget that moment.
On that first Monday back in the clinic, the instructors asked for all the students to gather around in a circle and hold hands. I did not know exactly what was going on. The head instructor told all of my classmates, about my diagnosis. I could tell it was hurting her because she kept struggling to speak and her eyes were filled with tears. She said, "One of our students, Samantha, received devastating news recently, she has been diagnosed with breast cancer. You may see her walk out of class a little early or she may show up a little late, but we, as instructors, have decided that we will not hold it against her." Again, holding my head high, I did not cry but smiled because I knew with their support, I was going to be okay. My classmates were shocked, and I am sure they felt sorry for me, but I just wanted to pretend I was not suffering from cancer.
I went to class every single day while managing to make my oncology appointments during my lunch hour, daily, for four months straight. I had two surgeries on a Friday so I could be back to class on Monday. I had to do four months of daily radiation treatments during my lunch hour. It was hard and lonely, especially knowing my classmates were able to eat lunch and study together, while in turn, I rushed to my radiation oncologist every day at lunch for treatments to fight my cancer.
Breast cancer made me view attending the hygiene program different from my classmates. They complained about the homework, study load, and were worried they were going to fail tests. I was just worried about surviving. I was too worried about not being alive to see my child grow up that my classes and tests did not even phase me. I went to class every single day happy and blessed that I was alive and could even make it to class.
My studies did not bother me either, even though I was so exhausted and weak. I was just happy that I was alive and able to study. I was happy I could be alive to take a test, I was happy I could see a patient, and I was happy I could wake up the next day knowing I had my dental hygiene program to go to. Hygiene school helped me mentally and emotionally. It kept me so busy I did not have time to feel sorry for myself.
The entire last year of hygiene school, I missed only one day of class because, at the end of radiation, the treatments made me sick. The only day I missed was the day the entire class brought in food to celebrate the end of my battle. My instructor drove to my home that evening and brought me all the leftovers from my survival party I missed.
For me, the dental hygiene program was not just classes to attend; it was my support system and my family. At graduation, I was awarded the Student Total Achievement Recognition Award. I not only made it through hygiene school, but I also beat cancer. I walked across that stage not just happy for my award, but happy I was alive, and happy my little girl was even able to see her mommy walk across that stage.
Today, I am almost forty-three years old. I am a survivor, and it is because of my support from my dental hygiene program, and my little girl, of course. Today I am still cancer-free, I work five days a week, and blessed to do so. Today, my little girl is finishing her sophomore year in college, and I'm alive and able to be by her side.
I wanted to share my story to give hope to others who may be suffering from cancer and let them know to have faith, believe in hope, and never to give up, no matter what.
NOW READ: Beating the Dental Hygiene Blahs