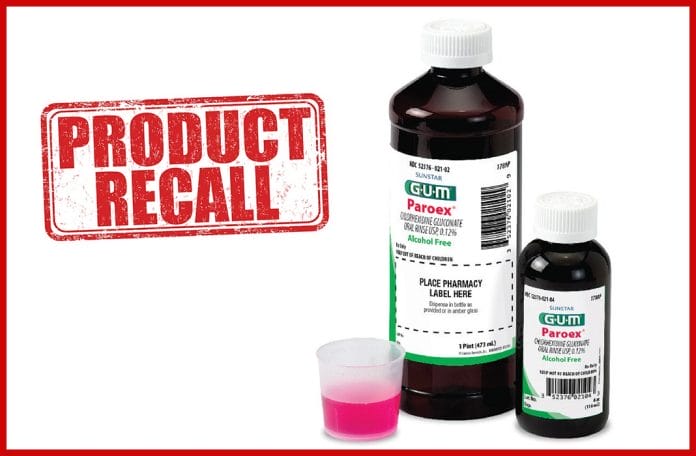 Sunstar Americas Inc. has agreed to voluntarily recall an oral rinse over concerns about potential bacterial contamination.
Paroex, a chlorhexidine gluconate oral rinse that is prescribed by dental professionals for self-care treatments of gingivitis, is the recalled Sunstar product. The Food and Drug Administration announced October 28 that the bottles being recalled have expiration dates from June 30, 2022 through September 30, 2022 (see image of affected lots below).
The FDA said Sunstar notified "direct distributors and customers by USPS Priority mail and is arranging for return of all recalled products. Patients, pharmacies, and healthcare facilities in possession of these products should stop using and dispensing immediately."
The potential contamination is from Burkholderia lata. The Centers for Disease Control and Prevention (CDC) describes the bacteria as "a major cause of pharmaceutical contamination and has been linked to multiple instances of associated opportunistic infection." The preceding CDC description occurred during a review of a 2016 Burkholderia lata outbreak at two Australian hospitals where chlorhexidine mouthwash was used with intensive care patients.
If dental patients become infected after using the oral rinse, oral and systemic infections could occur, requiring antibacterial therapy. The FDA said the "most at-risk populations … [could experience] life-threatening infections, such as pneumonia and bacteremia."
Sunstar said "no adverse events" had been reported, according to the FDA announcement. In addition to dental offices, Sunstar distributes Paroex to dental dealers, pharmaceutical wholesalers, dental schools, and pharmacies.
Dental offices with questions can contact Sunstar at (800) 528-8537 or email at us.pcr@us.sunstar.com. Affected dental patients should contact their physician or medical provider.
Consumers can check batch lots or learn how to report adverse reactions by clicking here.
The affected lots in the Paroex recall are listed in the image below. Note that the recalls include both the 16-ounce and 4-ounce bottles.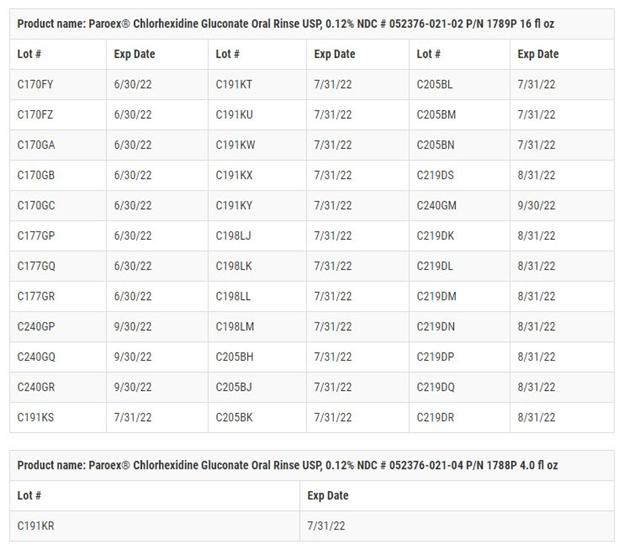 Now Listen to the Today's RDH Dental Hygiene Podcast Below: