Author Wayne Koestenbaum penned an essay about flossing that was posted by the New York Times on August 10. Koestenbaum, a professor of English in New York City, has never been shy about criticizing American culture throughout his career.
But he had some awfully nice things to say about flossing, and dental hygienists should take note of how an artful writer can so eloquently describe oral health care. Not many folks who are not dental professionals have kind things to say about this aspect of home care.
His latest book, "The Cheerful Scapegoat," was released in 2021, and readers can read his New York Times essay here if they have subscription access.
But here are some glistening pearls of wisdom about flossing from an unexpected corner. You don't even have to sit a patient up to share this wonderful string of words.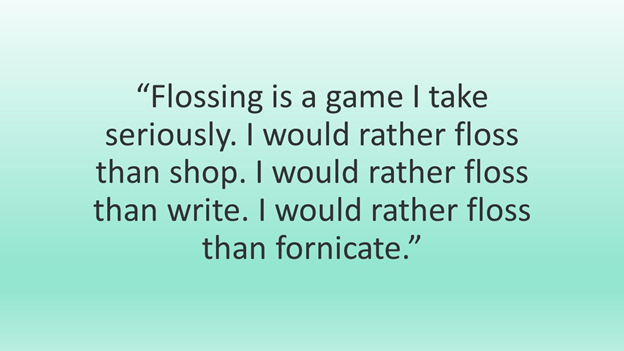 Regardless of a reader's opinion about the New York Times, it's nice to see such a pleasant tribute to one of dentistry's mainstays ─ interdental cleaning.
Listen to the Today's RDH Dental Hygiene Podcast Below: