Last spring, I treated a patient who I have seen routinely every six months for the past 11 years. Rob is a 75-year-old Caucasian male, heavy smoker, an upper denture wearer, has a history of skin cancer, very stubborn, and insurance-driven.
Yet, we enjoy each other's visits.
We have been discussing tobacco cessation for 11 years now; I must confess that these were most likely one-sided discussions. Oral cancer evaluations appeared negative until 2014, where a white leukoplakia/lichen planus type lesion was noted on the floor of his mouth. The lesion presented with finger-like protrusions running from an undefined, lacy center − actually impossible to measure and difficult to capture when using our intraoral camera.
Rob was advised of the finding, and oral surgeon biopsy was recommended. Rob was not concerned and chose not to go to the oral surgeon. Nonetheless, intraoral pictures were taken, and documentation in chart was done.
It's a Big Deal
No apparent changes in the appearance of the lesion were noted until the fall 2018. Rob tried to wave it off again as "not a big deal."
My gut instincts differed from Rob's, so I showed him a recent panorex image of a patient whose oral cancer lesion took most of her tongue and three-quarters of her jaw. Reconstructive surgery of her jaw was done using her tibia and what looks like a bicycle chain to create a semi-functioning jaw. Tissue grafting was done via the leg tissue, where they harvested her tibia, resulting in two-inch-long leg hair floating inside her mouth at all times. It only took 12 years of smoking to disfigure her by age 35. Note: permission was given by above patient to use her radiographs as an effective way of encouraging smoking cessation.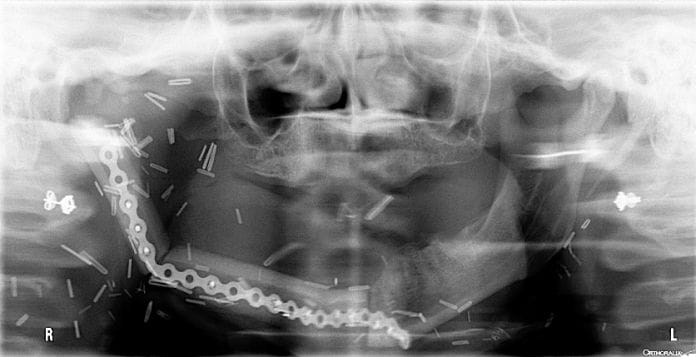 Rob was given a referral slip and again encouraged to see the oral surgeon for a biopsy. He did not want to schedule that day but took the referral slip home with him.
Questioning the Diagnosis
This past May, Rob saw me once again for his six-month check-up and informed me that he was going in for oral surgery that upcoming Friday at the hospital. Apparently, the panorex affected Rob's state of mind, and he decided to see the oral surgeon after all.
Here's the interesting part. Rob went to the oral surgeon, who took one look at his lesion and told him, "Well, I can tell you what it's not, and that's oral cancer." He sought another opinion and heard the same story. He was given a Lidex prescription for oral lichen planus. He asked if they could at least take a biopsy; however, the oral surgeon did not think it was necessary. After being dually rejected, Rob sought out yet another oral surgeon via the white pages in a neighboring town.
This oral surgeon took Rob and his lesion seriously.
Rob was consulted about the possibility of losing his tongue, jaw, or even life, and was scheduled to have oral cancer surgery in the hospital. Going into the surgery, Rob said he knew that he might come out disfigured, but the cancerous lesion needed to be removed. Rob considers himself lucky. The cancer was contained to the floor of his mouth. Donor pig tissue was used to replace what was surgically removed. He healed so beautifully that I could not even tell where the donor tissue was placed.
His official surgical report summarizes as follows: Mass on floor of mouth: Carcinoma in situ of floor of mouth.
I will not have to do tobacco counseling with Rob anymore, as he quit cold turkey while in the hospital. He sings high praises for my findings and continuous encouragement. Rob knows he is blessed that the cancer did not spread beyond the floor of his mouth in the years that he let it go ignored and not biopsied.
Eyes Wide Open
It is critical to do those oral cancer screenings with your eyes wide open. Look, feel, and discuss any findings with the doctor and your patient. Keep your eyes wide open and peruse the neck, ears, and tops of those bald men as well. Do not feel awkward discussing a scab, mole, or other suspicious looking area on the external facial surfaces.
Informing is to educate, and educating is to make one aware. Once one is aware, they are more likely to self-check for changes in tissue. Think of that balding man who cannot see on the top of his head; however, their head is right in our viewing arena.
This takes me back 20 years or so where I recommended that an older man seek out his dermatologist to review a suspicious scab on the top of his head. He did not take the recommendation seriously until he collapsed one day while at church. The cause of his collapse was a two-inch brain tumor beneath the area of the scab.
He had intense surgery and treatments of which the details I do not recall. The tumor affected his vision, so they created a grid-pattern for his glasses to help the eyes focus. I remember that this wonderful man was very appreciative of my awareness and would send me a crate of oranges every year from Florida. The surgery gave him a few more years of life, but perhaps earlier detection would have given him more.
Statistics show that the death rate associated with oral cancers are particularly high due to the fact that the cancer is routinely discovered late in its development. Oral cancer is usually discovered after it has metastasized to another location.1 Keeping this in mind, take the time to
grab the gauze, mirror, and/or intra-oral camera and perform a thorough intra-oral hard and soft tissue screening. Palpate and look! Remember, when documenting a patient's chart, WNL does not stand for "We never looked." Be a lifesaver. Be persistent. Look, and keep your eyes wide open.
Before you leave, check out the Today's RDH self-study CE courses. All courses are peer-reviewed and non-sponsored to focus solely on high-quality education. Click here now.
Listen to the Today's RDH Dental Hygiene Podcast Below:
Reference
1. Oral Cancer Facts: Rates of Occurrence in the United States. The Oral Cancer Foundation. Retrieved from https://oralcancerfoundation.org/facts/