The dental hygienists interviewed for this Decades of Dental Hygiene feature continue to impress me. We have met Fran Tourdot, RDH, an 82-year-old elder care advocate. We tried to keep up with 75-year-old Barb Orth, RDH, BS, a 5K runner who is still temping.
This month, meet 67-year-old Renee Ahlf, RDH, MS, whose dental hygiene career is nothing short of amazing. From a clinical instructor to a civil service position, Renee has had an exciting career in our dental hygiene profession.
JENSEN: Renee, it has been so nice to reconnect with you this past year or so. You were definitely my favorite clinical instructor at Southern Illinois University! Let's get started with you sharing a little about where you grew up and family life.
AHLF: Mary, it has been great reconnecting with you as well, and I so enjoy seeing what my former students are doing! I am honored you asked for this interview.
I was born in Centralia, IL. My dad was a dairy and grain farmer, and my mom a housewife. It was lovely growing up on a farm that has been in the family for now almost 150 years. My parents divorced when I was seven, and we eventually moved to Carmi, IL. I was raised by my mother. She basically had the "pull yourself up by your bootstraps" mentality.
She had two daughters to support. While in Carmi, she managed three laundromats and eventually became an administrator during the early advent of cable television. I remember she attended an HBO convention when I was seven! She was ahead of her time and continues being an inspiration to me! It was never are you going to college? It was which college are you going to? My sister and I, as well as our stepsister, all went to dental hygiene school.
JENSEN: Tell me more about your academic timeline?
AHLF: I started at Eastern Illinois University in education, but teachers were not finding jobs in the early 1970s. So I transferred to Lakeland College for dental hygiene and graduated in 1973. This was the era of belt-driven handpieces and white dress uniforms and white caps! The desire to teach was still a passion for me, so I returned to Southern Illinois University (SIU), receiving my BS in 1975.
After student teaching at SIU, I was offered a part-time clinical instructor position for a year and then accepted a full-time position in the dental hygiene program at SIU and taught until 1986. I loved being in the pre-clinic with the first-year students and was the pre-clinic coordinator, as well as teaching ethics and nutrition.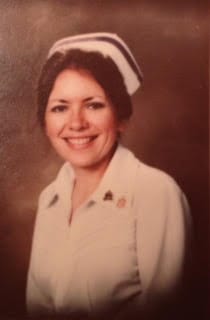 JENSEN: Yes, you were wonderful as an instructor in clinic. I know your career has taken you in so many directions. What were some of your highlights?
AHLF: While at SIU, I was promoted to assistant professor and tenured. In 1988, I finished my MS. My thesis research was on stress management with dental hygiene students. A survey was administered to those students who agreed to participate prior to their Dental Hygiene National Boards and after their exam. An evaluation of their stress levels was determined, and insights on ways to support the students during these challenging times were identified. Another area of interest was a proposal I did and received funding on focusing on the non-traditional dental hygiene student to stimulate diversity in the profession. I also took many courses on myofunctional therapy.
JENSEN: Were you able to practice as a myofunctional therapist?
AHLF: Yes. I moved to New Hampshire and went into private practice and was able to see and treat patients for myofunctional therapy. I loved this aspect of my profession and was fortunate to work with a dentist who encouraged me to intervene mainly with those who were clinchers, grinders, tongue thrusters, and digital suckers.
JENSEN: Where else did your professional journey take you?
AHLF: After four years in New Hampshire, I ended up moving back to Illinois but headed north to the Chicago area and did some temping for several years. Through a connection with another former student of mine, I was asked to participate in a three-week teaching course, sort of an "on the job" training and refining techniques for a dental hygiene team. That was in Riva del Garda, Italy. Just wonderful…bella!
The early 1990s was a fascinating time for dentistry in Italy. It really was the early start of cosmetic dentistry. I also joined JP Consultants for a couple of years. Co-founders Jan Lazurus and Peggy Sprague were also former students of mine. It truly was the case of the teacher becoming the student!
JENSEN:  That is a great story. Moving forward, what part of your career gave you the most satisfaction?
AHLF:  While teaching, I discovered that I really enjoyed research. I learned from a friend about a civil service research hygienist position at the Naval Dental Research Institute at Naval Station Great Lakes, which is north of Chicago. It was quite a shift for me as I was accustomed to immediate gratification working with patients/clients. I soon discovered the joy of small accomplishments progressing to the final results and embraced the challenges. I dove deeply into human research regulations and public health policy, all revolving around the naval recruits.
My main role at first was to support the scientists and provide them with salivary and other oral samples. They were developing rapid salivary diagnostics for strep mutans and lactobacilli. The diagnostics looked similar to a home pregnancy test. This was exciting work as saliva research was just taking off and so easy to procure. We did a quick study taking a saliva sample before and after an antibiotic vaccination (Bicillin) with a number of recruits.
At that time, the Navy protocol to prevent respiratory and other outbreaks was to administer these vaccinations. The antibiotic showed in the saliva, and that discovery was quite an exciting day in the laboratory!
JENSEN: That is so interesting.  What other projects did you work on with the Navy?
AHLF: Later, I worked on retrospective longitudinal studies with a number of my colleagues.  We did dental record reviews at Navy bases and Marine camps throughout the U.S. We looked at tobacco use, dental emergencies, third molars, caries, periodontal status, and sealant longevity.
These studies have helped with policy changes to better understand and prioritize treatment needs especially for those Navy and Marine personnel who are deployed to areas where treatment may not be readily accessible. It was a great experience sharing our results at professional meetings as a poster and/or oral presentation especially in Vancouver and Brisbane.
Funding was always an issue for us, and collaborations became a necessity. We collaborated with Northwestern University, National Institutes of Health, Rosalind Franklin University, and Creighton University.
I stepped over to biomedical research and oversaw a study with female recruits looking at stress fractures with a group from Creighton University. This was a double-blinded study using a placebo and calcium/Vitamin D. We followed over 5,000 recruits. When the code was revealed and data analyzed, there was a significant decrease in stress fractures with the calcium/Vitamin D group during the course of boot camp. Boot camp lasted approximately eight weeks. This multi-faceted study is probably the one that makes me most proud!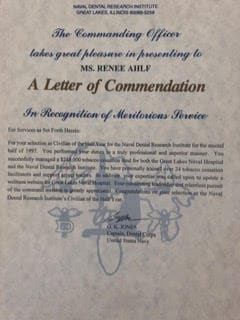 JENSEN: Where did you move to next?
AHLF: The research institute at Great Lakes closed and was relocated to San Antonio. During all of my time at Great Lakes, I had many collateral duties and gained skills and better understanding of the regulations for conducting human research, research design techniques, regulatory paperwork submissions, data and project case file management, etc., and was appointed the chair of the Institutional Review Board (IRB).
The commanding officer in San Antonio designated me as the IRB administer once I arrived. During the last six years of my career with the Navy, I was instrumental in taking the lead to establish our human research program in regulatory compliance with the Bureau of Medicine and Surgery, Department of the Navy.
JENSEN: All fantastic! Let's change it up and go with some fun questions. What do you do for fun? Favorite read? TV show? Social media fan?
AHLF: I love traveling, home projects, and landscaping with my husband, Greg. I like to read mysteries and happy when I "don't have to" read research papers even though Pub Med is still one of my favorite go-to for research papers! We enjoy going to concerts in small venues, watching Netflix and sports. Social media is a great way to keep in touch with people.
As I await my next adventure in dental hygiene, I am thrilled to be able to spend time helping my husband with administrative work for his business and especially with my grandchildren!!
JENSEN: Do you have a favorite patient story from working clinical or in research?
AHLF: When I was working in private practice in Chicago, I had a patient who was a very famous architect and a wonderful storyteller. He developed dementia and came in every week with his caregiver for me to clean his teeth. Such a sweet man.
JENSEN: What more would you like to see done within our profession?
AHLF: Absolutely independent practice for all dental hygienists. Get past the politics and care for the patient, especially in remote areas and eldercare!
JENSEN: I agree. What advice would you give your new grad self?
AHLF: Follow your heart and your gut…you never know the exciting places where it will lead you!
JENSEN: Give me three words that describe you?
AHLF: Empathetic, resourceful, and thorough.
Now Listen to the Today's RDH Dental Hygiene Podcast Below: