Dental staffing agencies have evolved along with the rest of the profession, and a recent interview with Kelli Dash, RDH, in Illinois reveals her perspective about how temping has changed for dental hygiene.
These interviews shared in the Decades of Dental Hygiene column gives us a glimpse into the rich history of dentistry. I have enjoyed interviewing Fran Tourdot, Barb Orth, and Renee Ahlf about their careers in dental hygiene. The questions aimed at Dash below generated some good responses from her about how she made the profession be beneficial to her and her growing family.
Jensen: Kelli, thanks for sharing your career story. I know it will be of interest to many dental hygienists. Let's start with where you grew up and your family life.
Dash: I'm happy to be part of this series. I grew up in rural Quad Cities, which is along the Illinois/Iowa border. My dad owned a construction company, and my mom was a stay-at-home mom to my four siblings and me. We were raised in the country. I attended Illinois Central College in Peoria, Ill., for dental hygiene.
Jensen: Tell me more about your experience in your dental hygiene program.
Dash: I graduated in 1984. Gloves were optional back then. However, I did always wear gloves. Gloves only became mandatory shortly thereafter due to the HIV/AIDS epidemic. The thing I remember most about dental hygiene school was that I studied all the time! I worked hard to get good grades. I took so many notes and then would re-write them.
I was determined to be a dental professional. I wanted a professional career and to also raise a family. We wore blue-and-white polyester uniforms with a cap. They taught us to work both standing and sitting, and using the ultrasonic scaler was optional. We only had one ultrasonic unit on a cart. Whoever needed it the most got it for their patient.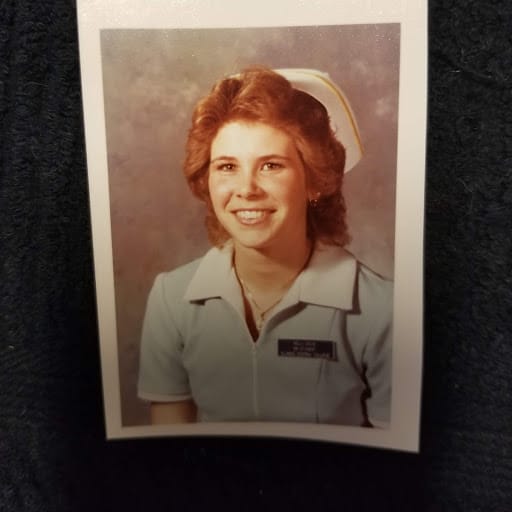 Jensen: Where did you go after graduation?
Dash: I got married and moved from Geneseo, Illinois, to Elmhurst, Illinois. I worked as a dental assistant for a general dentist in Oak Brook, Illinois, until I received my hygiene license.
I would help assist in subperiosteal dental implants when implants were just getting started. The entire arch would be opened up surgically, and a metal bar was placed onto the bone, and then the crowns were placed on top of the sutured tissue. The success rate was not high. Implants have come so far.
And, at the time I started practicing, the cost of a dental cleaning, exam, and bitewing x-rays was about $60 to $80. I worked for another dentist in Wheaton for 17 years. These patients were special to me as I saw kids literally grow up! I was raising three girls myself, and I then worked in multiple offices from 4 pm-9 pm several days a week and every Saturday, always working with general dentists.
Jensen: Did you ever temp?
Dash: Actually, I temped many years because of the flexibility of taking jobs when I wanted to work. I temped through the company that I now own, Professional Dental Staffing, Inc. I was debating about going back to clinical hygiene full time when my youngest daughter started preschool, or to try and do something else that would still give me flexibility with my family time.
So, I bought the temp agency in 2000. I was mentored by the previous owner, who was also an RDH but had developed carpal tunnel syndrome in her hands shortly after her graduation. She couldn't practice clinically anymore, so she started this company in 1995.
There were no computers involved. Everything was done on a huge chalkboard. I worked with an IT engineer to create a software program for dental staffing. Also, we worked together on developing what I currently use today, which is an online website for easy registration and posting of temporary/permanent jobs.
I went from doing clinical dental hygiene into small business recruiting for the dental offices. It was difficult with kids and their schedules. I did not come from a business background at all, and suddenly I was working 40 to 50 hours a week to grow my business. I had to tackle the accounting and financial aspects of generating income. I pushed forward, and I asked for help! So much of my time was to be invested in the business for it to grow, but I was able to raise my children and still feel like a professional in my career.

Jensen: I can imagine it was both exciting and terrifying!
Dash: So true. I was wearing the hats of five people at times to survive. We worked more on the website to make scheduling for temp positions more portable. This allowed me to work really anywhere!
Jensen: What are the future plans for the company?
Dash: Definitely keeping the company going! There is such a need for it. So many in this profession work and juggle families, so temping is a great source of income for part-time professionals. There were some tough times several years ago during the economic downturn, but the company grows every year.
I have positions for dentists, dental assistants, receptionists, and dental hygienists. Both temp and permanent positions are available. I have worked with hundreds of dental professionals. Most of my clients/temps are in the greater Chicago area, but I soon hope to be expanding to Wisconsin, Indiana, and Florida. My daughter, Torie, who is 24, has been working with the company as she applies for a dental hygiene program. She has lots of new and fresh ideas especially with marketing and recruiting.
Jensen: Changing directions here, what do you do for fun? Favorite read? TV show? Social media fan?
Dash: I just got certified for scuba diving! That is a whole new world to explore. I used to be a ski patrol that loved the snow when I was in college, but now I prefer warmer weather sports. I just returned from a trip to Thailand with my daughter.
I wish I had more time to read, but I never miss reading my daily devotional. I do like reading self-reflection books and books that are inspirational and positive. I try and watch The Voice, nature shows, and funny videos, so I keep laughing. I dabble with social media, usually at night. It could be a full-time job keeping up with all of the different aspects of social media.
Jensen: Do you have a favorite patient story from working clinical or with your temp business?
Dash: I received so many letters of support from a lot of the patients when I left my office of 17 years. One letter stated that I was their favorite hygienist and that I would be dearly be missed.  These patients were truly family. The patients would share their family weddings, celebrations, kids' sports events, births. And others shared the downs they have faced with cancer throughout the years.
I enjoyed building these relationships. This was just as important to me as providing for their oral care. In fact, it helped me provide better care; we built great friendships from our time together. There were many cases where just having conversations led them to accept a much-needed treatment plan.
Hygienists take the time to earn their trust to make other dental treatments happen; we are a great asset to a practice. I also am thrilled when I get feedback on services provided by Professional Dental Staffing when an office compliments on the professionalism of a temp that has worked for them. The client and my temporary staff members' satisfaction is very important to me. It means I am providing a great service to both.
Jensen: What would you like to see done within the profession? Any specific changes?
Dash: I would love to see the freedom for all hygienists to be able to hire dentists and own their own practice. To also practice in rural areas where the need is so great and limited dentists in their area. A much more independent profession. I know this varies from state to state.
Jensen: I agree. What are some of the changes you have seen in the profession since you began in 1984?
Dash: Definitely loupes with a light. Game changer! Also, the updates and changes made with ultrasonic scalers. Much better insert tips than decades ago. And the ability for dental hygienists to administer local anesthesia.
Through my business, I am able to mentor many new hygienists just coming into the profession. I strongly recommend they keep active in the profession and up to date with new changes. Temping helps keep their skills sharp and current with technology.
Jensen: What advice would you give to your new grad self? Looking back, what would you have done differently?
Dash: I would have loved to have lived abroad. Maybe even participated in more dental missionary trips. Travel builds character and a sense of independence. I was very focused on family and home when I graduated.
Jensen: Give me three words that describe you?
Dash: Smart, funny, and strong!
Phone interview completed November 27, 2019
Now Listen to the Today's RDH Dental Hygiene Podcast Below: