Disclosure: We value transparency at Today's RDH. This article is sponsored content from Dentsply Sirona Preventive as part of our sponsored partner program.
Ultrasonic scaling is an integral component in achieving successful clinical outcomes in periodontal debridement procedures. Achieving optimal clinical results is the goal we strive for as clinicians, and although some of that depends on patient compliance, much is related to the choices we make in technology, technique, and our maintenance protocols. Choosing the right equipment, applying the proper technique, and ensuring patient comfort can lead to better clinical outcomes and higher patient satisfaction.
Evolution of Ultrasonic Scaling
Technology advances have come a long way in ultrasonic units and accompanying inserts/tips. Did you know the first use of ultrasonics in dentistry was back in the 1950's when it was developed for the removal of decay? This application was soon deemed to be inefficient; however dental professionals discovered its ability to remove supragingival deposits from the tooth. It was utilized for this purpose amongst clinicians as early as 1957 when the first Cavitron® Ultrasonic Scaling system came onto the market.1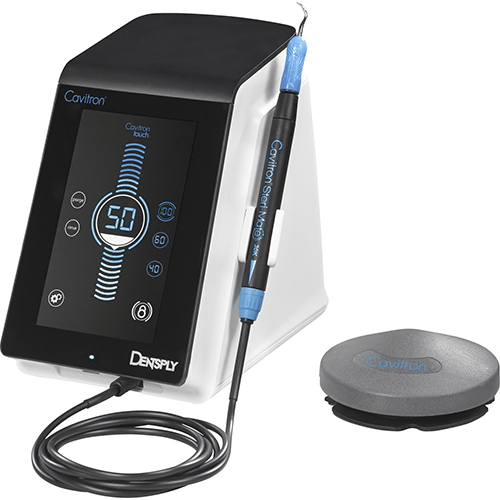 The ultrasonic units themselves have evolved significantly over the years. The Cavitron Touch® Ultrasonic Scaling System, the latest edition from Dentsply Sirona Cavitron, has an intuitive touchscreen interface, a fully rotating handpiece, and a lightweight handpiece cable for improved ergonomic benefits. Cavitron Touch's exclusive digital operating system is their most efficient system ever.14 The unique system runs so efficiently that it produces less heat, requiring less water for a better patient experience.
Insert Selection and Clinical Outcomes
Smart Scaling includes making the appropriate decisions with insert selection, based on the needs of each patient. Selecting the proper insert contributes to efficacy and efficiency in removal of deposits.
Moderate to heavy calculus removal
Cavitron® Powerline® Ultrasonic Inserts are thicker inserts with larger tips, specifically designed for efficient removal of heavier deposits. Utilizing this insert design is appropriate for patients with heavy, tenacious calculus whether generalized or localized, supra or subgingival. Once the deposit is removed, graduating to an insert with a thinner design is indicated for the finer debridement and biofilm removal stage.
Light to Moderate Calculus Removal
Cavitron® Slimline® Ultrasonic Inserts are 30% thinner than Powerline Ultrasonic Inserts for improved subgingival access. The Slimline family of insert designs includes a straight, triple bend and a set of curved right and left inserts which provide a full complement of inserts for light to moderate calculus removal in a variety of anatomical and periodontal presentations.  The triple bends' design in cross-section has a coined effect providing higher energy output at the corners which provides optimal results at line angles and in areas of tenacious deposit.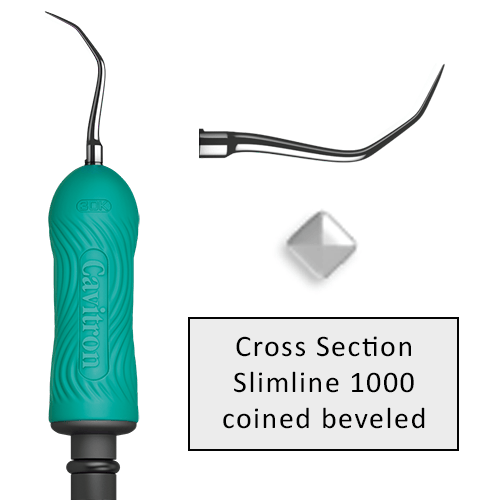 The curved right and left inserts are area specific and inherent to such a design are their ability to adapt to anatomical areas such as multi-rooted teeth with precision and efficiency.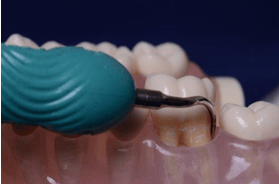 Biofilm/Light Calculus Removal
The Cavitron® Thinsert® Ultrasonic Insert is 47% thinner than Cavitron® Slimline®-10 and provides access in difficult areas, including misalignments, interproximal surfaces, and tight tissues, without loss of tactile sensation. In fact, research demonstrates that you can efficiently detect calculus without transitioning between an explorer and your insert.12
The Thinsert can be used on high power due to its' unique design. This is quite helpful when an area of tenacious subgingival deposit is encountered via tactile sensation with the Thinsert. The clinician can increase the power to aid in deposit removal, then proceed on low power to continue the finer debridement process. This is smart scaling in motion.
Perhaps clinicians who utilize one insert design per procedure, are relying on hand instruments to complement the use of the one insert. However, did you know, in vivo and in vitro studies indicate that compared to manual root instrumentation, ultrasonic instrumentation produces less roughness and less loss of root substance.2 Similarly, Cobb described a loss of attachment of approximately 0.42 mm after scaling and root planning of shallow pockets utilizing hand instruments. These findings agree with three later systematic reviews and meta-analyses.3.4 Clinicians should continually self-assess and examine their rationales regarding instrumentation choices and practice according to the evidence. Responsible, appropriate, staged instrumentation with more than one insert design is part of the smart scaling equation when it comes to effective periodontal debridement.
Ultrasonic Instrumentation Technique
Another consideration in smart scaling is the technique utilized with ultrasonic instrumentation.  Root substance loss stems from too much pressure, incorrect angulation, incorrect power setting or an inappropriate tip diameter.10, 2, 5
Root substance loss creates grooves and lines in the cementum providing a niche for bacteria to reside and can lead to dentinal hypersensitivity and patient discomfort.3 Proper technique is an essential component of successful ultrasonic scaling and debridement. It is prudent for the clinician to review the basic principles of ultrasonic technique for more effective, efficient, and safe outcomes.
The three A's of ultrasonic instrumentation include adaptation, angulation, and activation. It is best to maintain approximately 2 mm of the terminal end adapted to the tooth surface when removing deposit, doing this avoids any direct contact with the point of the insert to the tooth surface which can remove tooth structure. When removing  or disrupting biofilm, however, a recent in vitro study comparing magnetostrictive and piezoelectric devices with the same ultrasonic insert design, consistent pressure, and medium power demonstrated that the most efficient biofilm removal occurred with a side application (the convex front part) of the magnetostrictive insert adapting 2-4 mm of the tip.6
When proper adaptation is utilized, angulation of the insert follows along with an approximate 0-15-degree angulation to the tooth surface, similar to the concept of appropriate probing angulation.
Finally, proper activation is essential. A stoke too long can miss deposit. It is critical to utilize a channeled stroke to ensure thorough deposit removal vs. a haphazard approach. The speed of the stroke is also important. A stroke to slow may generate an unwanted hypersensitivity, especially during biofilm removal due to the fact the insert or tip is directly against the tooth surface.5 A stroke too fast can lead to calculus or biofilm to remain behind on the tooth structure.7
Insert Wear
While insert selection and technique are critical factors in the overall success of periodontal debridement outcomes, it is essential for the clinician to recognize they are only as good as what is in their hands. While most clinicians are aware that ultrasonic inserts and tips have a particular life to them, did you know that 2mm of insert wear may increase scaling time by 30% along with an average of 40% more scaling force over the course of a procedure?13 These specific measurements are critical because it quantifies the amount of wear in direct relationship to efficacy and efficiency. Clinicians who may be experts in ultrasonic instrumentation, utilizing the newest of technologies and the correct technique, will not be effective with a worn insert, period.
Patient Comfort
Finally, patient comfort is at the core of the smart scaling protocol. If the patient experiences discomfort, either during the procedure or after, the experience may leave a lasting impression. This may deter them from maintaining their ongoing preventive recare visits. Patient comfort during the procedure is essential for getting the job done. An astounding 84% of periodontal recare patients report sensitivity, 82% would prefer a non-injectable anesthetic, and of those, 63% stated they would return knowing they, in fact, had a choice in anesthetic selection.8
As clinicians, the choice in patient comfort lies not only in the clinician's interest, but the patients' needs and preferences. These decisions are at the heart of practicing evidence-based dentistry. Adequate pain control can be achieved with Oraqix® (lidocaine and prilocaine periodontal gel) 2.5%/2.5%, a non-injectable, needle-free, FDA approved anesthetic. Did you know that Oraqix® is a pH neutral anesthetic which is safe for use on inflamed tissue and can be used in conjunction with injectable anesthetics?
Consideration of post-operative sensitivity should also be addressed. Did you know that the single application of both fluoridated and non-fluoridated prophylaxis pastes containing 15% CSPS (NovaMin®) such as Nupro® Extracare provides immediate and long-lasting relief for up to 28 days in a single application?11
Conclusion
Utilizing the fundamentals of ultrasonic instrumentation, appropriate choices in insert selection and the least invasive anesthetic choice for pain management can provide more predictable, consistent clinical outcomes.
Adopting the smart scaling strategies relies on clinicians knowing they are only as good as what is in their hands.  While knowledge is power, and training is essential, having the right equipment is paramount to providing the best possible care to your patients.
Smart Scaling… it's the right thing to do.
References
Clark SM. The ultrasonic dental unit: A guide for the clinical application of ultrasonics in dentistry and dental hygiene. J Perio. 1969;40(11):621-629
Latheef, P., Sirajuddin, S., Gundapaneni, V., MN, K., & Apine, A. (2015). Iatrogenic Damage to the Periodontium Caused by Periodontal Treatment Procedures. The Open Dentistry Journal, 9, 203–207. http://doi.org/10.2174/1874210601509010203
Cobb CM. Non-surgical pocket therapy: mechanical. Annals Periodontol 1996; 1: 443-90. [6] Hung HC, Douglass CW.
Meta-analysis of the effect of scaling and root planing, surgical treatment and antibiotic therapies on periodontal probing depth and attachment loss. J Clin Periodontol 2002; 29: 975-86.
Flemmig et al., (1998); Busslinger et al., (2001); Jepsen et al., (2004)
Thurnheer T, Rohrer E, Belibasakis GN, Attin T, Schmidlin PR. 2014. Static biofilm removal around ultrasonic tips in vitro. Clin Oral Invest. 2014;18:1779–1784.
Hodges KO. Maximizing the working stroke. Dimensions of Dental Hygiene. 2015;13(7):32–36.
Matthews, D., Rocchi, A., & Gafni, A. (2001). Factors affecting patients' and potential patients' choices among anesthetics for periodontal recall visits. Journal of Dentistry,29(3), 173-179. doi:10.1016/s0300-5712(01)00009-4
Drisko C. Scaling and root planing without over-instrumentation: hand versus power-driven scalers. Curr Opin Periodontol 1993; 78–88.
Ritz, Luca, et al. "An in vitro investigation on the loss of root substance in scaling with various instruments." Journal of Clinical Periodontology, vol. 18, no. 9, 1991, pp. 643–647., doi:10.1111/j.1600-051x.1991.tb00104.x.
Neuhaus, K. W., Milleman, J. L., Milleman, K. R., Mongiello, K. A., Simonton, T. C., Clark, C. E., . . . Seemann, R. (2013). Effectiveness of a calcium sodium phosphosilicate containing prophylaxis paste in reducing dentine hypersensitivity immediately and four weeks after a single application: a double-blind randomized controlled trial. Journal of Clinical Periodontology,40(4), 349-357. doi:10.1111/jcpe.12057
Partido BB, Webb CA, Carr, MP. Comparison of calculus detection among dental hygienists using an explorer and ultrasonic insert. The Ohio State University College of Dentistry Division of Dental Hygiene. (in review Int J Dent Hygiene)
Data on File – When compared to a new ultrasonic insert.
Data on File – when compared to other Cavitron ultrasonic systems.