Dr. Kathy DeFord and I became acquainted through Iowa Western Community College's Dental Hygiene Advisory Board. At a recent board meeting, I informed Dr. DeFord that I had learned from a former student's research that she had a therapy dog at her office, and I would love to gain more insight. Dr. DeFord lit up and was happy to tell me more about Max, the beloved "office dog" who hangs out at DeFord Family Dental in Papillion, Nebraska.
After reading an article about a dentist who housed a "therapy dog" in his office, Dr. DeFord and her husband began considering this for her location. Lo and behold, she decided she had a perfect location, as her office is located next door to Pets Earth. And, the next door down is Papillion Animal Hospital. People with dogs are all over the place near the office.
Finding Max
Dr. DeFord and her husband visited Muddy Paws Pet Rescue website after a recommendation by another dog lover that she met at the bank. They saw photos of the dogs, along with a bio of each dog, including how they do with kids and people. Aside from being good with people, she knew there were other particulars for this to be a workable situation in a dental setting. A non-shedding dog would be necessary to avoid the dog hair that distributes throughout the office, on employees, and patients. Hooray! They found Max, a Pomeranian/Poodle mix, who would not shed!
Dr. DeFord recalled, "I found Max on that website and decided to check him out. When my husband and I went for a visit at Max's foster home, he came right up to us, wagging his tail. He felt soft and friendly. There were kids running around all over, and he was comfortable in that situation. When my husband and I decided to adopt him, the foster mom told us she knew this dog wouldn't stay in foster care for very long. He was a very good and special dog. And no shedding!"
They believe Max was five to seven years old when they adopted him, possibly closer to seven because he was graying a bit, according to the doctor.
"After keeping him at home for a time, we looked into hiring a trainer and settled on Johanna Mayer at Follow Me K9 Training in Bellevue, Nebraska. Max loved Johanna from the start, didn't feel intimidated by her, and obeyed her every command right from the start. He boarded at Johanna's place for two weeks and learned how to obey commands and go for a walk without pulling on the leash," Dr. DeFord explained.
This is fascinating, considering Max was an older dog! See, old dogs can learn new tricks!
In fact, Dr. DeFord noted that she was concerned that they need to acclimate Max to the sounds and smells in the dental office, but that was far from what happened. Max never had an issue, other than when the office had fire alarm testing. What a good boy!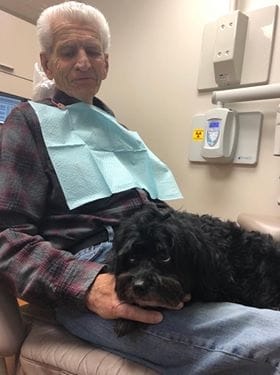 The Star of the Office
Max, being the extroverted, people lover that he is, will lay on adult patient laps, next to children, which he prefers, in the dental chair, and loves Dr. DeFord so much that he is always following her around the office. Where she goes, Max will follow. He follows along to exams and then back to business when she returns to restorative. Max is the star of the show at DeFord Family Dental, taking selfies and getting photographed with children who visit the dental office.  What a fun job it would be to be the office dog at DeFord Family Dental!
When Max is at work, he is a working dog, but when they arrive at home, he is the DeFord's pet. Max likes to bark at passersby, lay on the couch next to his owners, and tug on the leash while walking. Dr. DeFord says, "If I were a better, more, firm owner, he wouldn't pull on the leash when I walk him, he wouldn't sit on the sofa, or jump up on our bed. He wouldn't bark at other dogs or people."
Max is a superstar around the neighborhood and the office setting. He has made friends with the UPS man, who often yells out, "Hey, Max!" Behind the office, there is a grassy space that is perfect for dogs. Max meets up with the employees of Pets Earth, who are out on their smoking breaks. Dr. DeFord jokes that she tells Max those are his "smoking buddies!"
Patients love Max so much that they request him if he is not in the room, and they have also commented that they should have their blood pressure taken after they have contact with Max because he helps calm and comfort them.
Max, who is not an actual "trained therapy" dog, picks up on people who may be nervous or might flinch. When he encounters a situation like that, he will often jump down and lay on the floor. Dr. DeFord again states, "If I were a better owner, I would make him stay. I can see where a well-trained dog combined with a well-trained owner would make a big difference for people with anxiety issues."
Considering her humble nature of noting areas where she would like to be better, it appears as if Dr. DeFord is doing so much right! When people check out insurance options, they usually go to the dental office website, and DeFord Family Dental has been chosen time and again because they have an "office dog." Dr. DeFord shared that many patients say that all dental offices should have a dog on site.
Patients also comment that kids must enjoy Max. Dr. DeFord shared, "Kids do love Max and often ask to go to a dental appointment with their parents so they can see him. But people of all ages love him − men, women, old, young."
After sharing with a colleague that I would be writing about Dr. DeFord and Max, she told me that she would not be able to go to a dental office with a dog because of the dander from dogs, as she is allergic. Even though Max doesn't shed, she would still have issues. Having options available for all kinds of patient needs is vital to patient care. Some may need/want a dog, others may not. Different strokes for different folks!
Keeping Max Ready for Work
Being active in her community, Dr. DeFord visits Papillion/LaVista High School twice a year during a Health Professions exploratory class. Guess who gets to visit with her? Of course, the friendly, tail wagging Max! The students go crazy, and the teachers, who write thank-you notes following the presentation, never forget to mention Max.
One area that I asked Dr. DeFord to elaborate upon was infection control issues with a dog on site. She shared with me, "In 2018, we took advantage of a grant program called ICAP where a group of health professionals visited medical and dental offices and evaluated their infection control and made recommendations for improvements. They spent a couple of days at our office observing. They were excited to see Max and didn't say anything about having a dog in the office. Finally, I asked them if there were any issues associated with having a dog. They weren't aware of any problems."
I also asked if there have ever been any concerns from the Nebraska Dental Board, and she stated she is friends with a dentist who is on the board. He is aware that she has a dog in the office, and it doesn't concern him.
Max is bathed once a week and groomed once a month. She makes sure he is clean and well behaved. So far, only one patient didn't like Max. She was a refugee from Gaza who received some free dental work from the office. In this patient's culture, dogs are scary and mean.
As a dog lover myself, I can also see how having an "office dog" around would reduce anxiety throughout dental offices for patients, employees, and owners alike. Our jobs are demanding, requiring much attention to detail, while still providing a calming atmosphere for our patients. Maybe not every office can support having a wonderful "office dog" like Max around, but becoming open-minded to alternative approaches such as therapy animals onsite might just be what the doctored ordered!
Now Listen to the Today's RDH Dental Hygiene Podcast Below: