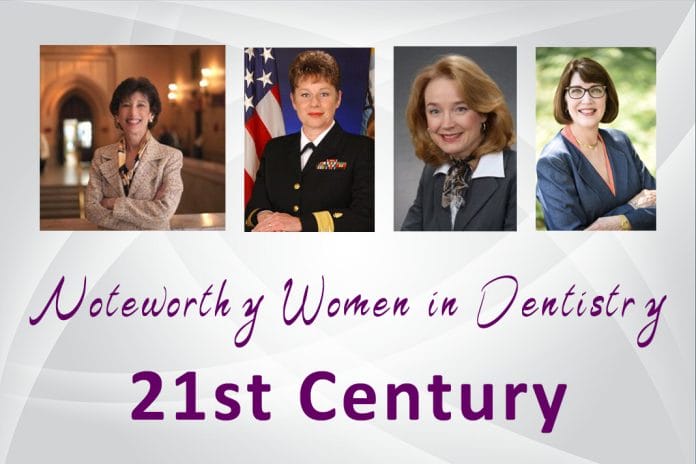 The 1800s opened the gates to women in dentistry, and during the 1900s, women flooded those gates. The conclusion of the three-part series on "Noteworthy Women in Dentistry" is about the women dental professionals of the 21st century. The beginning of the 2000s showcased the acceptance, integration, and accomplishments of women in the field of dentistry early in this century. In fact, from 2009 to 2019, the increase of women dental school graduates went from 46% to 50.6%. In addition, 34.5% of all dentists in the United States were women by 2020, up from a mere 3.3% by the 1970s.2,3
Marjorie Jeffcoat
Marjorie Jeffcoat is noted as the first female editor-in-chief of the Journal of the American Dental Association (JADA).4 In 1972, Jeffcoat received a bachelor of science (BS) from MIT and then a DMD certification in periodontology in 1980 from the Harvard School of Dental Medicine, where she served as an associate professor from 1978 to 1988.4
In 1988, she moved on to the University of Alabama. She became the assistant dean of research and chairperson of periodontics at the Birmingham School of Dentistry, a division of the University of Alabama. Finally, in 2003, Jeffcoat moved on to Penn Dental Medicine and became dean and a professor of periodontics.
In 2008, Jeffcoat stepped down from her position as dean at Penn Dental Medicine but remained an active faculty member until her retirement in 2016. In addition to her being noted as the first female editor-in-chief of JADA, Jeffcoat is acknowledged for her role as the president of the American Academy of Dental Research from 1995 to 1996, president of the International Association for Dental Research from 2000 to 2001, and president of the Academy of Osseointegration from 2004 to 2005. In addition, Jeffcoat increased the ranking of regional examinations and graduate scores and enlisted notable faculty members.4 She was also credited for "reversing the school debt and expanding Penn Dental's "research portfolio during an economic recession."4
Rear Admiral Carol Turner
Rear Admiral Carol Turner is recognized as the first female chief of the Navy Dental Corps, following an extensive military career.5 Turner graduated from Purdue University and then Indiana University School of Dentistry in 1975. She practiced dentistry in Jacksonville, North Carolina, until 1977, when she was commissioned as a lieutenant in the Naval Dental Corps at the Naval Dental Center in Norfolk, Virginia. There she first served as an assistant dental officer and then advanced to a division officer for the ship's dental department.5
Following her commission in Norfolk in 1984, she was selected to train at the Naval Postgraduate Dental School in Bethesda, Maryland. She eventually completed her residency and a master's degree in oral biology. In 1988, she toured as a staff officer until 1991, when she earned another master's degree in national security and strategic studies.
Turner then became the executive director of the Naval Dental Center in Newport, Rhode Island, in 1994 before becoming commander of the National Naval Center in Bethesda in 2001. Notably, in 2007 Turner became the first female chief of the Navy Dental Corps.5
Dr. Valerie Murrah
Dr. Valerie Murrah, a chairman of the University of North Carolina Chapel Hill School of Dentistry's department of diagnostic sciences and general dentistry, was also the director of the division of oral and maxillofacial pathology and oral maxillofacial labs of the University of North Carolina.
Murrah is recognized for being the first female president of the American Academy of Oral Maxillofacial Pathology. In addition, Murrah published "Oral and Maxillofacial Pathology Quality Diagnostics for the Present and Future" in JADA. Murrah directed her interest in oral pathology to research tobacco and the co-factors in oral carcinogenesis, as well as aspects of gene therapy for oral cancer.5  
Dr. Gayle Glenn
Dr. Gayle Glenn is recognized as the first female president of the American Association of Orthodontics (AAO) from 2013 through 2014.7 Following her graduation in 1982 from Texas Tech University and the University of Texas Dental School in 1982, Glenn received a master's of science in dentistry and certification in orthodontics from Baylor College of Dentistry in 1984.
Prior to Glenn becoming president, she served as the graduate ortho clinic director and clinical assistant professor at Texas A&M College of Dentistry. Other accomplishments included Glenn serving as a diplomat of the American Board of Orthodontics from 1988 to 1995 and professor at Baylor School of Dentistry until 1996 before rejoining Texas A&M School of Dentistry in 2016.
In addition to being the first female president of the AAO from 2013 to 2014, Glenn received many awards, including the Lucy Hobbs Taylor Award in 2020, which is the highest award granted by the American Association of Women Dentists. Her commitment and knowledge in orthodontics resulted in her being awarded the Martin Dewey Award from the Southwestern Society of Orthodontists in 2015 and the Lifetime Achievement Award from the Dallas County Dental Society in 2018. Glenn also received and was recognized as the first female member of the Texas Orthodontic Study Club and was awarded the Trailblazer Award from the Texas Orthodontic Study Club in 2019.
As more women enter the dental profession, their accomplishments will become more and more apparent. The perseverance and dedication of these women in dentistry through the last three centuries have broken the glass ceiling and will allow an increase in the female perspective in a once male-dominated profession.
Before you leave, please consider checking out the Today's RDH self-study CE courses. All courses are peer-reviewed and non-sponsored to focus solely on high-quality education. Click here now.
Listen to the Today's RDH Dental Hygiene Podcast Below:
References
Definitions for 21st century. (n.d.) Definitions. https://www.definitions.net/definition/21st+century
Versaci, M.B. (2021, March 30). HPI: Women Make Up Growing Percent of Dental Workforce. American Dental Association. https://www.ada.org/publications/ada-news/2021/march/women-make-up-growing-percentage-of-dental-workforce
Women Dentists: Changing the Face of Dentistry. (n.d.). University of Michigan School of Dentistry Sindecuse Museum. https://www.sindecusemuseum.org/women-dentists
Marjorie Jeffcoat, Penn Dental. University of Pennsylvania Almanac. 2020 Dec 8; 67(21). https://almanac.upenn.edu/articles/marjorie-jeffcoat-penn-dental/
University Honors & Awards: Carol I. Turner. (n.d.). Indiana University. https://honorsandawards.iu.edu/awards/honoree/4439.html
Murrah Presides Over 62nd Annual Meeting of AAOMP. (2009, May 26). University of North Carolina: Adams School of Dentistry. https://dentistry.unc.edu/2009/05/murrah-presides-over-62nd-annual-meeting-of-aaomp/
Gayle Glenn, DDS, MSD. (n.d.) Texas A&M University: College of Dentistry. https://dentistry.tamu.edu/departments/orthodontics/faculty/gayle-glenn.html