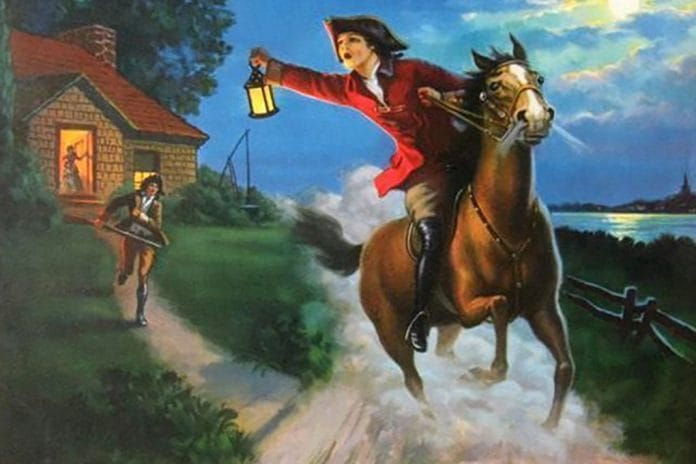 As dental professionals, we seem to eat and sleep dentistry. When a friend or stranger approaches us, we first notice their smile. When we sleep, we have dreams of scaling patients. Lastly, most conversations result in small talk about teeth or an occurrence at work.
However, how often do we hear of famous people who have a dentistry career? Here are six famous men who were also dentists in addition to being recognized for other things.
Paul Revere
Paul Revere is most known for his "Midnight Ride" on April 18, 1775, warning of a British invasion to capture John Hancock and Samuel Adams.1 However, in addition to being a goldsmith, he was also a dentist.
Born in 1735 in Boston, Revere was apprenticed by his father in goldsmith work. After his father's death, he took over his family business to help support his mother and siblings at the age of nineteen.1 Besides being a goldsmith, he was an activist who became a minutemen rider for the Boston Committee of Safety during the British Invasion. He was also involved in the well-known historical event known as the Boston Tea Party.2
In 1765, Paul Revere became a dentist to support his growing family after depressed times due to the French-Indian War and the effects of the British Stamp Act on the economy in Boston.1 He was very boastful of his dental work and, in fact, placed ads in the Boston Gazette advertising that he could fix and replace teeth "in such a manner that they are not only an Ornament but of real use in speaking and eating."1
On June 17, 1775, Paul Revere's friend, Dr. Joseph Warren, also a dental surgeon, was killed during the Battle of Bunker Hill. However, Dr. Warren was buried by the British without his uniform or any identification. Upon hearing of his friend's death, Paul Revere searched for his friend's gravesite and came across two unmarked graves. Regretfully, Revere was unsure of which grave was his friend's, but he was finally able to identify Warren by his missing tooth that was replaced with "a walrus tooth and wires." Therefore, Paul Revere is credited as being the "First Forensic Dentist."1
Doc Holliday
John Henry Holliday was also known as "Doc" Holliday, notable for his involvement in the 1881 shootout at the OK Corral in Tombstone, Arizona. Doc Holliday was born August 14, 1851, in Georgia and later attended Pennsylvania College of Dental Surgery, completing his "Doctor of Dental Surgery" at age 20.3 Unfortunately, due to his young age upon graduation, he moved to Missouri and worked as an assistant in dentistry because he was unable to practice as a DDS until age twenty-one.
Doc Holliday won many dental awards while teamed up with his uncle Arthur Ford, DDS. In 1874, he ended his joint practice with his uncle and started a practice in Dallas, Texas. However, this practice failed due to Holliday's poor health induced by tuberculosis and poor habits. So, he turned to gambling to earn money.
In 1878, he moved to Dodge City, opening another independent practice in which he met and befriended Wyatt Earp. Holliday then became a deputy marshal, which resulted in his involvement in the shootout between the outlaw cowboys and the law at the OK Corral.
Holliday eventually moved to Colorado and, on November 8, 1887, finally succumbed to his tuberculosis.
Edgar Buchanan
Edgar Buchanan was an American actor known for his role as "Uncle Joe" in the television series "Petticoat Junction," a spin-off of "Green Acres." Buchanan is also noted for his guest appearances in Green Acres and "Beverly Hillbillies."4
Born in 1903 in Missouri, he moved to Oregon at age seven. He enrolled and graduated from North Pacific College School of Dentistry, where he met and later married his classmate. However, due to poor grades, Buchanan enrolled in an acting class to enhance his GPA and found his love for acting.
In 1939, Buchanan and his wife, who was also a dentist, moved to California and opened a joint practice. Buchanan then started acting in his late thirties and in 1963 secured his role as Uncle Joe in Petticoat Junction. In pursuit of his acting career, he left the practice for his wife to manage, and he acted until his death.
Thomas Welch
Thomas Welch is known for the household staple Welch's Grape Juice.5 However, Welch was a man of many hats. He was a minister, an inventor, a dentist, and an amateur poet.
During Welch's ministry, he developed pasteurized, unfermented grape juice to be used during communion service. Since Welch was a godly man who believed in a non-alcoholic communion, which he called "fruit of the vine," as opposed to the alcoholic wine typically distributed that he called the "cup of devils."5
Welch also practiced as a dentist in New Jersey and was recognized for his improvement in the "quality of amalgam and cement," as well as his editing of dental journals and writings for the second largest dental publication in the country, Dental Items of Interest.5 His improved products were profitable enough to allow him the resources to retire from dentistry at an early age.
Welch was the father of seven children, and four pursued careers as dental professionals too. Although successful in most of his endeavors, Welch was also a gifted poet. "Possessing a keen interest in the English language, he attempted to simplify spelling by using phonetics."  Unfortunately, he was not as successful with this venture as he was with dentistry and the production of grape juice.
Les Horvath
Here's one for the 2022 Super Bowl Champion Los Angeles Rams fans. Les Horvath was born in 1921 and was a successful American football quarterback and halfback. In 1939, he was awarded a work scholarship to Ohio University, and, in 1940, he made the football team as a reserve halfback.
After graduating in 1942, he attended the Ohio State dental school and was invited to join the football team. Although he played previously for Ohio University, he was still eligible to play under the World War II Era Rule. This rule allowed anyone to play who still had eligible years available, such as Horvath.6
During his time at Ohio State, he was the first Ohio State Heisman Trophy winner, and his jersey #22 was retired in 2001. He graduated in 1945 and served in the Navy as a dental officer until 1947.
In 1947, Horvath was selected to play for the Los Angeles Rams and then two years later played for the Cleveland Browns, who clinched the American Football Conference that year. After his football career, he moved to Los Angeles to practice dentistry and was eventually inducted into the College Football Hall of Fame in 1977.
Zane Grey
Zane Grey was a western novelist known as the father of modern American western novels. Most notably, Grey is recognized for his book "Riders of the Purple Sage." However, he wrote a total of 89 books, and 46 of the books were turned into movies.7
Grey's father was a dentist, and from early on, he had the same aspiration for his child. Thus, Grey was working reluctantly as an assistant at his father's dental practice at an early age. Regretfully, on one occasion, his father found one of his son's writings that Grey had hidden in a cave. Furious, his father ripped it up.7
Grey attended the University of Pennsylvania dental school on a basketball scholarship. Upon graduating from dental school, he opened a practice in New York City because it was known for being the center for writing and publishing.7 In New York, Grey practiced by day as a dentist beside his brother, who was also a dentist but pursued his writings by night. Grey died from a heart attack in 1939, after two lucrative careers.
So, who knew so many successful people that were famous and also a dentist? This shows that dental professionals are not limited to only dentistry and should reach for the stars. Just think, you may be the one someone is writing about in the future.
Before you leave, check out the Today's RDH self-study CE courses. All courses are peer-reviewed and non-sponsored to focus solely on pure education. Click here now.
Listen to the Today's RDH Dental Hygiene Podcast Below:
References
Paul Revere, America's First Forensic Dentist. (n.d.). New England Historical Society. https://www.newenglandhistoricalsociety.com/paul-revere-americas-first-forensic-dentist/
Paul Revere. (2017, April 17). Biography. https://www.biography.com/political-figure/paul-revere