When greeting your patients, do you look them in the eye and evaluate their face overall? It is important as you walk with them to notice their gait and general appearance.
I recently had a new patient present and noticed a small reddened area along her lower lash line. Before placing our darkened, protective glasses, I inquired about the area to make sure the patient was aware. She immediately thanked me for noticing and shared her recent journey of basal cell carcinoma complete with photos she had taken on her smartphone.
She stated that she had gone to her eye doctor for routine vision care and was told to see a dermatologist immediately for a small red lesion on her lower lid. She had assumed it was some kind of isolated irritation and had not been present that long. The dermatologist explained that these lesions are often basal cell carcinomas and can continue to grow without surgical excision.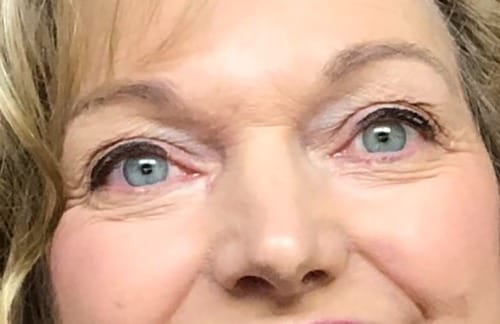 Photo 1: Before surgery: Right eye is slightly red and glassy with a small, red line on lower lid. Photo courtesy patient.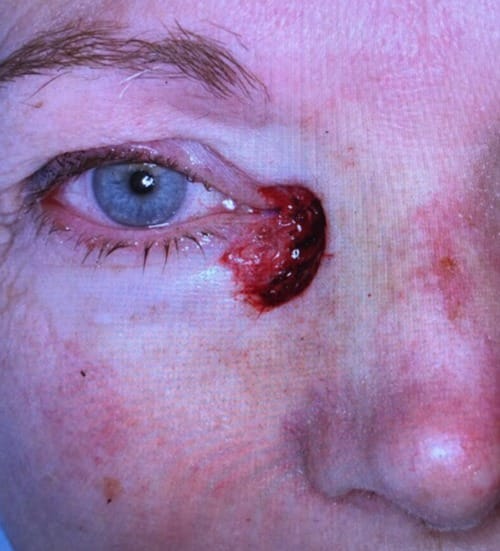 Photo 2: Immediately post-surgery. Photo courtesy patient.
She was referred to Mayo Clinic for treatment that included full excision of the cancerous lesion, as seen in photo #2. The size and depth of cancer came as a complete shock to her, as she had expected it to be tiny and superficial.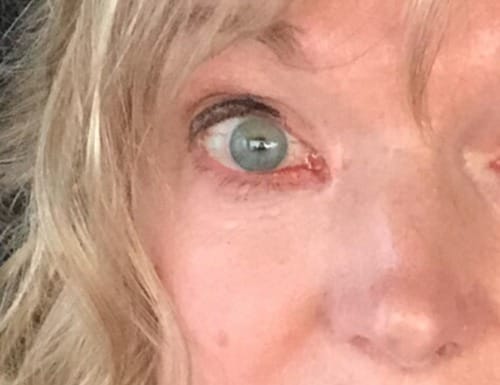 Photo 3: Three weeks post-operative. Photo courtesy patient.
Photo #3 is three weeks post-operative. The healing is almost complete, though the lower lid is slightly rolled externally and will require a revision to allow it better placement against the eye and the tear duct to flow more easily. The patient states the surgery itself was relatively painless, but the six weeks of waiting for treatment was very stressful. She cautions others to be aware of any changes in their features and to seek medical advice immediately for the most positive outcome.
Basal cell carcinoma of the eyelid was new to me after 30 years of practice, so I investigated to help make others aware of what to look for during our examination. According to the New York Eye Cancer Center, basal cell carcinoma is the most common type of eyelid cancer.
Due to slower growth, many patients choose to ignore the signs and seriousness of the lesion. Left untreated, cancer may grow into the sinus, eye orbit, and brain, but almost never metastasize to other locations in the body. For those opting to not treat their cancer when small or not discovering its existence until later, a combination of surgery, radiation, and possibly chemotherapy may be required, possibly altering the function of the lid, and appearance of the patient, as well as potentially losing the eye.
Patients may notice a small reddened area or reddened nodule on the lower eyelid, upper lid, or the area where upper and lower eyelids meet toward the nose, Rarely this cancer presents with no pigment changes or nodule present, and grows inward causing the eyelid to pull in, changing the appearance of the tissue by causing a puckering. This puckering makes the margins much less defined and more difficult to treat.
A biopsy is needed to confirm the diagnosis, but almost all will need surgical excision by either a Wedge resection or Mohs resection taking tiny layers of the tumor off until all margins are completely free of cancer cells. Due to the complex nature of the eyelid function, special reconstruction techniques may be needed, so careful screening of the specialist is imperative to have the most positive outcome and best aesthetic result.
Postoperatively patients are instructed to apply a broad spectrum (UVA/UVB) high SPF sunscreen to the face, wear UV blocking sunglasses and wide-brimmed hats to avoid any sun exposure. Avoid tanning and use of UV tanning beds. Yearly follow up with the dermatologist for full body cancer screening is imperative to check for recurrence.
Eyelid cancer is found more frequently in fair-skinned individuals; those with light skin tone, light colored eyes and hair (with less pigment and freckles), and those who burn more easily. Individuals with a history of sunburn have a higher incidence of basal cell carcinoma to the eyelid.
As with oral health, prevention is always best. So, why not include a full look at the face, and even scalp, when seating our patients and perhaps mention avoiding sun exposure and use of sunscreen to decrease the chances of skin cancers.