If you have ever been interested in getting more involved as a dental hygienist or if you've been looking for an opportunity to volunteer, Happy Teeth presents feel-good gear for health-care professionals.
Happy Teeth is not only a super cute purse in the shape of a tooth, but it is part of a whole collection of bags designed by health-care professionals for health-care professionals. In addition, for every item purchased, Happy Teeth donates a Dental Essentials Kit to someone in need.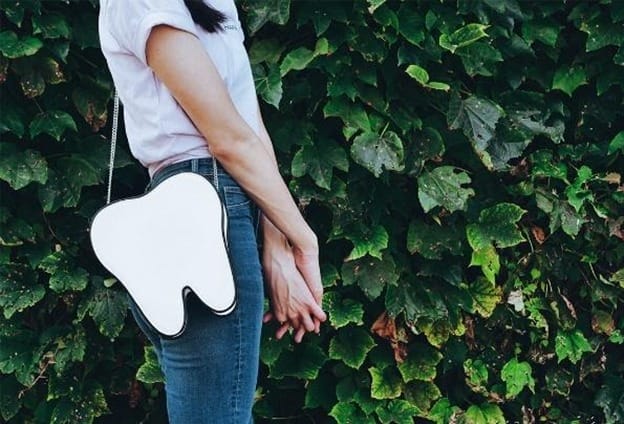 Happy Teeth was co-founded by me, Whitney Rose DiFoggio. I'm a dental hygienist in Chicago and also known as "Teeth Talk Girl" on YouTube. My videos focus on dental education and entertainment for both patients and dental professionals. I create two videos every week (Teeth Talk Tuesdays and Toothy Thursdays), and viewers have often asked me for "Teeth Talk Girl" merchandise.
At first, I wasn't interested in producing merchandise until one day when everything aligned. It just so happened that I was shopping for a tooth-shaped purse (Because who doesn't do that in their spare time?). While shopping, I realized there were not any tooth purses on the market.
So, I decided to fabricate one myself, and that's when I found my passion for creating merchandise and named it Happy Teeth. One tooth purse led to another, and, all of a sudden, I started designing bags and accessories for health-care professionals as well. You can learn more about the future of the Happy Teeth product line at givehappyteeth.com.
But, of course, I couldn't stop there. I knew I wanted more than just merchandise. And this is what I love most about this project! For every item purchased, Happy Teeth donates a Dental Essentials Kit to someone in need. The donated Dental Essentials Kit contains a one-year supply of dental home care essentials (toothbrushes, toothpaste, and floss).
In addition, dental health presentations are available along with the delivery of the Dental Essentials Kits. So, this way, those receiving the kits can have both the tools and the education to improve their home-care techniques and overall oral health.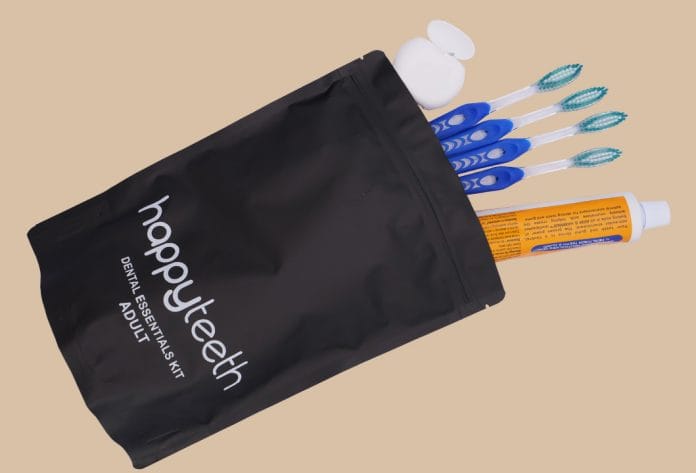 The presentation aspect is where all dental hygienists can get involved! The Happy Teeth giving center on givehappyteeth.com invites all health-care professionals to get involved by volunteering to provide presentations to those receiving the Dental Essentials Kit. The giving center page on the website includes educational resources, including PowerPoints and interactive virtual learning material, along with helpful presentation tips and guidelines.
The giving center also allows organizations to sign up to receive the Dental Essentials Kits. Some examples of organizations requesting kits are women and children shelters, orphanages, and homeless shelters. You can access the giving center at https://givehappyteeth.com/giving.
The product line currently contains the Tooth Purse, Tooth Luggage Tag, Market Tote, and Happy Teeth logo T-shirts. Next up, Happy Teeth is working with health-care professionals to create totes and backpacks catering to everyday work needs.
I have found that I've never been able to find the perfect bag to bring to work as a dental hygienist. So, since I have done the research for the tooth purse, I'm now creating bags that will help health-care professionals stay organized throughout their workdays!
My goal (as both "Teeth Talk Girl" and co-founder of Happy Teeth) is to continue to spread dental health awareness and provide a positive, uplifting environment for the health-care community. I have been providing dental health workshops myself for a few years now (educating the youth about proper dental home care techniques, nutrition, etc.), and I'm delighted to finally share my presentation material with my fellow dental hygiene community!
Although it may have all started with a purse in the shape of a tooth, it doesn't end there. We all have the opportunity to share and spread our knowledge of dental hygiene, all while living up to Happy Teeth's mission to make the world a happier and healthier place!
Now Listen to the Today's RDH Dental Hygiene Podcast Below: