As dental hygienists, we respect the doctor we work for. After all, it is their practice, their business, and we work either under direct or indirect supervision of them. They are the boss. Because of this respect, some topics that are hard or just plain uncomfortable to bring up with them. We might also hold back because we don't want to come off as a prima donna hygienist, as a needy employee, or quite frankly are afraid we will be replaced.
Sadly, I hear from an uncountable number of hygienists who have concerns and issues in which they are faced with day in and day out at work. Hearing from these hygienists, and from what I have experienced in practice myself, there are repeating concerns that need to be addressed. I must mention that of course, not all hygienists face these issues. There are many incredible doctors which put patient care first, respect their team of staff, and are all around great practitioners. For those that need a gentle reminder, this one's for you.
Providing your hygienist the instruments and equipment they need
 Whether you are a plumber, a teacher, or a dental professional, there are certain things you need to do your job to the best of your ability. Certain must-haves, if you will. As a dentist, if you needed a new high-speed handpiece, diamond bur, or ball burnisher, you'd buy it with no question because you must have it to do your job properly. The same holds true for your dental hygienist and the equipment and instruments they use.
News flash: stainless steel hygiene instruments need to be replaced every nine to 18 months. Sometimes even more frequently depending on the difficulty and amount of patients treated, the number of set-ups, and other factors affecting usage. If you expect your hygienist to deliver the best care to their (and your) patients, they need functioning, not worn out and passed their prime, instruments.
Not providing proper equipment and instruments, your hygienist isn't only doing a disservice to the patients of your practice, but dull and worn out instruments are taking a toll on your hygienists' body. Proper ergonomics can only go so far; forcing your hygienist to use dull, worn out instruments can actually shorten their career due to the risk of musculoskeletal injury. I'd hope that as someone who has chosen a career to help and care for patients wouldn't want to do so at the expense of an employee's longevity of health and well-being.
Time is money, right?! When your hygienist is using worn out, dull instruments, they have to work harder which is less efficient and time-consuming. Here's another comparison: If your front desk has a slow, out of date computer that keeps crashing, you'd replace it. The time wasted for both your front office staff and for the patients waiting for it to get their next appointment scheduled, simply isn't worth the headache and frustration. It's a business expense.
Again, the same goes for your hygienists' equipment and instruments. On average, hygienists bring in one-third of the office's total revenue. Further, on average, 50-80 percent of your (doctor/restorative) treatment comes from hygiene exams. Please allow them to do their job properly with functioning equipment and instruments because they are producers for the office and do add to your bottom line. Treat them as you would want to be treated yourself and provide what they need to get their job done effectively and to the best of their ability. It's all part of being a business owner.
Don't shorten hygiene appointment times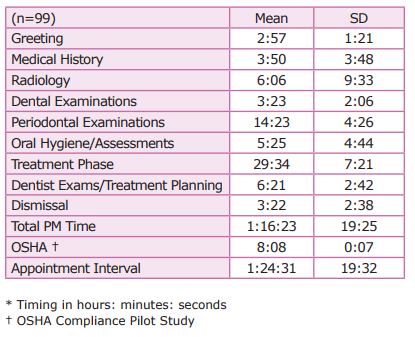 The graphic above, from the Journal of Dental Hygiene/American Dental Hygienists' Association, shows a breakdown of the time needed for a periodontal maintenance appointment. Take notice that the time a hygienist needs ranges from one hour and five minutes to one hour and 43 minutes. The average time needed is one hour and 24 minutes needed. If this amount of time is required to provide proper patient care, why are you shortening hygiene times to 50, 40, or even as little as 30 minutes?
On the surface, it might seem that squeezing another patient or two into the schedule would increase production. I would argue it actually does the exact opposite, and this is only looking at short-term boosts to production, not long-term production needed for the longevity and health of a dental practice.
I say this because, by rushing your hygienist, they do not have the time to explain treatment a patient may need or by building patient rapport that brings patients back and that leads to practice referrals. It's worth writing again, only focusing on the short term will lead to the office's bottom line suffering in the long term.
Even further, by rushing through appointments, you could be putting yourself at risk for a malpractice suit. If your hygienist is rushing through appointments, it can lead to a less than thorough health history. There's a possibility they could miss pathology like periodontal disease or suspicious lesions. They might not have enough time to write thorough chart notes, which are legal documents that could be your saving grace in a lawsuit, among many other things.
Ask yourself, could your practice survive or thrive after a malpractice suit? In today's world, social media spreads news like wildfire. Why set yourself up for something like that to happen to your livelihood?
Patients can tell when their care is being rushed through and isn't thorough. Don't make the mistake of thinking they don't. If a patient feels they weren't treated as an individual with the time taken specifically for them, patient retention rates and referrals can drop. Without patients, there's no practice.
Lastly on this subject, as a doctor, what steps would you leave out of a crown prep or MOD on #30 if your appointment time was shortened? I think I'd be safe to assume that no steps could be left out. How would the quality of your work suffer if your time was shortened for treatment? Again, the same logic applies to hygiene appointments.
Take a moment and put yourself in your dental hygienists' shoes, the length of appointments matters and is just as important to you as it is for them.
Offering benefits
Do you value your team? Do they work hard for you? Could you run a thriving practice without your team? If you truly value your employees, the employees that give you their best when at work, which helps your practice thrive, show them. Offer benefits.
You chose to be a business owner. Benefits to your employees are a business expense. Part of being a business owner includes the responsibility to treat your employees fairly and with respect. If you offer benefits such as paid sick days, vacation days, or health insurance, to your front office, office manager, and dental assistants, then your hygienist should be offered them too. "But my hygienist is only part-time." Doesn't matter. You are the business owner, and you can make the choice to offer all employees benefits, it's entirely under your control.
There are plenty of businesses big and small that offer some sort of benefits to all employees. You will get your best work out of your team if they feel appreciated, respected, and valued. This, no matter if they are full-time or work 3-4 days per week. Richard Branson says, "Clients do not come first. Employees come first. If you take care of your employees, they will take care of the clients."
Of course, patient care is the first priority for dental hygienists, however, if they don't have high morale or feel underappreciated, it can show through in work ethic and truly going above and beyond for you. It's simply human nature.
Giving raises
 Does it seem reasonable to stay at a job where you haven't had a raise in 5 or 10 years? Would you feel respected, appreciated, or want to work hard for a boss that doesn't even consider the cost of living increase year over year, let alone the hard work you have done for them? My guess would be no. You might just feel the need to move on from that job to work for an employer that valued the work you do.
Going back to the fact that, on average, a hygienist brings in one-third of a practice's revenue, a hygienist should be making one-third of their production (not collection). As the office's fees increase and the practice's revenue increases, so should the hygienists' paycheck. Yours does, right?! This goes back to taking care of the employees that take care of your business and fairly compensating them for it. Further, if you give your office staff and dental assistant(s) raises, your hygienist should receive them too.
The point is, if you value the work that your hygienist, or any employee, does for you, they need to be compensated for it. You'd expect that for yourself, so do it for your employees and team members.
Demanding your hygienist to clock out if a patient no-shows or cancels
Does a grocery store clerk clock out when no one is in their line to check out? Do you demand your front desk person to clock out when a patient isn't standing at the front desk? No and no. To force your dental hygienist to clock out when they don't have a patient is actually against Federal Law and the Fair Labor Standards Act.
If you are a dentist who owns a practice, you need to be current on labor laws. Again, this falls under the responsibilities of a business owner. Knowing labor laws not only ensures you are treating your team lawfully but will keep you from facing hefty fines.
Besides the fact that forcing your hygienist to clock out when there's no patient is illegal, there's no need for it. There is always something to do in a dental office. Hygienists need to sharpen instruments, operatories can be stocked, instruments need to be sterilized, and these are just a few things that can be done on downtime.
If you want your employees to work as a team, there must be time for teamwork. Again, patients get their best treatment and revenue is best generated when the entire office is working together, as a team, happily.
Supporting your dental hygienists' treatment recommendations
 An efficient dental team works best when everyone is on the same page. This includes being on the same page as your dental hygienist. Whether it be when to refer a patient to a periodontist or when periodontal treatment is needed, backing up their treatment recommendations helps reinforce treatment needs.
Hygienists have almost 3,000 hours of periodontal education under their belt; a hygiene diagnosis is part of this training. Many states dental practice acts require the definitive diagnosis to come from the doctor, but please don't dismiss a hygienists' treatment recommendations because of this. Hygienists in your practice educate and enforce the need for restorative treatment so please return the favor.
Let's say doctor exams come at the end of hygiene treatment and your hygienist just spent 10 minutes educating on the importance of interdental cleaning based on their clinical findings during the appointment. It does not help if you say, "All looks good, keep up the good work." Most likely you mean this because you found no decay, but to the patient, this erases the time the hygienist just spend on educating the patient.
Also, keep in mind that your hygienist just cleaned up 3-6 months of calculus and plaque that the patient neglected during homecare and you didn't witness the "before" clinical situation. Simply put, "everything looks good," because your hygienist just cleaned it up.
A well-respected hygienist who is treated like a co-practitioner will contribute more to your practice than one who is not. That goes for any employee. For a team member to thrive in your office and help your office thrive, they must feel appreciated for their role and be given the resources to do their job to the highest of their ability. Actions speak louder than words.
If you are a dentist/practice owner and you have these topics covered, thank you! If not, I hope this gives you food for thought.
References
Jamison, C.L., Bray, K.K., Rapley, J.W., ManNeill, S.R., & Williams, K.B. (2014). Analysis of Patient Factors Impacting Duration of Periodontal Maintenance Appointments: An Exploratory Study. Journal of Dental Hygiene, 88(2), 87-99. Retrieved from http://jdh.adha.org/content/88/2/87.full.pdf+html
United States Department of Labor, Wage and Hour Division. (2008, July). Fact Sheet #22: Hours Worked Under the Fair Labor Standards Act (FLSA). Retrieved from http://www.dol.gov/whd/regs/compliance/whdfs22.htm
United States Department of Labor, Wage and Hour Division. (2009, November). Fact Sheet #70: Frequently Asked Questions Regarding Furloughs and Other Reductions in Pay and Hours Worked Issues. Retrieved from http://www.dol.gov/whd/regs/compliance/whdfs70.htm