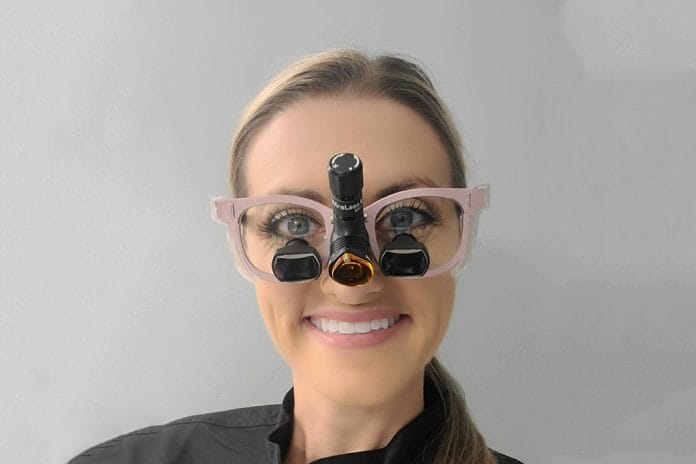 Disclosure: This article is sponsored content from Designs for Vision as part of our sponsored partner program.
The mere thought of how I ever practiced my dental hygiene career without loupes is unfathomable. Loupes have assisted me in my career by improving my posture, as well as reducing musculoskeletal disorders and hand fatigue. In addition, loupes help perform dental procedures with finer accuracy, reducing eye strain.
Once you make the decision to invest in loupes, the task can be daunting, considering the available brands, styles, magnifications, and lights to select from. I was recently given an opportunity to try Designs for Vision, a brand different from what I own, and after several weeks of trial, I would love to share my perspective.
First things first, if you are in the market for loupes, please note that it is important to be custom-fitted for this particular type of eyewear. While you can find cheaper versions of loupes floating around on e-commerce websites, these are not recommended and can escalate neck and back injuries. The working distance (WD), the interpupillary distance, and declination angle (DA) are all measurements taken for custom-fitted loupes. Using loupes with incorrect DA and WD can lead to neck and back injury as the clinician will find themselves sitting non-ergonomically to compensate.1 With Designs for Vision, I was measured for all the contributing factors for an ergonomic pair of custom loupes, especially for me.
Designs for Vision Frames
Let's shoot straight; frame selection matters. Picking out a frame for your loupes is no different than picking out a frame for your eyeglasses or a pair of sunglasses. The bottom line is that you want to look good. Designs for Vision had an entire suitcase full of various frame choices for all tastes.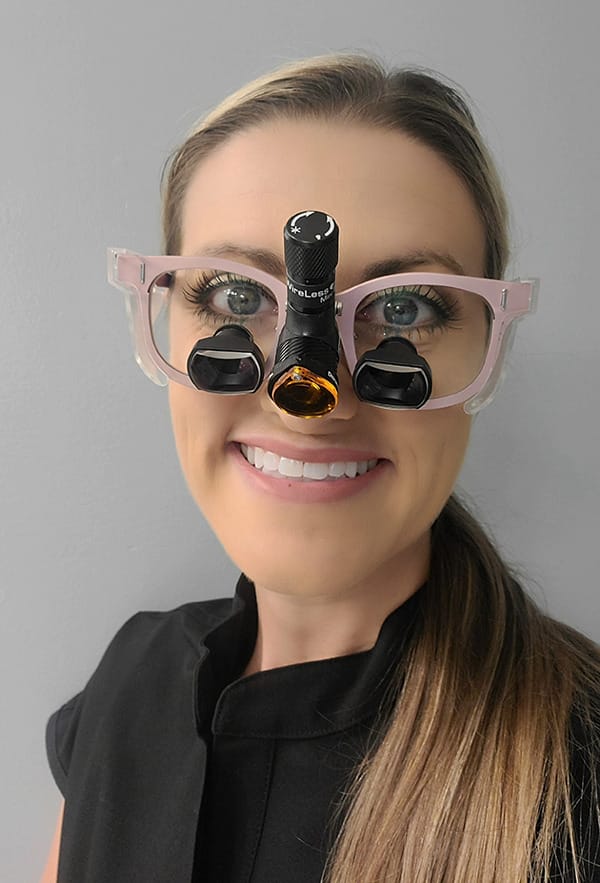 The particular frame that captured my attention has a polished and fashionable appearance. The Yeoman is a Buddy Holly-styled frame that comes in black, red, blue, pink, and light gray. This aluminum frame is lightweight and helps to distribute the weight of the dental telescopes evenly.2
After initially trying on these frames, I wasn't completely sold on the lightweight aspect. They appeared to feel heavier than the brand of loupes I was using prior. However, once I wore the loupes for several days, I no longer noticed a weight difference, and the frame felt 100% comfortable. The frames are sturdy, and because they come in 112 sizes, I was given a pair that fit my face perfectly. Not all faces have the same facial symmetry; therefore, during your custom fitting, your representative will ensure that you are given the frame that best fits the frame of your face by taking measurements.
Designs for Vision Headlamps
Like peanut butter and jelly, loupes are complemented nicely with a headlamp. While using only the overhead light equipped at your office is feasible, I find using a headlamp much more efficient as the light will illuminate the area that I am currently working on and eliminate the frustration of a hot overhead lamp in the dental operatory. Designs for Vision have multiple lights to choose from equipped with HDi technology that provides uniform light distribution with 45% more light.2 I was able to try three variations of headlamps and found benefits to each.
The LED Daylight Micro HDi is a small, wired light weighing 0.6 oz that comes with two battery packs, a clip for wearing, a charger, and an ultraviolet filter. This light is so weightless I did not detect any variation in weight when mounted to my loupes. The 360-degree swivel clip in which the battery pack rests adapts to the clinician's preference in placement, allowing me to strategically place the battery where I found it more accommodating to operate.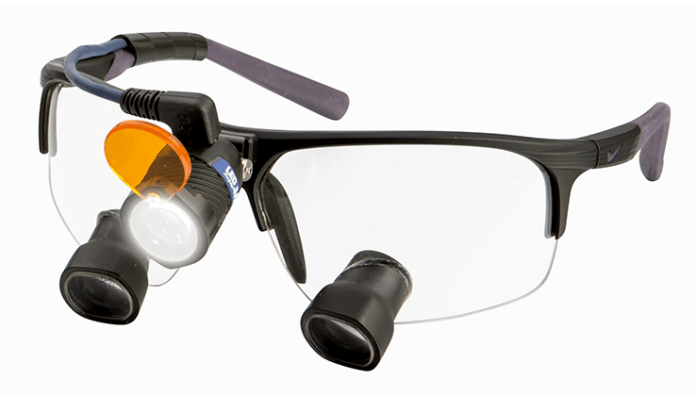 Because of the length of the cord, I was able to place this battery pack as low as the waist without tension. The cord is equipped with two clips to secure it in place as it snakes up the body to the light. This was very helpful in keeping the cord from wandering around and becoming entangled as I move about.
Cord placement wraps are included with this light to help secure the cord on the arm of the frame to prevent the cord from interfering in the line of vision. These ingenious wraps are easy to place and remove, making storage simple. While some may choose to wear their loupes dangled around their neck between patients, I prefer to remove mine completely. The cord wraps made this process much faster compared to my previous placement straps.
The Designs for Vision cord is Kevlar reinforced, which enables the user to store this cord without worry. I found this perk to be huge as my previous cord was not of this caliber and ended up breaking. The cord has a one-year warranty and, according to the company, lasts on average three years prior to replacement.
The battery has an on/off switch that can also be used to variate between two intensities of brightness ─ 55,000 lux (high intensity) and 30,000 lux (medium intensity).2 I have worked with a light that offered me several levels of intensity; therefore, only having two to choose from might be a negative for some clinicians. If worn at the waist, I found it was easy to tap the on/off button with my elbow to manipulate, reducing cross-contamination. In order for the user to detect the battery life, it is equipped with a light that changes colors to indicate the battery level:
Green – 70% and up
Yellow – 40-70%
Orange – 10-40 %
Red – Below 10%
This feature is very helpful in ensuring that clinicians do not lose battery power during a procedure ─ a frustrating and inconvenient experience. However, if the user fails to notice the low battery level, the light will flicker three times to warn the clinician that the battery has 10 minutes of remaining battery. This feature is very helpful as I have failed to check my battery level on my previous light during a busy day to have it go out during a procedure. Kudos to Designs for Vision for thinking of this feature.
When used at high intensity, the battery will last approximately six hours and 12 hours on medium intensity. The LED Daylight comes standard with two batteries to ensure the clinician will always have one charged battery at all times, and each battery is good for 1000 recharges! You heard that right; you will not be replacing these batteries often.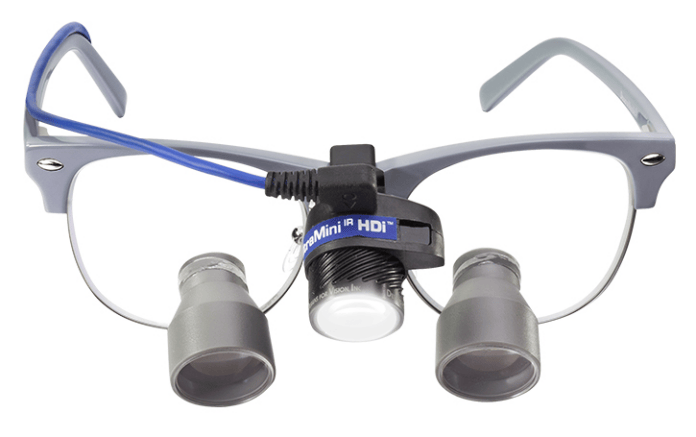 Another variant of the LED HDi Daylight is the intuitive response (IR) version. IR technology allows the clinician to program the light so that it automatically turns on when the head is positioned in a downward working position and turns off when the head is raised. This light uses the same battery pack as the aforementioned one. While definitely packing major perks, it does come with a learning curve when programming the light to not switch off with the slightest forward head raise. I found myself without light a few times and reprogrammed it to ensure that it was not cut off when unnecessary.
Additionally, Designs for Vision offers a wireless version of the Mini HDi headlamp. This one-ounce light mounts on the frame, adding just a smidge more weight than the wired version. With only one intensity (34,000 lux), this light is turned on with a twist of the battery cap. In order to maintain sterilization, two additional caps are provided so that the clinician can autoclave the caps between patients.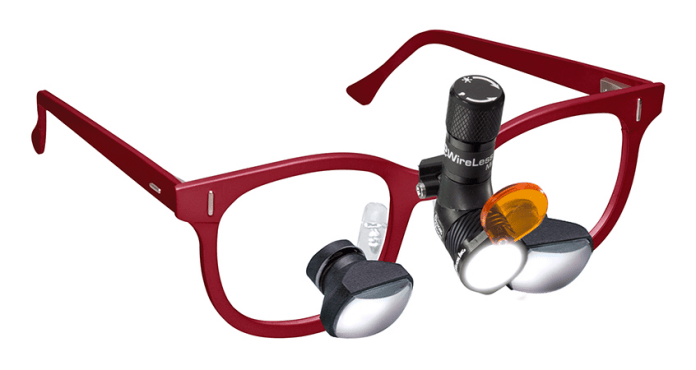 The wireless Mini HDi light comes with three color-coded batteries and a charging dock that charges batteries independently. According to the company, each battery is good for an average of 78 to 85 minutes. I found myself switching every two patients. While this is a short life span, having three batteries rectifies this issue. I personally loved that I was able to see the charge percent of each color-coded battery while in the dock.
Designs for Vision Details
Both loupes and light come in sturdy boxes, making storage safer. The loupe box has a space designed for the light should the clinician choose not to remove it from the frame prior to storage. While a simple concept, it makes storing the loupes at the end of a long workday effortless.
With the COVID-19 pandemic at the forefront, Designs for Vision rectified the concern about jump strap sanitation. A new jump strap was designed so that clinicians can easily sanitize their strap with a disinfectant wipe as opposed to the previous strap that did not allow for this convivence. This helps to decrease contamination concerns in the dental office.
It should not go without saying that in dentistry, 87% percent of dentists suffer from some type of eye strain.3 The same statistic would certainly apply to dental hygienists. Custom fitted loupes can assist in preventing eye strain by improving visual acuity and, in return, reduce MSDs in dental professionals across the board. From the mouth of a dental hygienist, prevention is key. So, whether you are considering investing in loupes for the first time in your career or simply looking to replace your existing loupes, I feel it safe to say that Designs for Vision is a great place to start.
Interested in trying Designs for Vision Loupes for yourself? Get a free, no-obligation 45-day trial by clicking here.
Designs for Vision References
Change, B.J. (2014, July 1). Declination Angle: The Key Factor for Custom Loupes. Oral Health Group. Retrieved from www.oralhealthgroup.com/features/declination-angle-the-key-factor-for-custom-loupes-b-j-chang-phd
Designs for Vision Dental Magnification and Illumination Literature. Designs for Vision, Inc. in Dentistry. Retrieved from https://www.designsforvision.com/DentHtml/DentLit.htm
Murphy, B.S., Peter, J. (2016). There's More to Optical Magnification than Meets the Eye. Designs for Vision, Inc. Retrieved from https://www.designsforvision.com/LitPDFs/MoreToMag.pdf