Disclosure: This article is sponsored content from Designs for Vision as part of our sponsored partner program.
For dental professionals, patient health and safety remain a top priority now more than ever. The expectations are to provide a high standard of care while creating the best possible experience for patients. Hundreds of precautionary measures are taken throughout the day to ensure that proper cleaning and infection prevention protocols are met since dental offices are truly a reflection of the clinician's services and philosophies.
A great deal of time is spent throughout the dental workday to disinfect and decontaminate surfaces, instruments, and equipment. So, why are loupes often neglected?
The extreme level of cleanliness that prevents the spread of pathogens and meets patients' expectations is also for team members.
There are many benefits of wearing loupes while practicing. During my 15 years of dental hygiene practice, only a handful of appointments have been practiced without them. I've owned four pairs during my career and found the best fit with my Designs for Visions sets.
Loupes help enhance our visual acuity, improve precision, and, most importantly, lead to more direct diagnostic abilities. Additionally, loupes promote proper chairside posture and reduced musculoskeletal problems in the future. They also reduce daily eye strain, improve work speed during appointments, and promote better focus and hand-eye coordination.
Loupe Disinfection 
With all of the amazing benefits that loupes offer while treating our patients, we have to address the giant elephant in the room: disinfection protocols. It's safe to assume that many clinicians are not practicing a proper cleaning routine on loupes. I was guilty of taking off my gown and dangling my loupes around my neck while walking around the office. Perhaps we've all seen a team member or two heating up their lunch or grabbing a coffee with loupes hanging around their necks.
If used properly, the recommended disinfection protocols for cleaning loupes work effectively. Likely, dental professionals aren't consistently following those recommendations provided by loupe manufacturers, which poses a threat to the integrity of the loupes and, of course, asepsis and cross-contamination.
Safety for the Eyeballs
More crucially than ever, infection control procedures are of utmost importance. Cleaning and disinfecting our loupes is vital in keeping clinicians and patients safe from viruses and other potentially harmful bacteria. Given the outbreak of coronavirus and the global pandemic's current status, the importance of cleaning and sanitization remains a top priority to ensure safety. Patients are much more observant now than they have been in the past, carefully inspecting the safety glasses they wear and their general surroundings in the dental office.
The Centers for Disease Control and Prevention (CDC) states that all dental health care professionals should wear protective eyewear as it helps shield the mucous membranes of our eyeballs from contact with microorganisms. The CDC didn't say the word eyeballs, but I really like that word today. So let's go with the flow.
We are currently wearing face shields, right? Here's a hot take. Pardon the assumption that we are all sanitizing our face shields between patients, but what about including loupe cleaning coupled with face shield cleaning or disposal?
Both loupes and face shields accumulate airborne debris and dust throughout the day. They are also in contact with pathogens due to aerosolization and splatter during procedures. If these contaminants are not removed effectively, there's the possibility of cross-contamination.
Cleaning and disinfecting loupes should take place at the end of each appointment. The main issue among dental professionals is what exactly the proper cleaning protocols are since loupes should be handled with care to produce first-class magnification.
Let's break down the dos and don'ts for cleaning loupes:
Do's
1. Wash and sanitize hands before cleaning loupes.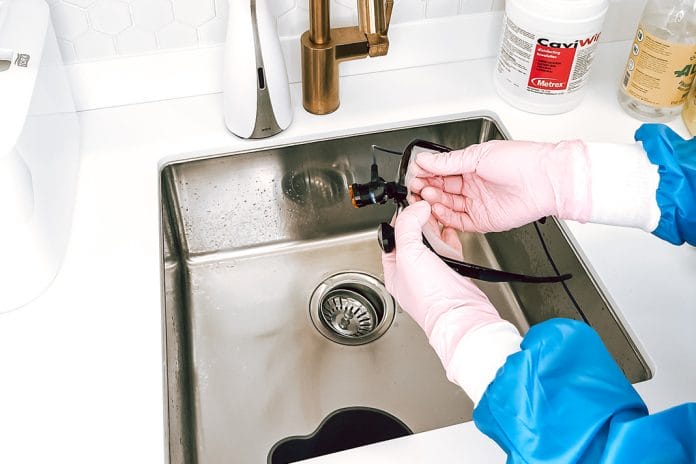 Always wear PPE when cleaning your loupes. The last thing you want to happen is for bacteria or viruses to transfer from your hands to your lenses. The best practice is always to wear gloves and proper PPE just as you would if you were disinfecting any other piece of equipment.
2. Clean lenses with alcohol, bleach, phenol, or solvent-free glass cleaner and a soft, lint-free cloth.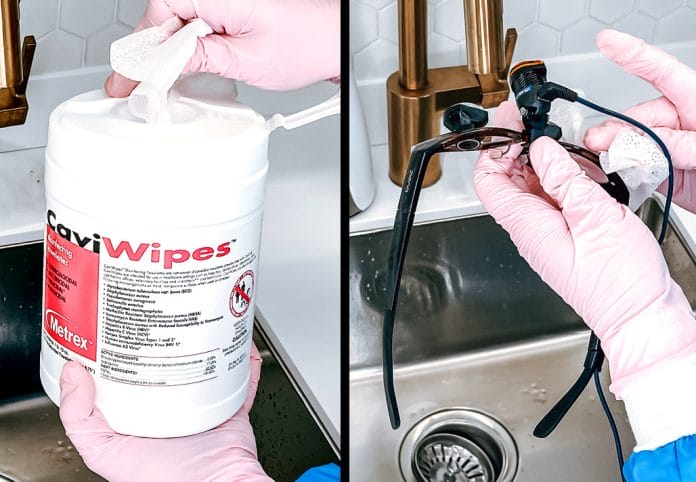 Gently clean around the loupes, frames, and lenses.
This ensures that the surface of the lenses will not be scratched. Be smart about the type of cleaner used. Though the temptation may be to reach for the bottle of Windex, resist the urge. Technological advancements have led to loupes being designed with different materials.
A standard cleaning agent developed for glass is no longer suitable for lenses. It's essential to choose a proper liquid solution that is specifically designed for cleaning lenses rather than normal glass. Keep in mind to avoid cleaners with alcohol, bleach, phenol, or solvents included in the ingredient list.
If you happen to use a cleaner containing alcohol, ensure the alcohol content is below 20%. Stronger formulas can compromise the glue which holds the ocular in the carrier lens.
My friends at Designs for Vision recommend the following products on their loupes:
Clorox VersaSure (alcohol and bleach-free)
CaviWipes
Lysol IC
Sono Disinfecting Wipes
Opti-Cide 3 Surface Wipes
3. Store loupes in their accompanying case when not in use.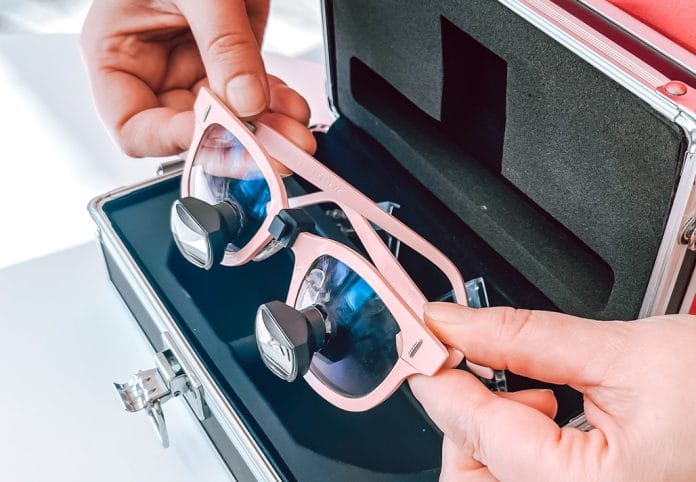 Always place clean loupes in their respective case. Avoid having them loose. It's important to adopt a habit of safely storing loupes between patients and at the end of each day. This will protect the lenses from potential scratches, cords from twisting, and arms from unexpectedly breaking.
I left my loupes on the top of my desk between patients and, unfortunately, watched them in slow motion plunge to the ground, LED light first, when the cord got stuck to my pants ─ a vision to this day that I still can't seem to forget.
Don'ts
1. Do not apply cleaning solutions directly onto the lenses.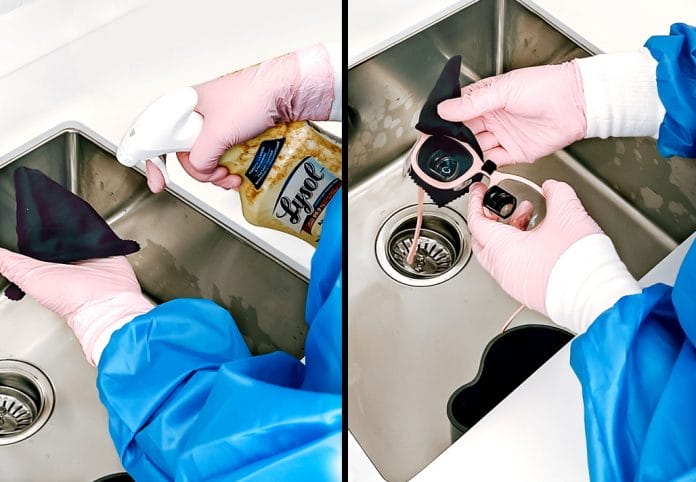 Never spray products directly to loupes. Always use a microfiber cloth and spray your cleaning product to the cloth modestly.
If this is how you have been disinfecting your loupes, it's time to stop! The material used on the coating of the lenses is designed to be anti-reflective and scratch-proof. If the wrong formula is applied in the cleaning process, it's possible to damage the coating. Instead, spray the cleaner onto a microfiber cloth and gently wipe the sections.
2. Don't use cloths made from cotton or wool.
Tiny particles could transfer and compromise the quality of your equipment and create scratches. Be conscious of the type of cloth you're using to wipe and clean the lenses. To avoid any potential scratches or particle transfer, microfiber cloths are the best choice. Scratches on your lenses could affect not only your eyes but may limit the quality of view during treatment.
3. Never submerge your loupes in water or any other form of liquid.
While some loupes may be water-resistant, not all are waterproof. When it comes to disinfection protocols, it's recommended that all exposed plastic sections and cables are to be wiped with a surface cleaner or an equivalent plastic-safe cleaner. For LED products, it's important to be extra careful and not get any liquids or cleaners in the ports or electrical connectors. Seemingly obvious, but should be mentioned: Never, and I mean never, place your loupes in an ultrasonic bath or autoclave.
In Closing
Peeps, your eyeballs are just as precious as your patients. Take the time and necessary steps to ensure everyone's safety by implementing a proper sanitization and disinfection routine for loupes. High-quality and ergonomic loupes play a crucial role in successful treatments, and successful treatments can only be executed when all safety and sterilization protocols are met. Ask manufacturers for suggestions on safe cleaning products to use.
Thanks to our friends at Designs for Visions for giving us a list of safe and reasonably priced products that can be purchased from our local hardware stores and dental distributors.
Until next time, peace out, peeps!