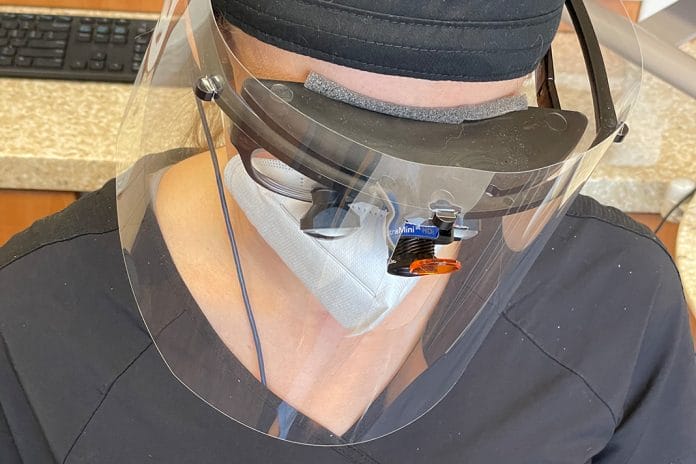 Disclaimer: This article is sponsored content from LoupeSaver.
Personal protective equipment (PPE) is essential for dental professionals and is defined by the Centers for Disease Control and Prevention (CDC) as "special coverings designed to protect dental health care personnel from exposure to or contact with infectious agents."
The CDC elaborates, "These include gloves, face masks, protective eyewear, face shields, and protective clothing (e.g., reusable or disposable gown, jacket, or lab coat). PPE can also prevent microorganisms from spreading to dental health care personnel to patients."1
Although it seems obvious that dental hygienists utilize PPE throughout their workday, the recommendations regarding which PPE items are most necessary seem to be ever-changing. In some cases, it even appears as though some of the PPE items are based on a clinician's personal preference.
Defense Against Splashes, Sprays, and Spatter
One of the items that most commonly seems to be based on personal preference is the use of a face shield. Using a face shield in conjunction with additional PPE items, such as a face mask and eye protection, provides more protection than those items used alone. Dental workers' faces are reported to be the body part most commonly contaminated by splashes, sprays, and spatter of body fluids.2 Face shields play an important role in the PPE armamentarium.
Over the last two years, the role of face shields has proved to be increasingly important for dental workers with the emergence of SARS-CoV-2, which led to the COVID-19 pandemic. With this new airborne respiratory virus, the importance of protecting the clinicians' eyes, nose, mouth, and face from bodily fluids proved to be imperative. Prior to the pandemic, the use of a face shield for dental procedures, such as prophylaxis, scaling in the presence of inflammation, periodontal maintenance, and non-surgical periodontal therapy, were not commonly used.
I personally had not utilized a face shield prior to the COVID-19 pandemic. Before the COVID-19 outbreak, I mistakenly felt an ASTM level 3 face mask and my loupes sufficed as protection for my face.
SARS-CoV-2 can be found in bodily secretions, including saliva, which serves as a reservoir of both symptomatic and asymptomatic infected patients. Dental professionals are exposed to patients' saliva daily, and there is a greater risk of contraction, especially during aerosol-generating procedures. Due to this high risk, dental professionals are included among the medical professionals carrying the highest risk of developing and transmitting SARS-CoV-2 infection.3
Noticeable Aspect of Face Shields
PPE that includes a face shield reduces the risk of coronavirus infection and other contagious pathogens via dental aerosols and spatter. Using a face shield aids in blocking spatters on dental professionals' faces and helps to prevent eye contamination.2 Once I began implementing the use of a face shield in my everyday practice, I quickly took notice of the visible residue and spatter on the outside of my face shield. I am disgusted to realize that the same residue was previously landing on my forehead and other areas of my face! It is now my personal decision to continue to use a face shield as an essential part of my PPE.
Thirty months after the initial outbreak of COVID-19, some of the dental workforce has resorted back to pre-pandemic PPE armamentariums and opted to practice without a face shield. Many hygienists express difficulty using a face shield due to an inability to wear it over their loupes and headlight comfortably as well as visibility issues such as glare.
Benefits of LoupeSaver
The use of high-quality face shields can eliminate problems such as discomfort and visibility concerns. I personally utilize the LoupeSaver face shields.
LoupeSaver face shields allow me to comfortably use a face shield daily with every patient. Wearing my face shield has become as essential as wearing my gloves. Wearing my LoupeSaver face shield is as comfortable and easy as putting on my gloves too!
LoupeSaver is my face shield of choice because it eliminates the frustrations associated with using a face shield. LoupeSaver is designed by a dental professional for the dental professional. Dr. Sarah Nabai is the innovative and passionate dentist who created the LoupeSaver face shields in 2013. She realized the struggle dental clinicians faced through her own efforts to find a comfortable and functional face shield. LoupeSaver has evolved and progressed over the last nine years and has aimed to continually improve to achieve its current face shield designs.
The LoupeSaver face shields are designed to allow ventilation that decreases the feeling of being overheated. Each of the designs fits very comfortably with adjustable head straps. I find the most unique and beneficial feature of the LoupeSaver face shields is their U-shaped cut-out that allows room for the loupe light (see Image 1). The U-shaped cut-out can be removed entirely or left partially attached to permit easy access for a loupe light attachment. The benefits are tremendous in minimizing glare and heat buildup from the light.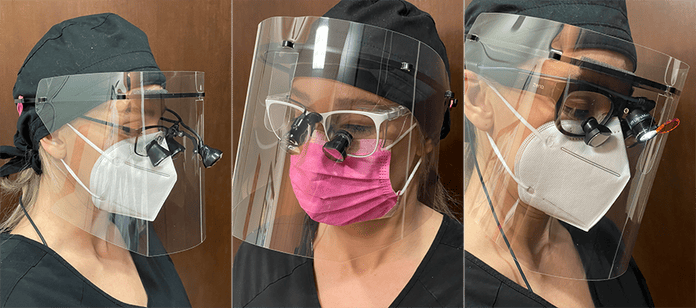 LoupeSaver face shields offer three designs, all of which have the same benefits: extra protection against splashes, spray, and spatter, as well as comfort and enhanced visibility. Each design can accommodate a clinician's eyewear ‒ including loupes with or without a headlight ‒ prescription glasses, and safety eyewear. The designs available are the LoupeSaver Clip Shield, LoupeSaver Shield, and LoupeSaver Frame Shield.
The LoupeSaver Clip Shield consists of an ultra-lightweight, optically clear anti-fog shield that clips directly to your loupe frame, prescription glasses, or safety eyewear. The clips are conveniently already attached to the shield, meaning no assembly is required. This design will provide protection with the extra freedom of not having a headband. 4
The LoupeSaver Shield is a standard disposable face shield with the additional feature of a U- shaped cut-out. The LoupeSaver Shield allows for excellent visibility with an anti-fog coating. It provides essential protection from contaminated splashes, sprays, and spatter. These full-length shields are 12 inches by 8 inches and are designed to fit over loupes with light attachments. The shields are made from an optical grade polyester film with an anti-fog coating, elastic (non-latex), an adjustable head strap, and a foam headpiece for comfort.4
The LoupeSaver Frame Shield is a comfortable multi-use frame with extra large breathing room via air vents that allows room for higher magnification and light attachment, as well as prescription glasses and safety eyewear.4
I personally use the LoupeSaver Frame Shield because I find it to be the most comfortable due to its foam headpiece, as well as the adequate space for my loupe light attachment. I am able to comfortably wear my loupes and headlight, mask, scrub cap, and the LoupeSaver Frame Shield.
I continue to mention comfort because I have utilized uncomfortable face shields in the past, which would impact my decision to wear a face shield or not. In the past, when I was provided with uncomfortable face shields that put too much pressure on my ears or didn't fully cover my face, I was less inclined to use a face shield at all. Knowing the risks of contracting and spreading infectious diseases associated with practicing as a dental hygienist, I am grateful to utilize the LoupeSaver face shields as a part of my fundamental PPE every day while providing care to my patients.
To learn more about LoupeSaver face shields, click here.
References