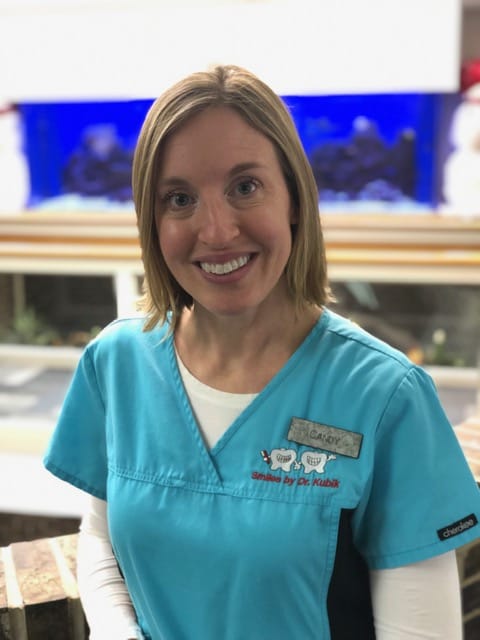 Dental hygiene comes to each of us in a unique way. This is a description of the journey by Candy Malone, BSDH, a 2003 graduate of Marquette University.
As a nine-year-old, Candy was an orthodontic patient of Dr. Gregory Kubik. She had the most positive, wonderful experience as he worked his miracle, creating her now infectious smile. Candy also had a wonderful general dentist, and the experiences between these two offices supported her idea that the dental office would be a great environment for her to work in.
While she was growing up, Candy's mother was in the dental field and knowledgeable about multiple dental career options. So her mother was very supportive in discussing career choices. Candy was looking for flexibility, a competitive salary, and multiple options to use the degree. Hygiene won out.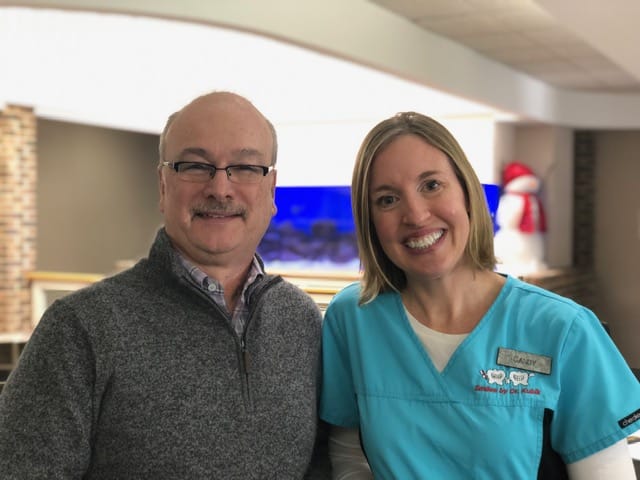 During her sophomore break, Candy was offered the opportunity to work at her orthodontist's office in sterilization. After that, she was welcomed back at every vacation, giving her the chance to learn about the hygienist's role in orthodontics. Post-graduation, she was offered a position as a hygienist, and 17 years later, she is still just as enthusiastic.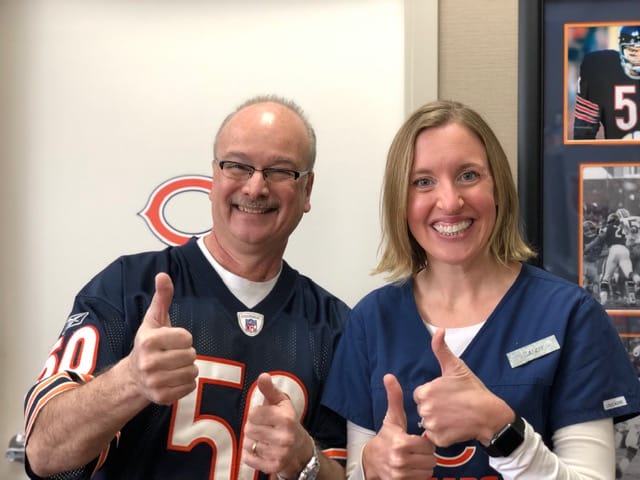 Honing Skills for Ortho
Why ortho hygiene? Candy loved Dr. Kubik's practice, her childhood orthodontist, and loved the people, both staff and patients. Candy discovered a love of bracket removal, meticulous adhesive removal, and using the same precision with hygiene skills but in a different way. She was trained onsite in the very specialized technique for placing bonded retainers so that no forces are placed on the teeth. The retainers are easily cleaned by the patient and truly retain the perfected dentition. It is a formidable task to ensure the bonded wires remain passive so as not to cause tooth movement and to ensure the adhesive does not interfere with occlusion.
Candy is quick to point out that she does not do any prophylaxis in her work as an orthodontic hygienist. That procedure is left to the patient's own dentist, who refers the patient to the orthodontist.
As part of the entire orthodontic team's daily routine, the pH of beverages is discussed, and all patients are informed that any beverages in a can or bottle are "off-limits." Any sports drinks must be powdered and mixed with tap water to decrease the acidity. All patients are given a prescription fluoride for nightly use, and any patients exhibiting a high risk of decay or decalcification receive a no-charge fluoride varnish treatment. Those at high risk of decalcification are also given a prescription paste to be applied two times daily and rubbed in with a finger after thorough brushing and flossing.
Hygiene Instruction for Ortho
All patients use a brushing station before their appointment to ascertain if further home care instructions are needed and to verify that patients are also able to brush and clean interdentally after the wire has been removed before the new one is placed. For those needing even more instruction, Candy has the flexibility to schedule additional appointments at four weeks just for home care instruction and not for orthodontic treatment, which is usually eight to nine weeks apart. Candy uses the "tell, show, do" technique with a mirror in patients' hands to instruct with a manual or electric brush and floss threaders or easy floss: "anything that allows access to the wire."
Candy, under the recommendation of the orthodontist, is the one who places the bonded retainers and advises patients that they should remain in place "as long as you want straight teeth or until better technology becomes available." Candy reinforces that "ultrasonic use is fine on bonded retainers as are hand instruments. The key is to be gentle enough to not bend the wire, which can activate it and cause tooth movement or ultimately debond the retainer. They are made for chewing forces, not pulling forces."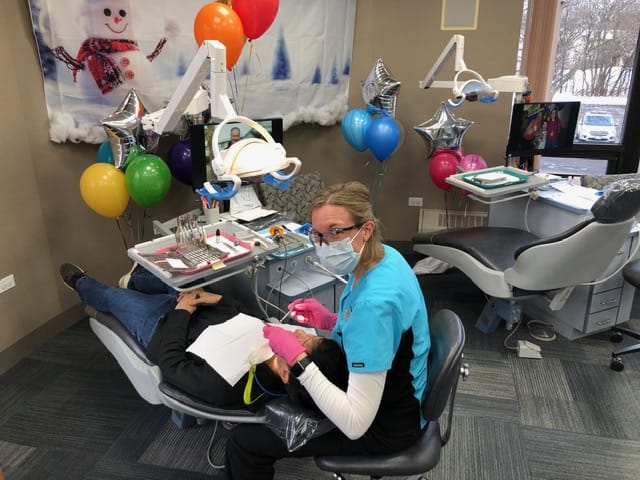 As part of her typical day, Candy will have six patients for orthodontic removal, with her appointments being about 80 minutes. In that time, she will place the bonded retainers, remove the brackets and adhesive, and go over home-care instructions. Then the patients are typically seen by an assistant to complete their full orthodontic records. Candy will also have scheduled home care instruction appointments as needed, and the occasional appointment to repair bonded retainers.
For Candy, a lifelong learner, one exhilarating aspect of her position is that she receives much training and support. Candy has learned to use the newest technology, including the CBCT scanner (3D imaging), which is especially useful for impacted canine detection and location.  Patients can have intraoral scans after bracket removal to create the Essix retainer used over the bonded lingual wires. Panorex and cephalometric imaging are used daily at the start and completion of treatment. Candy also has the opportunity to create models; both mounted with a face bow and traditional, as well as take intra- and extraoral photos.
The office provides not only continuing education and training, but they also attend many courses as an office. What makes this practice truly spectacular is they also offer multiple continuing education classes to the dental community.
Candy swears that she has the "best job in the office. Who doesn't want to take everyone's braces off?" Every patient is always happy for debanding day, and balloons and treat bags make it an even more joyous occasion. Candy has an enthusiasm that would exhaust many and is quick to laugh and share the details of her very uncommon hygiene career, all while managing the daily acrobatics of family and her young children's school schedules.
Now Listen to the Today's RDH Dental Hygiene Podcast Below: