Editor's Note: Christin Yokiel, RDH, BS, developed a notepad called the Daily Patient Planner. She developed the product for dental hygienists, and her idea was born out of her passion for "being prepared, making my work day run as smoothly as possible, and using my time wisely to stay on schedule with each patient."
Today's RDH interviewed Yokiel about the Daily Patient Planner.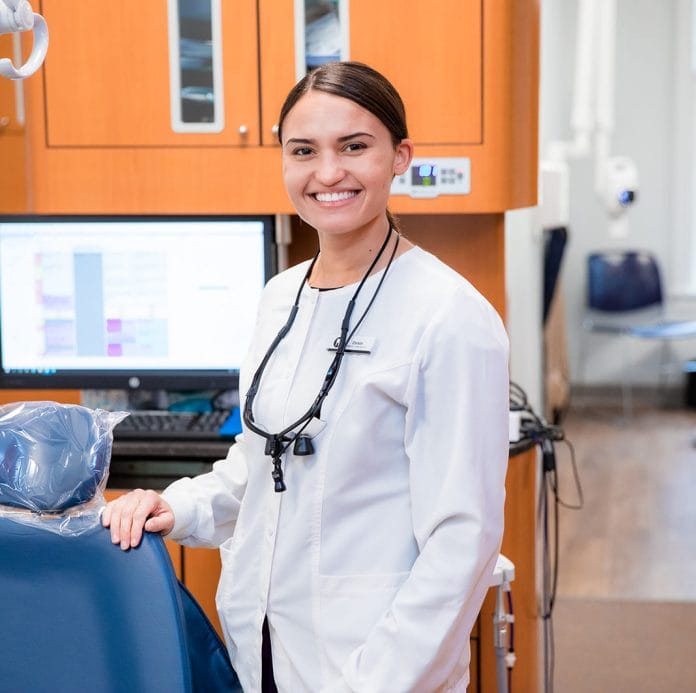 Give us some background behind the development of this notepad.
Initially, I began to design my notepad because squeezing patient procedures and treatments onto one sticky note was troublesome. Sometimes I wanted to include a few more essential details about a patient's appointment. However, the sticky note did not provide adequate space.
Additionally, printing out multiple routers was not the system I wanted to use. I knew there had to be a better way to log this information. I wanted a note-taking tool to let me see all my patients for the day and create a way to organize these details onto a single sheet of paper. Since being organized is essential for hygienists, having an aesthetic and straightforward layout was necessary to include this information about each patient.
Did you initially develop it for yourself?
Many offices conduct morning meetings in which unscheduled treatment and critical patient points are reviewed. After one of my office huddles, I recognized the need for a space where I could clearly structure patient data.  It was imperative to have a layout that could easily support thorough patient assessment, including the primary evaluations and procedures that the dental hygienist performs.
As I was nearing the completion of the Daily Patient Planner, I decided other dental hygienists would benefit from using this notepad. I began researching website development and small business ventures, which led to the start of my own business, The Notable Hygienist.
Explain what you think will be the benefit to clinical dental hygienists.

First, take a moment to think about the patient's experience and implementing a high standard of care. Then, before bringing a patient back to the operatory, look at your last clinical note, ledger, and periodontal chart to support thorough patient assessments and comprehensive care.
Reviewing these items will create an appointment that runs smoothly, and the patient will appreciate the attention to detail. Additionally, it will provide a positive experience for the patient, create a professional entry to the appointment, and create a personalized hygiene appointment.
Secondly, have you experienced a moment where the doctor performing an exam asked a question to which you did not know the answer? However, in the back of your head, you knew if you had done a little prior digging, you would have known.
The Daily Patient planner provides an organized checklist to note if the patient is being seen for a child or adult prophylaxis, periodontal maintenance, or nonsurgical periodontal therapy. Additional features of this notepad include a section for what type of radiographs are needed and recare intervals, periodontal charting, planned treatment, and a note section where any other additional information can be added.
All of this information is easily viewed on one sheet of paper?
The layout of the Daily Patient Planner will help answer doctors' questions during the exam, whether it be about the patient's treatment, medical history, and more. Obtaining this information before seating the patient will save valuable time at the beginning and end of each appointment and instill confidence as you begin to converse with your patient.
Moreover, this notepad will improve hygiene department productivity and will do so by helping hygienists remember panoramic images and full mouth series that may be needed and keep track of recare intervals since there is a check box for those items. Looking back, I would not have been as overwhelmed if I had this notepad in my first year as a dental hygienist. The Daily Patient Planner notepad would have helped me stay on time and provided more confidence.
The design does seem to be like a checklist to refer to during a workday. What if something is noteworthy outside of the realm of a normal appointment?
Please remember that the Daily Patient Planner notepad is designed to fit the primary clinical assessments and essential patient information. In the note section, more can be added if it applies to the patient and is customizable if the information does not apply to every patient.
What kind of items would be recorded in this note section?
For example, you can make observations about premeds and other important information regarding the medical history. If you work in a large practice, you can remind yourself about doctor preferences and whether a patient will go to a doctor's op after the hygiene appointment. You can flag new patients or allergies such as to latex. Some patients require a neck pillow, and the notepad can remind you of that.
Some patients need that extra notation about fluoride varnishes or a D4346 evaluation for gingivitis after the periodontal charting and prophylaxis are completed.
So you feel like the notepad helps you be more prepared during a full day of appointments?
I love utilizing this notepad in my routine. If you are like me, you love a good paper product and pen. It motivates me to use this notepad as a check-off list so I can be ready for the workday. So now you can have a beautifully laid out notepad as you keep track of all the details for each appointment. Remember, a prepared day makes for a smooth day.
To learn more about The Notable Hygienist and her Daily Patient Planner, check out her Facebook page, Instagram page, and Etsy shop.